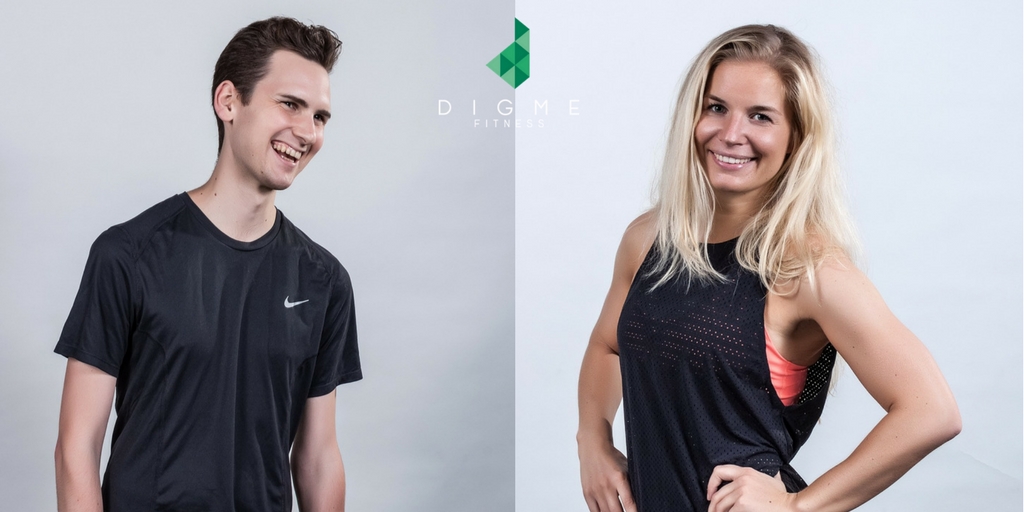 Instructors Chloe and Kevin have been with Digme Fitness since the first day we opened, and they'll soon be teaching across all three of our London studios.
We caught up with them to find out their highlights of an amazing first year
How would you sum up the last 12 months with Digme?
Chloe: "It's been an incredible year and it's flown by! I love everyone here and it feels like a little family. In the first few months when it was just one studio it was great because we all spent so much time together and it was fun. As more studios opened the team was spread out a bit more, but it's so exciting how quickly we're growing."
Kevin: "Yeah I think when we started out it was like walking into the unknown. As with anything new, you have to find out about the space, the customers, the vibe of the place, the staff, how to teach the ride and the chemistry. Really quickly we became a very tight-knit group in Richmond, which was fantastic. It helps when you've been there from the start, and it's been great to go into the new studios already part of the furniture."
What stands out as particular highlights?
Kevin: "It's hard to pick out one or two specific moments. I'd say creating such a wonderful community in Richmond has been the most satisfying thing. I have a loyal following there on Sunday mornings and some people never fail to turn up – whether they're hungover, sick or whatever. Chloe has the same thing with her classes. It sounds cliché but I've loved being part of people's journeys. You see people walk through the door for their first class not really knowing what to expect and totally stepping out of their comfort zone, then you look at them six months later so full of confidence and loving their regular class. It's fantastic.
"There's a certain openness we have in Richmond which allows a lot of different people to come in. I really love those classes where you give out energy and get loads of energy back. Seeing people putting their heart and soul into a class is so rewarding."
Chloe: "Mine has to be Beats n Cleats: the Battle of the Teams. Dan, Kevin and me each had a team, it was a full house and the atmosphere was fantastic. And it's not a one-off moment but my regular riders make my job so much fun. I call them my back-row babes, the ones who come on a Thursday at 9.30am, and my hardcore front rowers on a Wednesday morning. We've built up a great rapport and have a lot of fun."
Why is working at Digme different from other fitness studios?
Chloe: "It's just like a family here, with such a nice atmosphere among all the staff and with the customers too. For the past two years I've been travelling to Geneva every week to train clients, but I'm stopping that now to teach at Digme more. I wouldn't have made that change for any company. I'm incredibly excited about this new chapter."
Kevin: "There's a real sense of togetherness and friendliness. Just the other week I was talking to Barney, one of the new instructors, who said Digme is the most welcoming club he's ever been to. It's easy to have a bunch of leaders who think they're above everyone else, but at Digme there's a genuine sense of being in it together and all pulling for one another. It's also been very refreshing having the freedom to experiment a little and figure out what works and what doesn't work. Other institutions often have a very specific way of doing things, but with Digme I've really enjoyed putting my own stamp on stuff."
How much are you looking forward to Blackfriars opening?
Chloe: "I can't wait! I love teaching Ride but HIIT is my favourite, so I can't wait to be let loose in the Energy Lab to teach Matrix classes. Dan (Little, Digme's Head of Fitness) and the team have been working hard behind the scenes on this programme and it's going to be awesome.
"I'll still be teaching in Richmond on Wednesdays. In fact I'll be at all three on that day – Richmond in the morning, Blackfrairs at lunchtime and Moorgate in the evening. It's amazing how far we've come in just a year and shows just how good these concepts are."
Kevin: "It's super exciting. I'm looking forward to getting to know a whole new bunch of regulars and building a following there. As instructors our job is to deliver a warm and welcoming class and put people at ease and that's key when you first open somewhere. It's in an amazing location too, so I'm looking forward to what lies ahead."