Good news - you can now get even more rewards when share your love for Digme (and so can your friends)!
Introducing the new Digme Refer a Friend Programme. Because let's face it, there's nothing better that working out with a friend [read more about the benefits of working out with a buddy here] and there's no greater community to do it with than ours.
Here's how it works...
THE REWARDS
Depending on when and what your friend signs up for, we have a couple of rewards available:
DIGME NEWBIES
Think your friends will love us too? Refer a friend today and when they sign up, you'll both get ONE FREE studio credit, plus £15 OFF your next month's subscription to Digme at Home.
DIGME AT HOME BIKES
Are your friends getting FOMO from your Cycle workouts? Refer them today and they'll get £50 OFF their first month's Digme at Home Bike rental. And as a thank you, we'll give you a £25 voucher for the Digme Shop.
HOW IT WORKS
Referring your friends has never been so easy...
ONLINE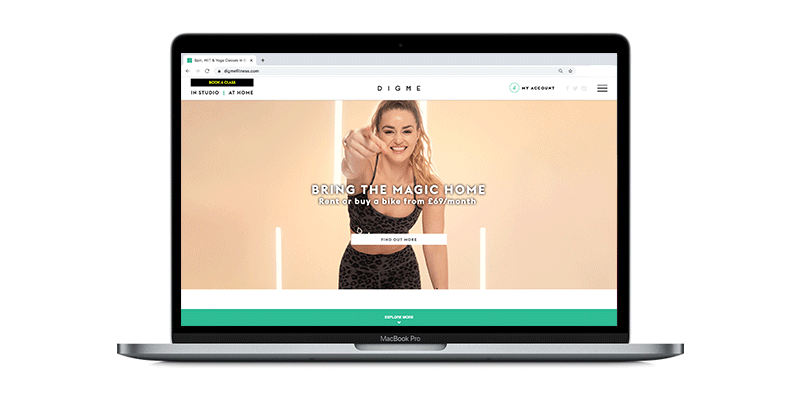 3. Share your link with friends
ON THE APP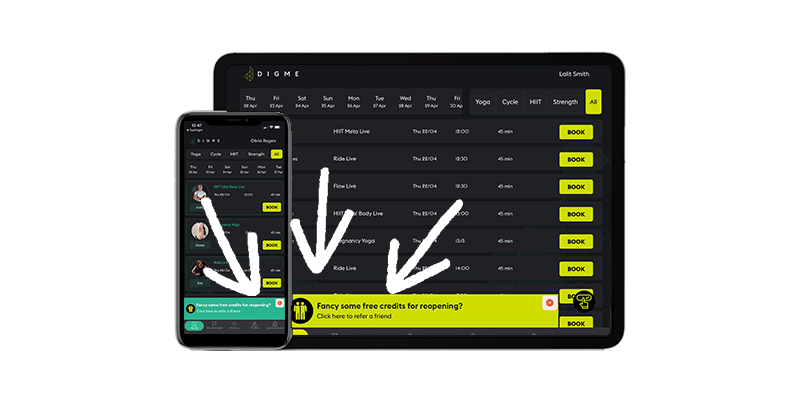 2. Click on the Referral Pop Up
3. Share with friends via email, WhatsApp, text, or Facebook
What are you waiting for? Share the love now!
FAQs
Do I have to be a subscriber to refer a friend?
You do not need to be an active subscriber to refer a friend but you do need to have a Digme account. Sign up here.
Can I refer more than one friend?
You can refer as many friends as you like! And will recieve one reward per every successful referral. Your friends must be new to Digme.
Can I refer friends for a bike and a subscription?
If you refer the same friend to Digme and Digme bikes, you will both recieve one reward only. i.e. the bike reward where you recieve £25 off the shop and your friend recieves £50 off their bike rental or purchase.
I have recieved my £25 shop voucher, where can I redeem it and what is is valid on?
You can redeem your £25 Digme shop voucher on our online shop online - shop.digmefitness.com only. Vouchers can not be redeemed in our studios. The voucher is valid on all merchandise on the Digme shop. But cannot be exchanged for cash or credit.
When do my rewards expire?
Your rewards will expire after one month. As our studios are currently closed due to COVID-19, you will have one month after our re-opening to use any complimentary studio credits recieved.
If you have any more questions about our Refer a Friend programme, please leave us a comment in the box below.