DIG IT YOUR WAY CHALLENGE
STARTS MONDAY 13TH NOVEMBER
Finish 2023 strong with our 6 week challenge: Dig It Your Way
The challenge runs from Monday 13th November - Sunday 24 December
Choose your own challenge to complete:
DIG18 - 18 classes
DIG24 - 24 classes
DIG30 - 30 classes
Complete in the studio, at home, or a mix of both!
On top of eternal respect and feeling awesome, you will win:
DIG18: £20 Digme Shop Voucher
DIG24: £40 Digme Shop Voucher
DIG30: £60 Digme Shop Voucher
You can either purchase one of our exclusive 'Dig It Your Way Class Packs' and complete the challenge from just £10 per class or use your Class Packs / Unlimited Membership.
Challenge packages and FAQs are below...
PLEDGE YOUR COMMITMENT BELOW...
CHALLENGE FAQs
HOW LONG WILL THE CHALLENGE PACKAGES BE AVAILABLE TO BUY?
Challenge packs will be available to buy until midnight on Sunday 19th November.
DO I HAVE TO HAVE BUY A CHALLENGE PACK TO COMPLETE THE CHALLENGE?
No, you can also use your existing credit packs or memberships.
TRACK YOUR CHALLENGE
Track your Challenge and share on social using one of the below story trackers @digmefitness :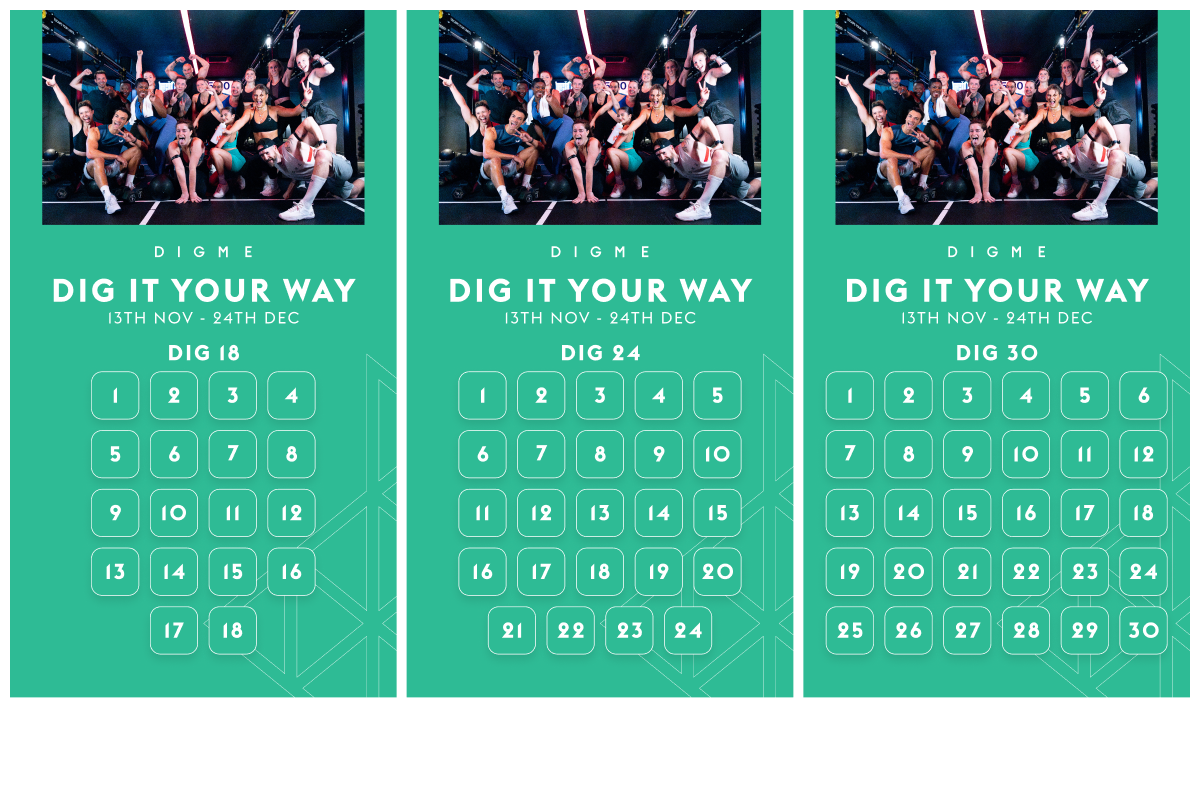 BOOK IN THOSE WORKOUTS

All of our Cycle, HIIT, Barre and Yoga workouts count towards your challenge. So what're you waiting for? Book in your HIIT of endorphins now...