Meet David! David recently completed a brilliant personal challenge - raising money and awareness for a wonderful cause in Women's Aid. Here is David's story in his own words....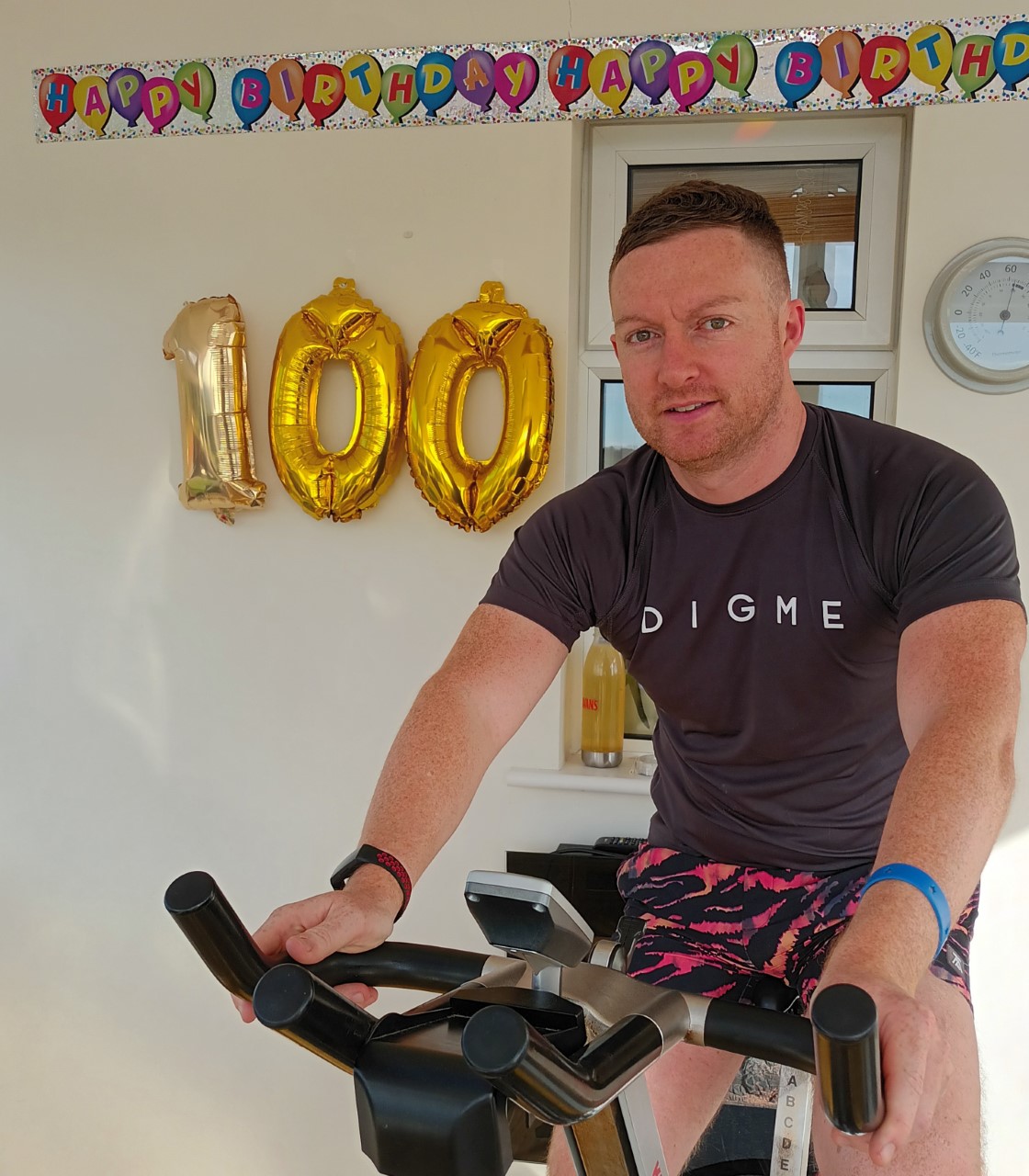 When I walked into my first class in 2016 with Digme little did I know I was about to join such a great community, do over 500 spin classes in studio and online and embark on my latest 100/100 challenge along the way! In March 2020 I returned to Ireland for the first lockdown in a time which was full of uncertainty and the unknown and had an impending 2-week isolation period ahead of me. I knew there was many unknowns ahead, but I hoped somehow Digme would continue during lockdown, and I could continue to ride with Digme in some capacity, so much so my first purchase on day one of my isolation period was a spin bike.
Shortly after Digme at Home was launched. It offered me an opportunity to continue to feel part of this great community which I value so much during this difficult period. My Dad was also undergoing treatment for cancer at the time so Digme at Home provided me with some daily routine and comradery with some familiar faces.
Whether it was rolling hills with Frances, sing alongs with RoRo, strength sessions with Dan or Friday evenings party on a bike with Leone I was there! Digme at Home became part of my day! Along the way I did my first rhythm class, enjoyed regular runs with Ben through my headphones and met so many new friends. I even have an impromptu meeting with Digme at Home stalwarts Bart and Katja planned for later this month in Amsterdam.
On my return to London I celebrated my studio return with a Beats and Cleats Carnival theme class and a return to Super Saturday mornings with Dan. It was a time I had looked forward to for so long having spent so much time away and didn't disappoint.
At the beginning of the year I embarked on my 100/100 challenge. I wanted to take on a physical challenge and donate to a great cause in the process. I decided upon Women's Aid considering recent events which really left a mark on society and wanted to highlight their great work and support their cause. Women's Aid work to make women and children safe from domestic violence, offer support, provide hope to women affected by abuse and work for justice and social change.
I knew it was going to be a tough road ahead both physically and mentally and scheduling it in line with my busy work role, travel plans and beginning my journey as a qualified PT. Thanks to the studio and digital platform I got to the finish line having span four countries the UK, Ireland, France and Spain. I couldn't have done it without the fantastic support and energy which I have encountered from everyone along the way. My final class of the 100 in 100 was a double celebration with Frances online for her birthday – we even had a cameo appearance live from the Richmond studio which was really special!
I'm not sure what my next challenge with Digme is but what I am sure of is that I will continue to enjoy being part of this wonderful community which inspires, connects and brings the best out of people.