Ian (aka "The Term-ian-ator") was so happy when we reopened our doors after lockdown one that he decided to take on the #DigmeCenturion challenge of 100 studio rides in 100 days. He had got to ride 44 when the "circuit breaker" lockdown kicked in last November. We then reopened for a couple of weeks in December and he started again, getting to 14 rides before the big winter lockdown.

Undeterred, Ian started for the third time in autumn. We were all a little nervous coming towards the end of his challenge as the Omicron variant started its surge … but thankfully he made it to the finish line on Friday 17th December!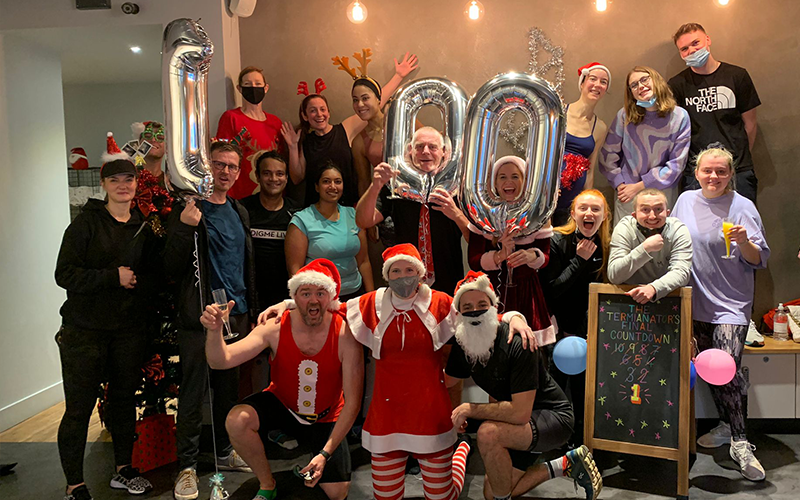 Ian's is so much more than a story of perseverance to achieve 100/100 & have a Digme bike named after him during these extraordinary times.

This gentle giant of a man suffered a very serious back injury in October 2017 - one so serious that it meant he couldn't even walk. It is difficult to imagine the physical and mental challenge it must have been to endure something so difficult, let alone to have the mental fortitude to fight back. Ian slowly and steadily improved until he was able to walk a little and then do some light cycling. Through his wife Michelle, he discovered Digme Richmond in March 2019 & became hooked as he carried on his mighty rehabilitation challenge.

Our Master Instructor Chloe Laureyns delivered a sensational and fitting finale for Ian's wonderful achievement. Congratulations Ian and thank you for the joy you bring to so many in our Digme community.