Whether you're training for an event, just trying to keep a regular riding schedule, or simply prefer the safety of riding inside, an indoor bike trainer is a valuable tool.
But what to get? There are many different kinds of trainers, and the options for them have proliferated wildly the past few years, not to mention the explosion of "smart" trainers and the virtual worlds and training programs they allow you to connect to.
The Three Types of Indoor Trainers
Although there are many variations of each, indoor trainers come in three basic styles.
1. Indoor Spin Bikes
These are the type found in local spinning classes. Most have a method of changing the resistance and effort required, the best also have a screen showing Cadence (rpm) Heartrate (via a linked HR monitor) and Power.
Resistance. The resistance of an exercise bike is usually provided by either magnets or friction. Magnetic bikes are less common, and change resistance by varying the distance between the magnet and wheel. Friction resistance bikes are the cheapest option, and can be adjusted using a mechanical knob.
Flywheel. A flywheel is designed to make riding an indoor bike feel more like a "real" bike. A flywheel is a large wheel, usually found at the front of the bike. Basic exercise bikes have an enclosed flywheel, while spinning bikes usually have a perimeter-weighted wheel.
Console. The console is the on-board computer of an exercise bike. It can be used to control various settings while displaying important statistics about your workout.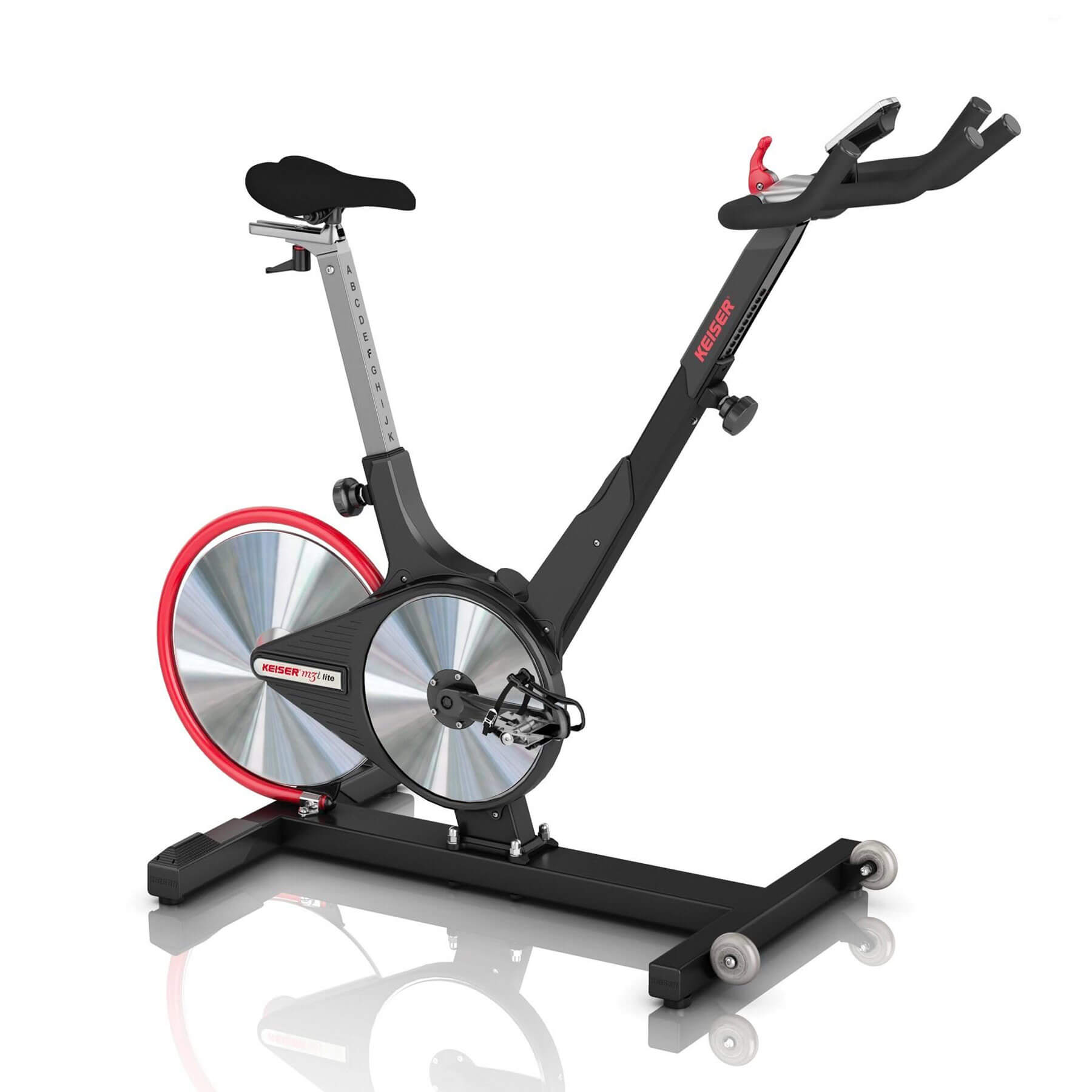 If you're looking for quality, the best of these type of bikes is the Keiser M3i lite a bullet proof build quality and easy operation of gears etc. This is similar to the Keiser M3i bike that can be found in our studios. Available to hire from £69 per month or purchase for £1,999 here - prices also include unlimited access to Digme at Home.
Entry-level indoor cycles often cost between £150-£500, while the priciest bikes can range up to £2,300.00.
Pros: Easy to use, multiple users can use by altering bike set up, connects to the Digme at Home app.
Cons: Limited connectivity to external apps. Poor bike ergonomics. Heavy to move around.
2. Turbo Trainers
Turbo trainers make use of your own road or mountain bike and come in two versions.
Friction trainers place a small roller against the rear wheel and utilise either magnetic or fluid resistance. They tend to be lighter and more portable than direct-drive trainers, but are noisier and less accurate. The trade-off comes in cost. You can get a smart friction trainer for about half as much as a direct-drive model.
Direct-drive trainers attach your road bike to the rear dropouts, replacing your rear wheel and providing a direct connection to the resistance unit. These trainers are easily identified because they require a cassette. They are typically the most expensive but also the most accurate, with the highest levels of resistance, and many now offer "Smart Training" Options, connecting to the wide range of training Apps available enabling an interactive and engaging experience.
What Is a Smart Trainer? A smart trainer is different than a model with electronically controlled resistance. "Smart" means it can communicate wirelessly with a training app on your smart phone or virtual riding worlds like Zwift or Rouvy and automatically adjust resistance. The popularity of these apps means most newer trainers are "smart." This adds to the cost, but prices are falling and you can now score a smart trainer for around £500.
To sum up Turbo Trainers:
Magnetic turbo trainers – among the most popular and prolific entry-level units
Fluid resistance trainers – generally quieter than magnetic turbo trainers and offer a realistic experience, with the fluid moving to simulate the behaviour of your bike on the road
Direct drive turbo trainers – unlike most magnetic and fluid turbo trainers, where your rear wheel is in contact with the turbo trainer, with direct drive your bike is directly mounted to the trainer
Smart turbo trainers – offer internet connectivity, allowing you to participate in online cycling races using platforms like Zwift, Rouvy, TrainerRoad, and many more
Things you'll need to be aware of:
- Electricity power if your turbo needs it.
- A Wi-Fi connection if you're going to use a smart trainer
- A fan to cool you down
- A tablet/laptop/phone to connect to online training software
- If you have only one bike you will need to attach it to the trainer each time you use it.
- Only you will fit your bike, so other members of your family will need their own bike to use the trainer.
Entry-level turbo trainers cost between £150-£500, while the priciest Smart Trainers can cost up to £1,500.00
3. Dedicated Smart Bike
Unlike the turbo trainer this is all that you need to ride indoors in one bundle. And you won't add increased wear and tear to your outdoor bike and its components, or need to fiddle around to hook it up to the trainer.
Unlike the spin bikes you might see in a gym, the latest generation of smart bikes are designed with cyclists in mind, so you can expect accurate power measurement, a highly-adjustable position, variable (and automatically-controlled) resistance and road-like feel.
The best of these offer lots of adjustment, including saddle height and fore/aft, handlebar position and even crank length, allowing you to replicate the position of your regular bike. That adjustability will also allow multiple members of the same household to use the bike.
There are 4 options currently available.
Wattbike Atom: £1,500.00
Wahoo Kickr Bike: £3,000.00 the most technically advanced, moves up and down with incline and decline.
Tacx Neo Bike: £2,700.00
StagesBike: £2,700.00
Once you have you're bike sorted you can join us for a LIVE Cycle! With Ride, Perform and Rhythm workouts, there's something for everyone.