Looking to upgrade your at home workout but wondering if it's the best fit for your lifestyle right now?
We've answered the question for you: 'Why Cycle at home?'
1. Cycling at home is great low-impact cardio-vascular exercise! Whatever your motivation, cycling is a fantastic way of getting a good sweat into your day and releasing those feel good endorphins, or as we say in-doorphins, in a way that's fun, isn't likely to cause injury and most importantly, won't annoy the neighbours.
2. It's surprisingly social. If you join a community like Digme and participate in Live classes, it's a really great way to connect with friends, family or work colleagues and share a wholesome and common experience.
3. It doesn't require much space. The advantage of being on a stationary bike is that it's footprint is small and you're not moving about the space at all. All you need is yourself, your bike and a banging playlist put together by our world class instructors for the ultimate #PartyOnABike.
4. The weather doesn't matter. Whether it's bright sunshine, pouring rain or snowing outside – your bike at home doesn't care. You don't need to put on three layers and de-mud your shoes. You don't even have to worry about brushing your hair – we won't judge!
5. It's incredibly time efficient. The simple convenience of having the bike right there makes squeezing in a quick workout before or after work or during the work day between Zoom calls is terrifically useful. You don't have any of the usual hassle of commute times to the gym, waiting for a shower to free up, waiting for *that* guy to get off your piece of equipment or any of the other normal time drains associated with going to the gym.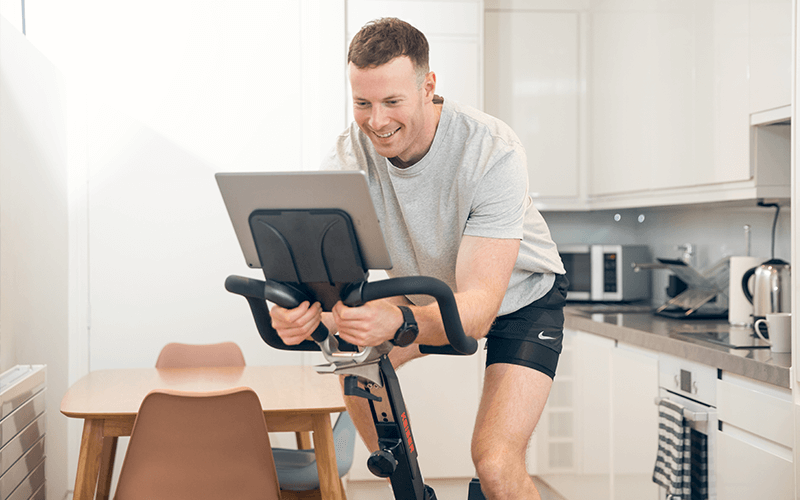 What at-home bike is best for me?
There are lots of different options for home exercisers if they want to exercise at home. There are a whole range of features and prices and the choice can be a little overwhelming.
How much does an at-home bike cost?
There are a variety of different factors that need to be considered when making a choice. Budget, reliability, accuracy, warranty period, your level of usage, fit, cost and availability of spares, connectivity and the availability & suitability of content are all important considerations when making your choice.
It is important to bear in mind that if you invest in a bike that is designed as a consumer bike, then it's reliability is likely to be substantially lower than a bike designed for commercial use. This might be fine if you think you'll only be a casual user or you're still uncertain about how much use you'll get out of it. However, if you think you might use the bike more than two or three times a week, you might want to consider whether it makes sense to spend a little more to get a reliable machine.
You can get respectable bikes from as little as a few hundred pounds – something like the JLL IC300 Pro, available for £480 on Amazon, will deliver the basic functionality you need. That said, the JLL is a consumer bike rather than a commercial bike and as such is less likely to hold up to heavy usage.
For frequent users of their bikes, reliability and connectivity become more important factors. These are elements that you're going to need to pay more for.
When it comes to connectivity, an increasing number of bikes now feature Bluetooth connectivity for connecting to phones, iPads, heart rate monitors or other media devices. If you want to connect your bike in order to gather your fitness data in an app like Apple Health, Strava or Trainingpeaks, then this is functionality you're going to want to select for.
In terms of reliability and accuracy, you just don't get better than the Keiser m3i and m3i Lite. They are manufactured in California and beautifully engineered indoor bicycles. We wrote a blog previously on why we use the Keiser in our studios, and everything we said then still stands today. The Keiser also comes with a 2 year warranty as standard, which is better than the 12 month warranty typical for consumer bikes.
Fully connected at home spin bike options
If you want to get a piece of kit that is also set up to allow you to participate in instructed Live and On Demand classes too, there are now a handful of options available to you on the market. The most famous of these is Peloton, of course, but there are many other options out there if Peloton doesn't suit you.
Some considerations you'll want to bear in mind are as follows:
1. How many types of classes will I get with my subscription?
Digme at Home offers at least six distinct types of Live classes, both on and off the bike, which means you'll never been short of at home fitness inspiration. Other platforms may or may not other types of fitness content alongside your bike content subscription.
2. How deep is the Live timetable?
Although many brands advertise the fact that they have Live classes, upon inspection, you frequently finds that there are actually very few Live classes that would work for your personal schedule. That means you're going to be relying on the bank of On Demand classes. That might be fine for you, but if you plan on making an occasion of participating in a Live class with your friends or favourite instructor to experience the connection, then the lack of Live class depth may be a problem.
3. How frequently is the On Demand bank being upated?
You'll be surprised how quickly you can get through a library of workout videos if the pre-recorded classes are your thing. You'll want to be sure that the bank of content is being frequently updated so that you don't get bored.
4. Do you have to pay for content on top of your bike?
Some companies can be a bit naughty in that they hide the fact you've got to subscribe for content on top of your bike purchase. This can substantially increase the lifetime cost of ownership of your bike. The Digme at Home solution is really neat because the pricing is 100% transparent – there are no hidden fees for content on top of your bike rental.
5. How many months of payments am I committing to?
As tempting as it is to look at credit options and think "that's only £XX per month", your total exposure is not just the monthly cost but the number of months you're committed to. When talking about years, a lot can happen! Think carefully about whether you genuinely want to be signed up to, in some cases, over three years of fixed payments. What if you don't like it? What if you move house or get injured?
6. What can go wrong with the bike? How quickly can I get it fixed, if something goes wrong? How much will it cost?
It is important to think about not just the cost of the bike, but also explore the things that can go wrong with it. The more technology that is built into the hardware, the more things can go wrong with it. If something does go wrong with what you've bought, will you get good service from the company you've bought from and will you get a repair done quickly and cheaply? There is little more annoying than investing in a piece of fitness equipment and then not being able to use it!
Best Bike Overall
The Digme at Home bike offer is, in our opinion, the best option available on the market. Of course we believe this, but why?
1. Breadth and depth of high quality content. We have over 100 live classes a week and a big bank of pre-recorded classes to keep you entertained. We have all different types of Cycle workout – Rhythm-based cycling, our signature Ride classes or Perform classes for those who love to train with data. We have the best yoga classes online anywhere – TimeOut even said so! We have fantastic bodyweight and weighted HIIT and strength workouts. We have Breathwork classes to help you restore balance and even have outdoor guided run sessions.
2. What differentiates Digme at Home is the community of wonderful people you'll become a part of. The support, interaction and positivity are infectious and make you want to keep coming back for more.
3. The Keiser m3i Lite is a super-reliable bike! When buying or renting a bike from Digme, you have the confidence that your bike will work. These bikes are trusted by commercial gyms all over the world for good reason. In the unlikely event that something goes wrong, there is a national network of service engineers to attend to your needs. Keiser already service thousands of bikes across the country so you can have confidence you will get your problem seen to quickly.
4. You have the choice to rent or buy! If, for whatever personal reason, you're unsure whether you want to commit to something for multiple years, our rental options provide you flexibility. If it turns out you love renting your bike (and you will!), you have the option to buy it at the end of your minimum term.
5. Transparent pricing! There are no hidden fees in our bike purchases or rentals. The rental is an all-in cost including content so you know what you're committing to.
Find out more about our Keiser M3i bikes in our blog about why we think it's the Porsche of Indoor Cycling.
Follow us on Digme at Home here for our latest updates.