If you've popped into our Richmond studio recently, you'll have seen Pete in the saddle on his impressive mission to join the Digme Centurion club with 100 classes in 100 days! Congratulations Pete - you did it!
We caught up with Pete just before he hit the magic 100 classes to hear all about his challenge:
"I started going to Digme a couple of months after it opened back in 2016 and to be honest, I was hooked from the start. Fun instructors, challenging workouts and, most importantly, banging tunes. Clubbing on a bike whilst getting fit, what's not to love?"
"Back in September I took my 600th class and it gave me the nudge I needed to start up a Digme challenge called the Centurion or 100 Classes in 100 Days. I had watched a few people do this and wanted to give it a go, but I had always worried about not having the time to go into a studio every day for 100 days. This is where one of the positives of lockdown came into play, Digme At Home! During lockdown I got a bike at home so that I could still get workouts in whilst the studios were shut, along with this, Digme flipped their time timetable online. When lockdown finished, the bike and Digme at Home stayed, which allowed me to spin at home and do HIIT training too, so the 100 was on!!!"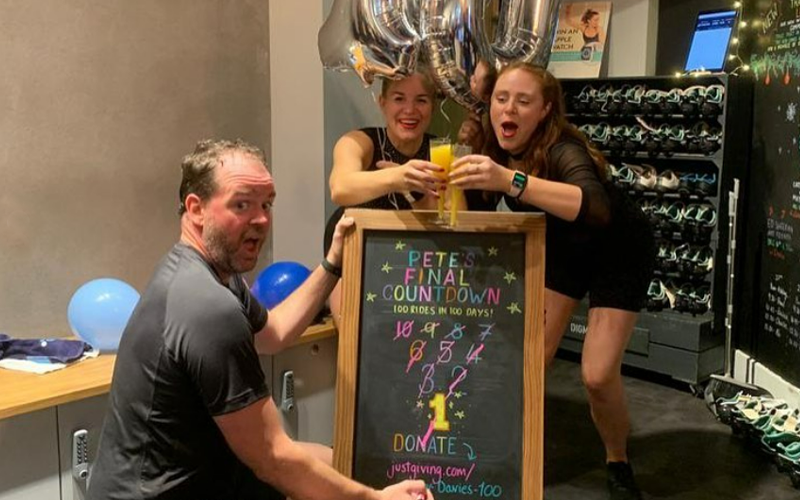 "As I write this, I'm into the 90s (number of classes, not the music of that decade – although Digme's 90s bangers rides are legendary) and a few people have asked me 'why are you doing this?' and 'how have you kept going?' It's pretty simple really; the tunes, the people and the charity and it's the first two that make Digme such a great place."
The Tunes
"I miss the club nights of my 20s and occasionally 30s, but I don't miss them enough to get involved in a scene that I'm a little past. However, I love music, of all kinds, and my weekly playlist @hot_10_tunes is an eclectic mix of all styles of music. I have whooped and sung along to so many different types of tunes. If you haven't ridden to Beethoven, Bon Jovi, Queen, Usher, Missy Elliot, Sub Focus and Swedish House mafia, sometimes all in the same class, have you really done it?"
"I've put together a playlist of Digme Bangers, which will give you a good idea of what you might hear in a class. With the lights going and crowd whooping, it really is the most fun you can have on a bike."
The People
"Belonging to gym can be very faceless and, to be honest, a bit boring. Being part of a community is much more fun, particularly when everyone involved: the founders; the staff; the instructors; and the customers, make that community a vibrant riot, which you want to be involved in. To say that I have met a few people through being involved in Digme doesn't even come close and the most wonderful thing is the variety and diversity of the group that I never would have been part of if not for a spin bike, a studio and some banging tunes."
"In the last 100 days, I have spent a significant number of hours in the Richmond studio and the encouragement, kindness, and motivation I have received from the whole squad has blown me away. Smiles, laughs, donations and so much more, have made this a wonderful experience. The #diggers are special crew to be part of."
The Charity
"When I decided to give the challenge a go, raising money for charity was equally important to me as completing the classes. I was in two minds for a long time, but then I came across My Black Dog and its values and what is stands for worked well with the challenge and with Digme. They are a small charity in a sector that I feel needs real support in the times that we are navigating our way through, and I also have friends who are volunteers and ambassadors. They are a charity that offers peer to peer support for people struggling with their mental health. Their organisation and ethos is built around their volunteers who have all been through mental health challenges - they understand what others are going through. REAL people, REAL experiences, ZERO judgement. Give them a follow: @myblackdog_co."
"This has been a tough challenge physically and mentally but, because of all these elements, it is one I have enjoyed very much and, whilst I might have a few days off when I finish, you will find me back in the studio whooping and singing along very soon."