Digme and Another_Space instructor Sophie loves to cook - you can find more of her recipes on her foodie page @vegansophldn. She's been using the lockdown time to test out some new breakfast recipes and get creative in the kitchen!
We are super excited to share some of these with you - they're all vegan friendly and absolutely delicious! So switch up your usual porridge or toast and get baking with us...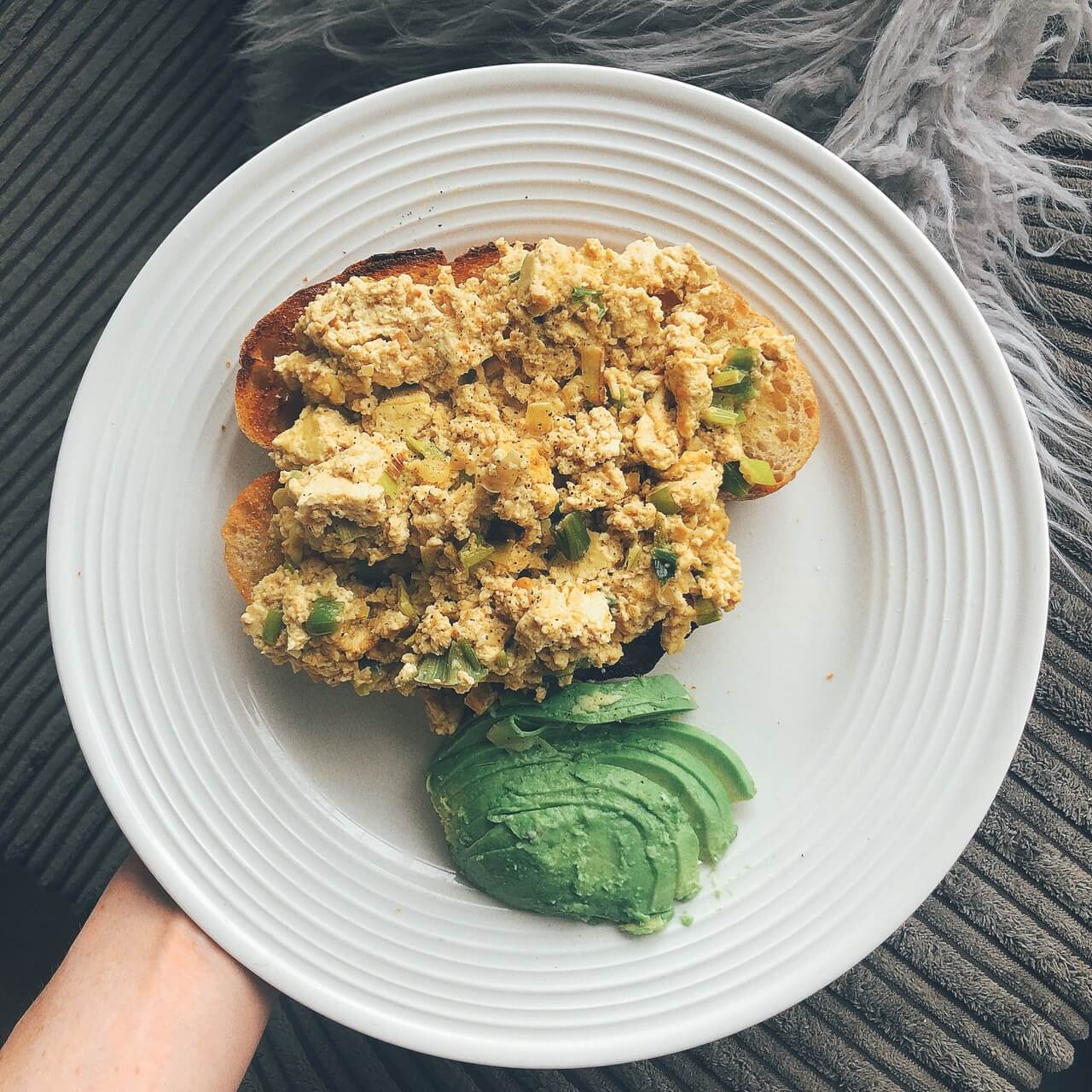 Scrambled tofu
This is a great vegan version of scrambled eggs! Tofu is super high in protein, containing all 9 essential amino acids and is also a valuable plant source of iron and calcium.
You will need…
100g firm tofu (Tofoo is the best!)
100g silken tofu
1 garlic clove
2 spring onions
1/4 tsp ground turmeric
1/4 tsp paprika
1/2 tsp black pepper
1/2 tsp sea salt (or black kala namak salt if you can get hold of it! This will give a super egg-y taste)
First blend the silken tofu to make a smooth cream. Then mince the garlic and chop the spring onions.
Add a drizzle of olive oil to a frying pan and cook the garlic and onions for 2-3 minutes on a medium heat.
Then add the spices and salt and pepper and cook through for an extra minute.
Add the blitzed silken tofu to the pan and stir altogether, cooking for another minute or so.
Finally, crumble the firm tofu up in your hands and add this to the pan. Stirring together and cooking for a final 2 minutes.
I usually serve this on crusty toasted sourdough with some avocado on the side!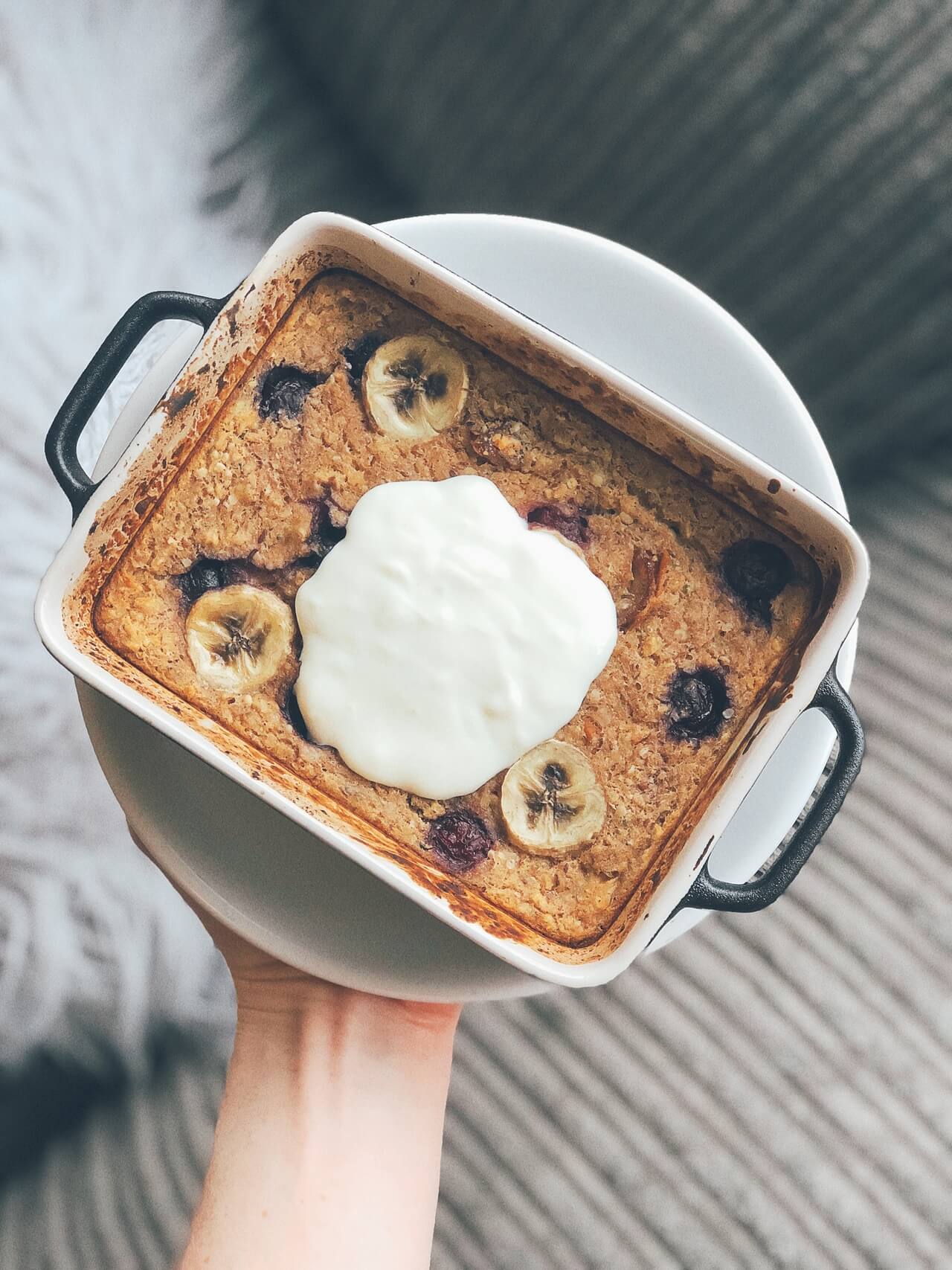 Baked oats
This is the easiest recipe ever, and a great alternative to porridge.
You will need…
1/2 cup porridge oats
1/4 cup almond milk or any other plant milk
1 mashed banana (the riper the better)
1 tsp cinnamon
1 tbsp maple syrup
small handful almonds, chopped
small handful blueberries
1 tsp chia seeds or flaxseeds
2 tbsp coconut yoghurt
Simply mix all the ingredients together in a small baking dish, or just use a bowl if you don't have a small one!
Bake on 200 degrees C for 25 minutes.
Top with coconut yoghurt to serve.
You could change up the add-ins here to anything you like! Such as raisins, grated apple, chopped dates, peanut butter, any chopped nuts, protein powder etc!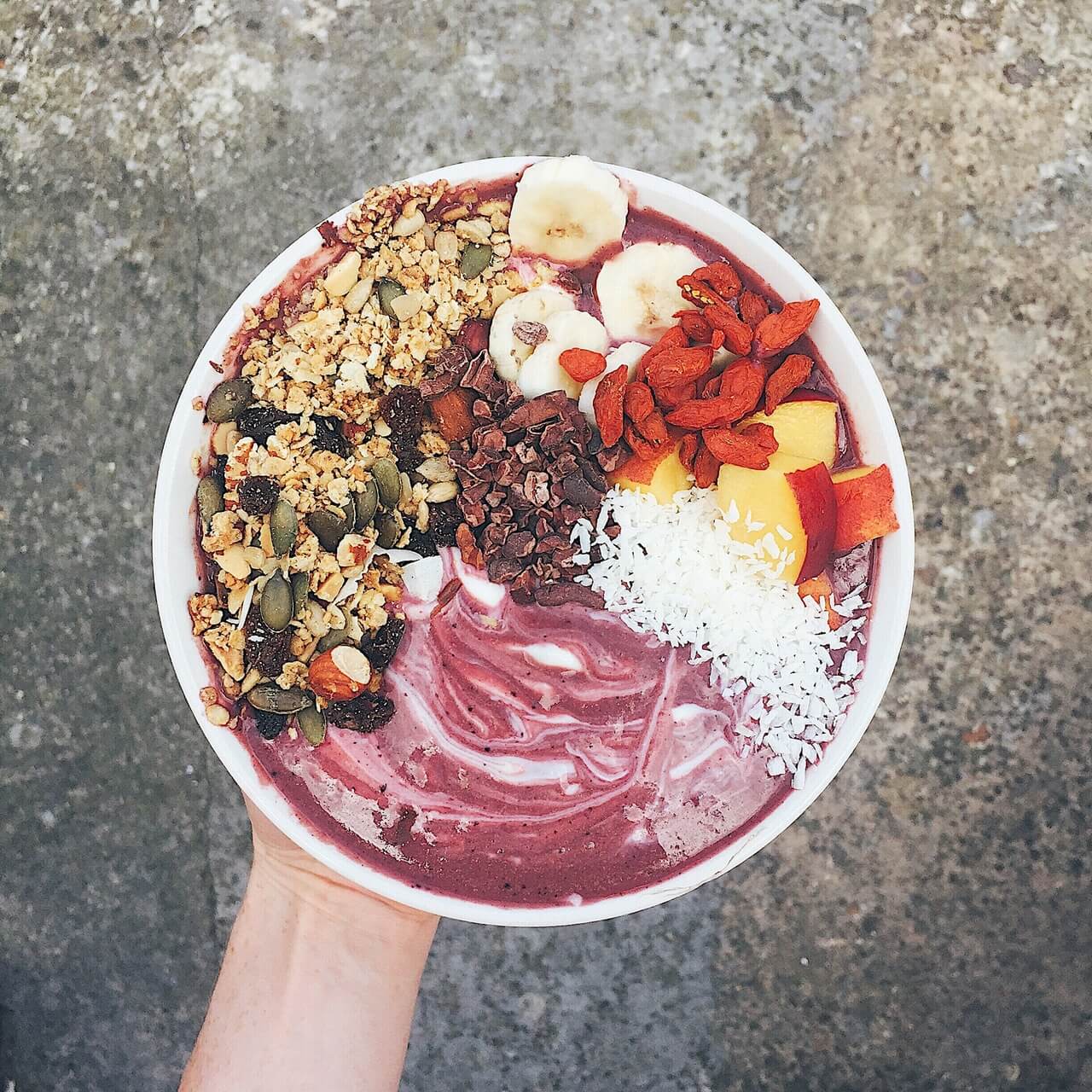 Acaii bowl
As the weather starts to get a bit warmer its nice to start with a cold breakfast. Acai is a superfood packed full of antioxidants. Its a little hard to get hold of but places like wholefoods, planet organic and Ocado usually have the puree packets, and you can also get it in powdered form. If you cant get your hands on some acas this can easily be omitted and replaced with any other fruit you fancy.
You will need…
1 acai puree packet
1 frozen banana
1/3 cup frozen cherries
1/3 cup frozen pineapple
1/3 cup frozen mango
handful spinach
1/2 tbsp maple syrup
dash coconut milk
2 tbsp coconut or soya yoghurt
small handful granola
other desired toppings (sliced banana, cacao nibs, goji berries, coconut flakes, chopped nectarine is pictured)
You'll need a pretty good, high-speed blender for this one. Its important your fruit is frozen to get the right texture for this smoothie bowl.
Add all ingredients through to coconut milk to blender and blend until thick and smooth. Add a few dashes more coconut milk if required.
Pour into bowl then swirl through the yoghurt. Top with granola and other desired toppings.