Paris Marathon: Getting back out there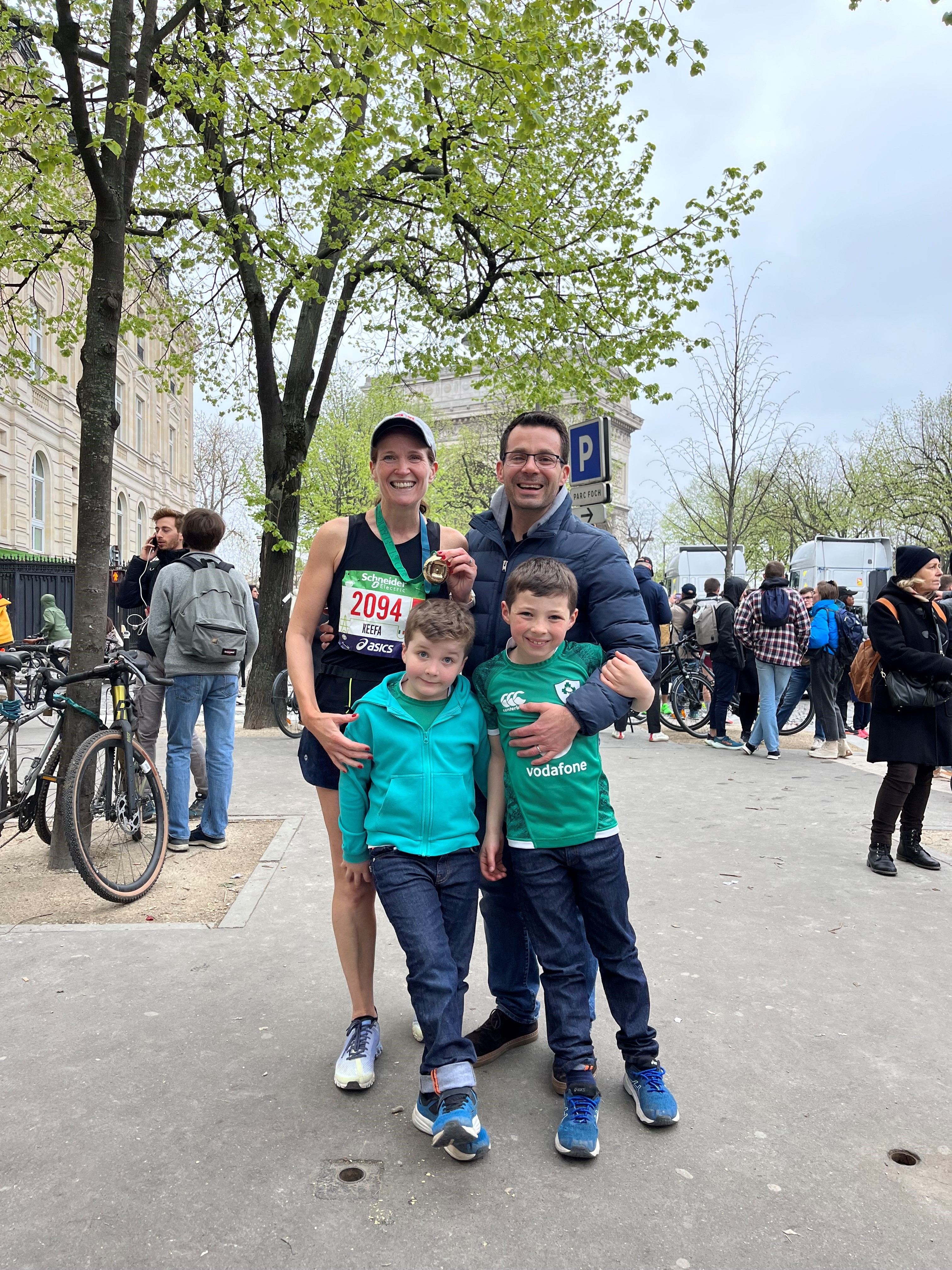 Before the pandemic, I used to run marathons and half marathons pretty regularly. When the pandemic hit, my racing habit got put on ice as every race got cancelled or postponed. Suddenly, almost four years had passed without a race – my longest stretch without a race since I started running.
In January, I spontaneously entered a local half marathon in Richmond Park with no expectations of myself. I'd been nursing a calf injury over Christmas but I was determined to break the no race streak. I managed to get around and in a time that wasn't a total embarrassment, so I thought I would seize the endorphin high and commit to running the Paris Marathon on 2 April.
I'm lucky enough to keep a good base level of fitness through regular running and lots of Digme classes, but obviously training for a marathon is a different challenge. I only had about 10 weeks to get myself race ready – much less than I've been used to in the past. Geoff and I set about writing a training plan to get me to the start line.
The calf injury hadn't completely gone away, so I needed to see a sports massage therapist regularly during my training. I stayed away from speed work and hilly runs until the last couple of weeks of training to avoid putting too much strain on the leg. Luckily, it stayed in one piece and I managed to get in a good training build without any serious interruptions.
Training for a race as a parent is just so different from before kids! In my pre-parenthood life, I would religiously put my feet up and wrap myself in cotton wool the week or two before the race. This time, the week before the race was crazy and I didn't seem to spend any time resting! Parenthood is magical, and a total privilege, but the juggle is real as a Mum of Two.
Geoff and the boys walked me to the start from our hotel before saying goodbye so they could get to their first cheer spot.
The Paris Marathon is an absolutely huge race at over 50,000 runners, so the vibe at the start on the Champs Elysees was brilliant. It felt so good to chat to other racers from all over the world and feel that energy and electricity of the race start again! It reminded me of why I love to race so much.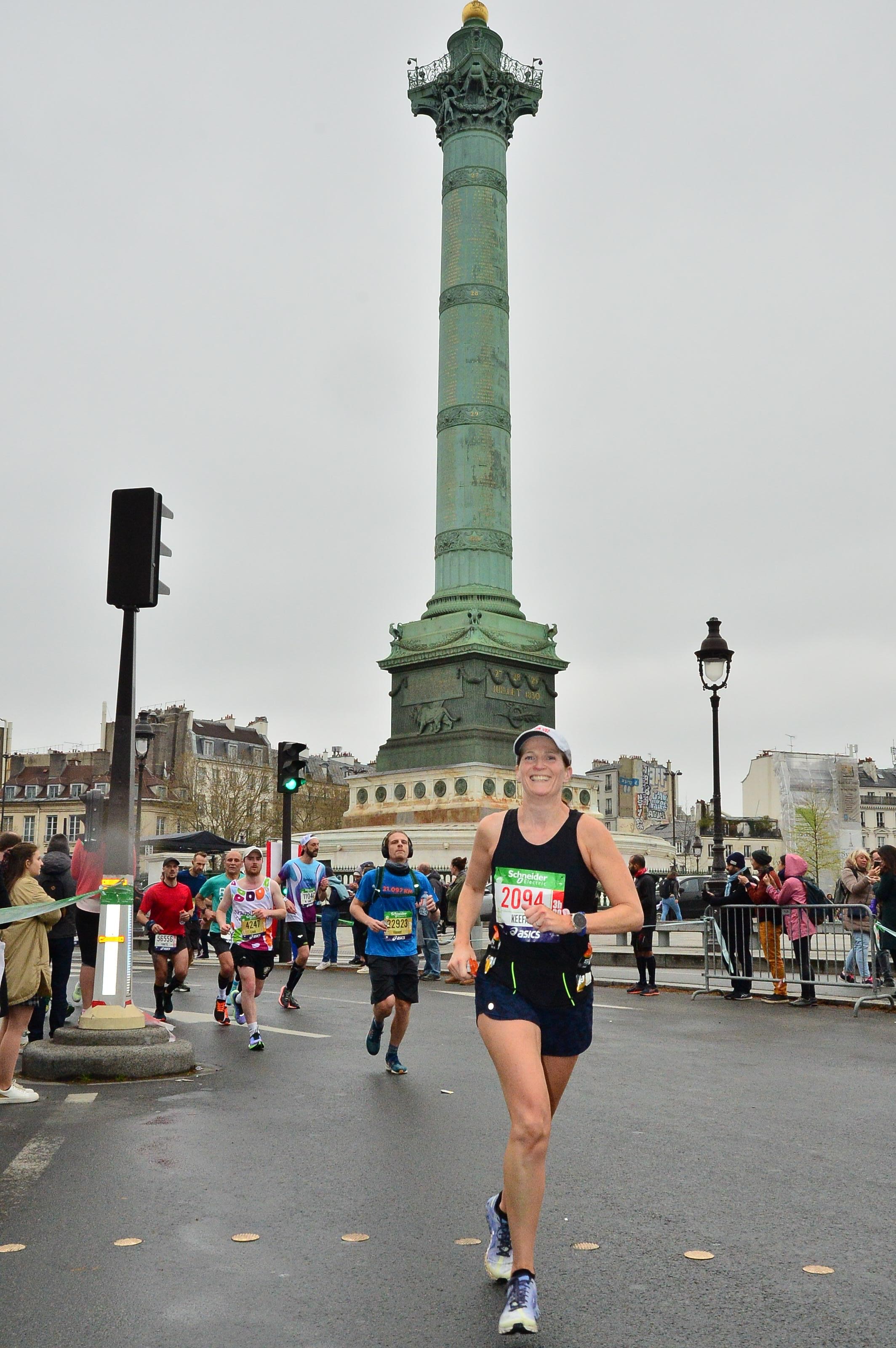 Paris is a great race for spectators and I managed to see Geoff, Alex and Ben four times on the way around. They weaved themselves into great cheering spots so I saw them clearly every time. It gave me such a lift to see them, but particularly on the last occasion at 39km when I was starting to really tire. By that point, I'd started to slow slightly and I was drifting behind my target time. When I saw them, I got such a rush from hearing and seeing them: "You've got this, Mum! We're so proud. See you at the finish!". It lifted me to really push for the last 3 km and my final kilometer was my fastest one of the race!
I'd set myself the target of breaking 3hrs 30 minutes. I used to run faster than this, but after a four year break, and only 10 weeks to get race ready, I wiped the slate clean to be realistic about what I could achieve. Being ambitious is important, but it is equally important to acknowledge where you are physically in marathon running as otherwise the last few kilometers will be very slow and very painful!
I ended up sneaking under my target time by 18 seconds! In my mind, I'm absolutely certain I would have missed my target if I hadn't had the boost from seeing my family just when I was flagging. The power of that emotional support is so enormous.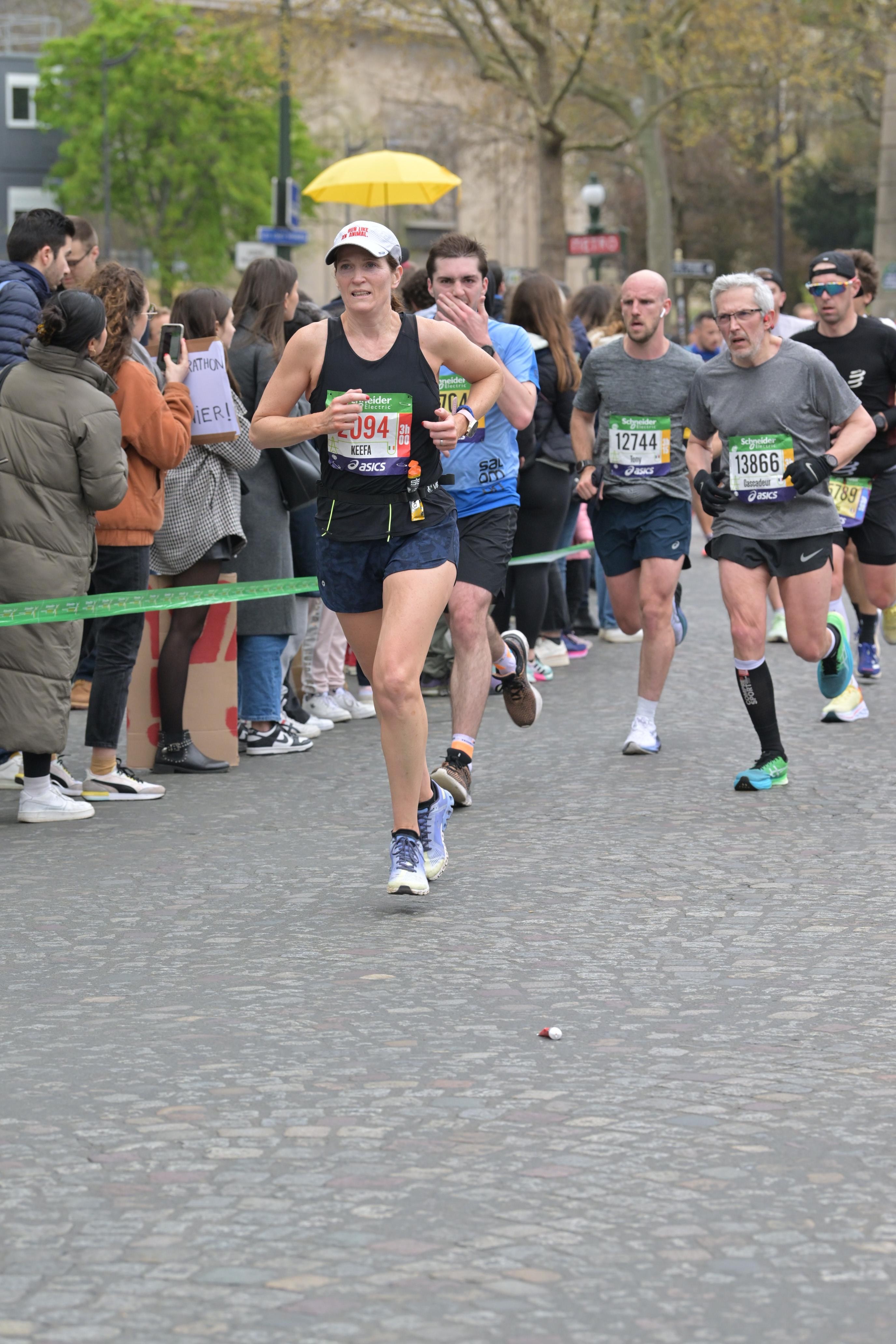 It felt so good to get back out there and do what I love again. I've really missed that over the last few years. It's been such a big part of my adult life and I'm really glad to reclaim that after the pandemic. I'm very proud of myself for jumping back in to racing and I'm so grateful to the boys for their support, not just on race day but in making the space for me to train to get to the start line.
If you're hesitating on whether to get out there again doing what you love – whether its racing or anything else – if you think about it too much you'll never do it. Just take the plunge and go for it. You won't regret it.
Caoimhe x