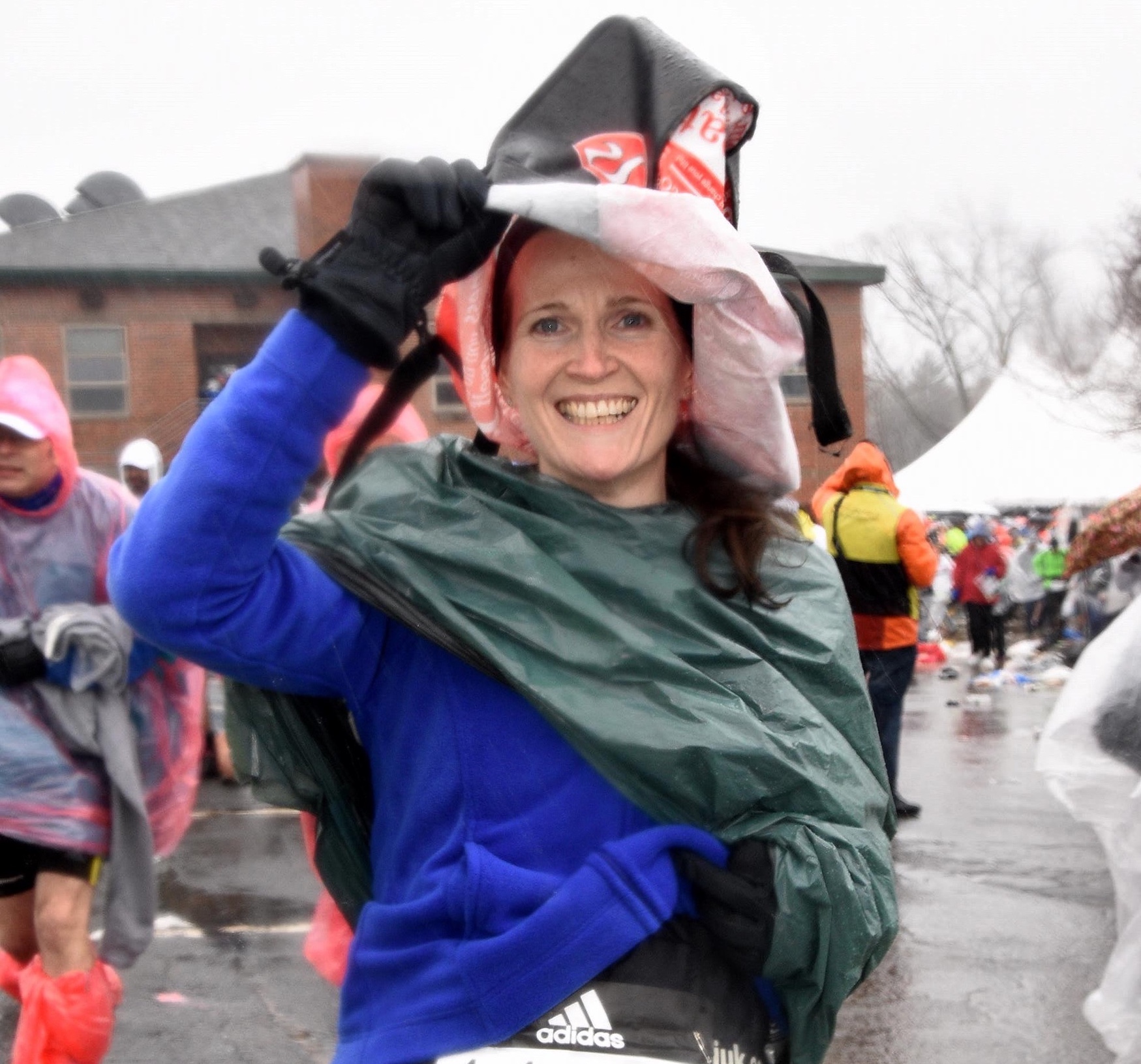 By Caoimhe Bamber, Founder

I have done nearly 80 marathons in my life, but for some reason have never gotten around to running Boston. In large part this is because I absolutely love to toe the line at London Marathon which tends to fall around the same time as Boston each year. However, after qualifying for Boston at Copenhagen Marathon last year I finally chose to hop over the Atlantic to race the oldest – and arguably the most prestigious – of the global Marathon Majors.

I decided to run Boston Marathon for our chosen charity partner Dallaglio RugbyWorks. This year was the tenth anniversary of my dad's passing and it was important to me to mark that occasion by giving back and doing something I know he would have loved to come and support.
Boston as a city has a special place in my heart. It was here that Geoff and I first took a Flywheel spin class back in early 2014 – a visit that set off a chain of thoughts, events and discussions that ultimately led to the birth of Digme. We visited the city almost a year after the Boston Marathon bombing of 2013 and we were struck by the strength of spirit and community in the city - something that was vividly present even a year after the attack. Boston is incredibly proud of its history, its culture and especially its marathon. That sense of spirit was just as visible throughout our visit this year – #BostonStrong is more than just a social media fabrication.
In the event, if anything, the weather was worse than expected – around four degrees Celcius, two inches of rain and a strong headwind forecast for the entire race. I set off early that morning to take one of the yellow school buses lined up in the centre of town, transporting the runners 26.2 miles out to the start line. In an effort to stay warm and dry, I was wearing a bin liner over my clothes, a lululemon bag on my head and plastic supermarket bags on my feet – quite a look!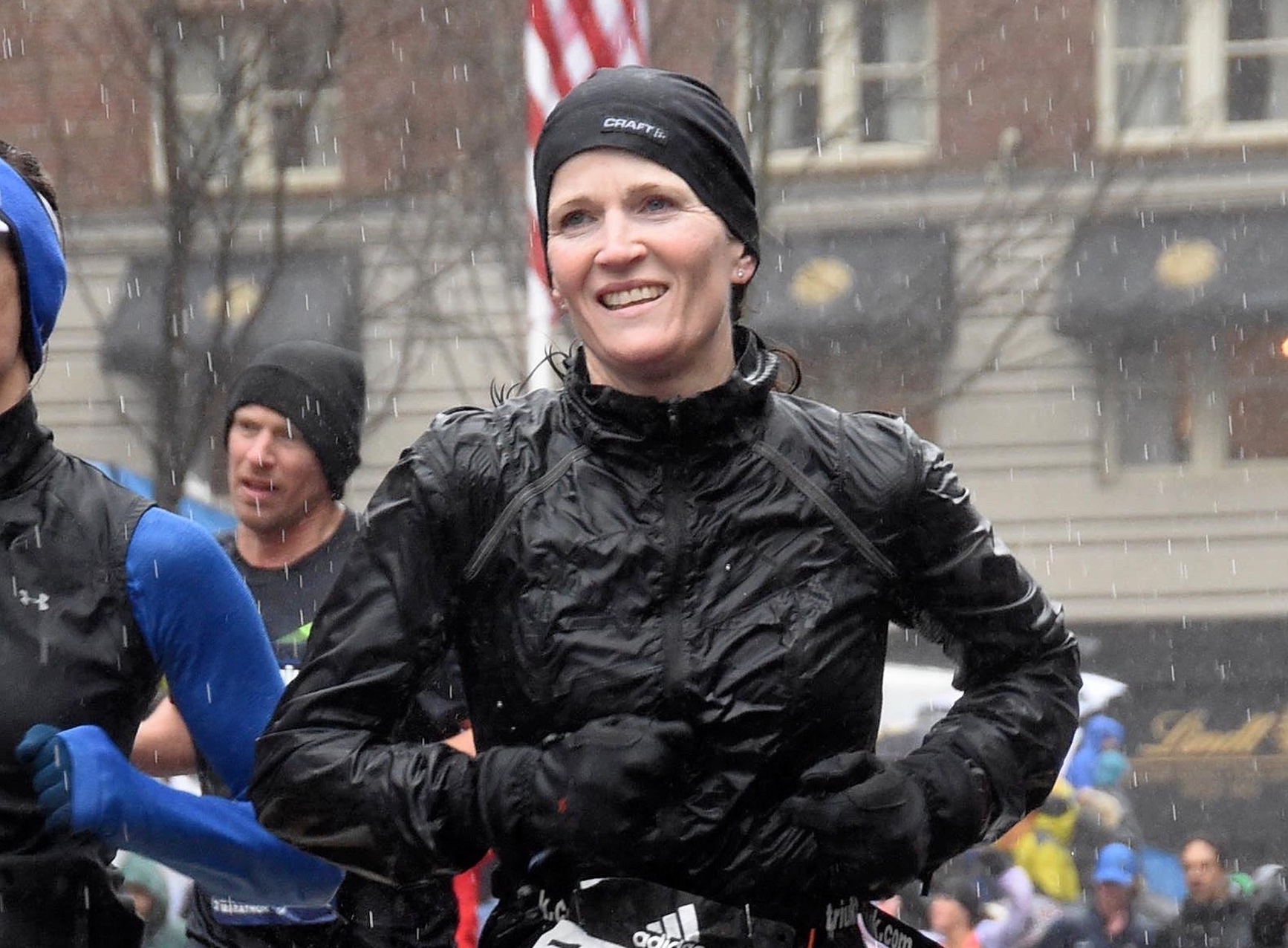 The athletes' village – basically an empty field – was a muddy swamp and all the runners had crammed themselves into the breakfast tent to shelter from the rain. This created a sort of bizarre camaraderie – a sense that everyone was thinking 'this is awful, but we are all in it together and we've got each other's backs'. On the muddy, cold and wet walk to the start line, the suburban streets were lined with residents out on their porches in the rain providing hot chocolate, coffee and tea for the racers trudging to the holding pen. #BostonStrong.
By the time we had made it to the start line, after stripping off our pre-race clothing, everyone was soaked to the bone no matter what measures anyone had taken to keep dry. It was clear that large numbers of people were suffering with the cold and wet before we'd even got going.
Once the race was off, it was pure attrition. The rain ebbed and flowed, varying between regular winter drizzle through to a full-bore storm. The wind was there throughout but picked up as we got further into the race, hitting 50mph from about mile 20 to the finish.
Geoff and I had planned for him to be spectating with the boys at around mile 17.5. However, managing a double stroller and working the busy trains running out of town, he actually found his way to mile 20, just before the infamous Heartbreak Hill. I'd been looking forward all race to seeing Geoff and the boys at mile 17.5 and I was so sad when I went through the 18-mile marker and hadn't seen them. I was running in a bit of a daze, going through all of the possibilities over and over in my head. I got to mile 20 and I suddenly heard 'Caoimhe! CAOIMHE!!!' and there were my boys! I ran over and gave them the biggest hugs and kisses. I was so unbelievably happy to see them.
Seeing Geoff and the kids put such wind under my wings that I absolutely sailed up Heartbreak Hill and actually missed the fact that it was there! A spectator shouted out 'you've conquered the hill, well done' and I thought 'wow, that was it!'. Just shows you how high emotions (and training in undulating Richmond Park) can help! I was on a total high through to the finish line and although obviously very tired I had a smile on my face all the way to Boylston Street. In that time, I saw some really heart-warming sights amongst other competitors. One sticks in my mind in particular – a runner who collapsed with hypothermia a short distance ahead of me and a matter of a few hundred metres from the finish line. Without a moment's thought, two runners both stopped, put him over their shoulders and supported him to the line. They gave up their chance of a sub 3:30 finish to help this suffering soul. I welled up on the spot.
I reconnected with Geoff, Alex and Ben in the family area after the finish line. They were all thrilled to see me. Supporting is emotionally draining, even when it is logistically easy and the weather is nice – I've been there. The boys had been on the road for eight hours, taken six trains and were soaked to the bone by the time we'd been reunited. Alex and Ben were delighted with my beautiful unicorn medal!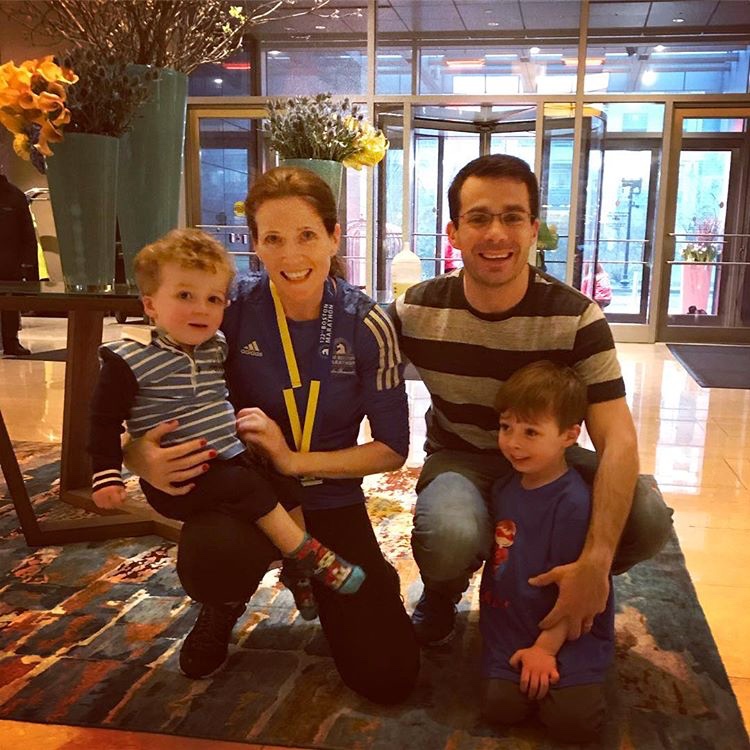 Boston is a special race: its heritage as the world's longest-running marathon; the fact that you have to qualify; the warm embrace the race is given by the city and community; the sense of anticipation and camaraderie amongst the runners. There is no golden bullet, but the combination of factors does combine to deliver a magical experience. We will certainly be going back again although next time we will cross our fingers for better weather!
Mahalo,
Caoimhe
PS. If you'd like to sponsor me, here's the link to my charity page. Thank you!