26 JULY 2017
Digme teams up with Dallaglio Cycle Slam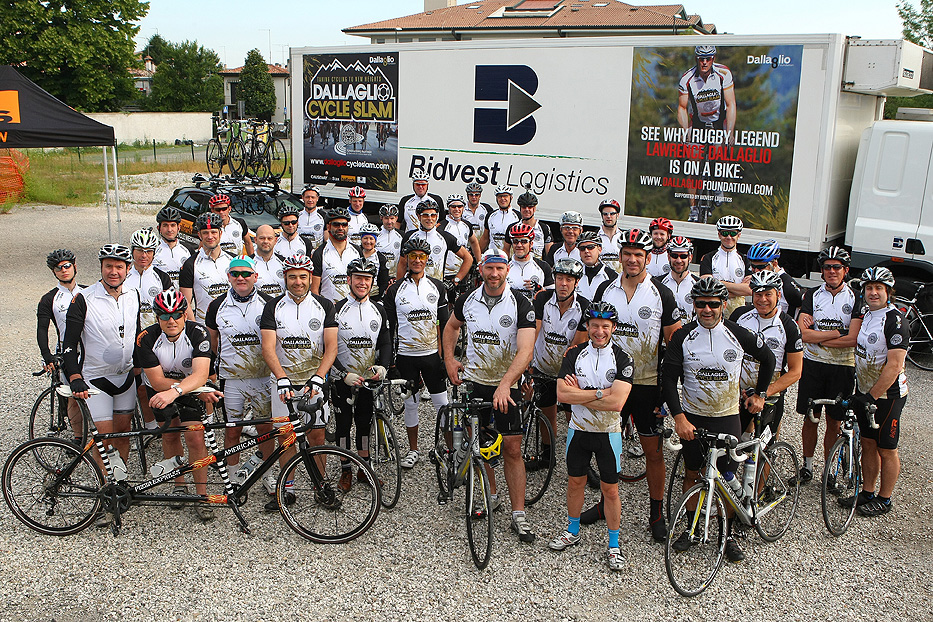 Digme Fitness is delighted to announce it will be an official partner of the Dallaglio Cycle Slam, the highly-acclaimed fundraising event of Dallaglio RugbyWorks, in 2018.
The Dallaglio Cycle Slam, founded by former England rugby captain Lawrence Dallaglio OBE in 2010, takes place every other year and involves up to 200 riders cycling demanding European routes over three weeks raising money for his charity, Dallaglio RugbyWorks.
Dallaglio RugbyWorks delivers a long-term programme to teenagers who sit outside mainstream education to ensure they achieve sustained education, employment or training.
The 2018 edition, from 27 May to 14 June, will cover more than 1,500km from Chamonix through the French and Swiss Alps, down to the Italian lakes and along the Croatian coast before finishing in Split.

Last year's Dallaglio Cycle Slam, which started in San Sebastian and finished in Ibiza, raised more than £800,000, and the 2018 event is expected to surpass that phenomenal sum.
Around 30 'core riders' – Lawrence being one – who complete the entire route will be joined by up to 50 more for each stage, and although there is a strong emphasis on fun, riding even one stage is a huge physical challenge.
Digme Fitness will help the team prepare for what lies ahead with dedicated training sessions in its state of the art indoor cycling studio in Richmond, where Lawrence is a regular. All Dallaglio Cycle Slam participants will also have the option of training at Digme's three other sites – Moorgate, Blackfriars and Oxford.
A month before the challenge begins next May, Digme will host a special Dallaglio Cycle Slam themed event in Richmond, with all proceeds going to Dallaglio RugbyWorks.
Caoimhe Bamber, Founder of Digme Fitness, said: "Everyone at Digme is delighted that we're becoming partners of the 2018 Dallaglio Cycle Slam. We're very pleased to be able to do our bit for such a fantastic cause
"Lawrence is an incredible member of the Digme Richmond community and it's been so much fun watching the friendship, camaraderie and of course competition grow among a group of loyal riders there, many of whom will be taking part in the Dallaglio Cycle Slam.
"It's wonderful that a such an incredible sportsperson is strongly motivated to use his profile to the benefit of the greater good. Geoff (Bamber, Digme's CEO) and I are delighted to be able to support his work and that of Dallaglio RugbyWorks.
"We're excited about what's to come in this partnership and we're looking forward to helping everyone get fit and ready for what is set to be an epic ride."
Lawrence Dallaglio OBE, Founder of Dallaglio RugbyWorks, said: "The unique element of the Dallaglio Cycle Slam is the challenge of the ride coupled with the camaraderie between all of the riders. It creates an incredibly unique experience and we are delighted to partner with Digme Fitness to enable us to train in their fantastic facilities and socialise as a group ahead of the event.
"By bringing our riders together ahead of the event, not only will it help their physical preparation but also remind them why they are taking part, raising money for Dallaglio RugbyWorks."
There are still spaces available for the 2018 Dallaglio Cycle Slam, for which participants are tasked with raising £3,250 for Dallaglio RugbyWorks. Please click HERE for more details about taking part.