We've got to admit, when instructor Charlie said he wanted to ride every single class in Richmond during the seven days of Sweat Week, eyebrows were raised. This was taking Sweat Week to a whole other level! His challenge amounted to 42 classes, including an extra bonus FTP test we ran that weekend, and a couple of longer, 75-minute sessions. Could he do it? Read on to find out how Charlie's challenge went…
I reached a really decent standard of cycling last year and I knew this year I wanted something to help me push on. I'm also relatively new on the timetable so I was looking for ways I could get to know the studios, members, other instructors and staff a lot better than I could just doing my couple of classes each week.
I was always going to do Sweat Week, and I had a week off work booked so I was thinking about some sort of mini boot camp, but I didn't know exactly what it looked like. Then it occurred to me to try to ride every class.
I just thought, 'I'm pretty sure this hasn't been done before and it could be fun, so let's see if it's possible'.
It was very much a week of two halves. Monday was tough because of the mental challenge and knowing I still had 30-odd classes left to go. It was all in my head, but I was really daunted by what lay ahead after the first few on Monday.
Then the second half was so fun because it felt like I was on the home straight, and more and more people were getting on board being really supportive and encouraging. It was so nice seeing some familiar faces each day.
However, as the mental side became easier as I neared the finish, my body was really wearing out.
But I managed to rally and push through to the end, and amazingly I had my strongest numbers in the very last class on Sunday. I really wanted to finish on a high so I gave it absolutely everything and nearly fell off the bike at the end. It was a great class with Kevin and it ended up being my biggest effort of the week.
As soon as I lifted my head, someone put a beer in my hand which was amazing. That moment and Beats n Cleats on Friday night were the highlights of the week. Sophia had to step in late on for Dan, who was ill, and she delivered an incredible class with the Timbaland vs Timberlake theme.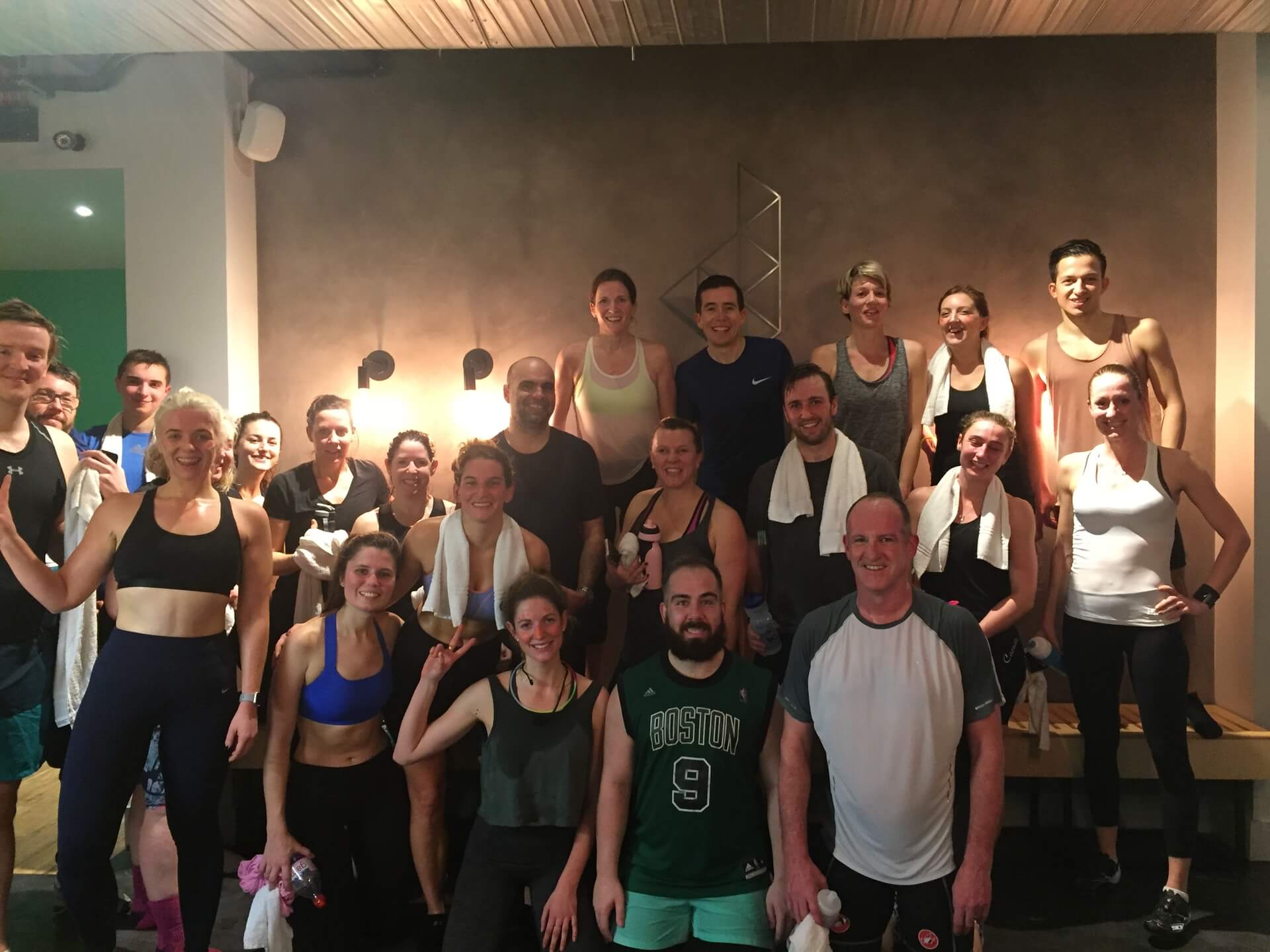 In contrast, the lowest point was probably Wednesday afternoon, when I was absolutely exhausted. The days were pretty long with early starts and late finishes, and there was still a really long way to go. I went home, had a half-hour nap and pressed the reset button which helped me snap out of it.
Did I give it all in every session? The first couple of days I set myself a target to achieve in each class. But I probably set it too high and I wasn't eating enough, so my body felt it significantly.
I went away and reassessed, which helped a lot. I told myself it was okay not to go 100% every time.
The FTP test was good on Saturday, and amazingly despite the tired legs I got a higher number than when I last did a test about six months ago. I'd like to give it another go soon when I'm a bit fresher.
I was back teaching the 7.30am on Monday morning, and it's safe to say there was more coaching and less participating on my part! I'm looking forward to having a few days' rest now.
I need to give a huge shout out to all the riders who supported me and wished me well throughout the week. It was so nice to see the same faces, and I was surprised by how many people wanted to know how I was getting on.
Also thanks to all the instructors – I was actually really surprised by how different every class was and the variety of music and styles. It kept it fresh. I definitely picked up a few tips as well – stylistic things, certain tracks I enjoyed and different drills.
Roll on the next challenge – once I've had a rest!