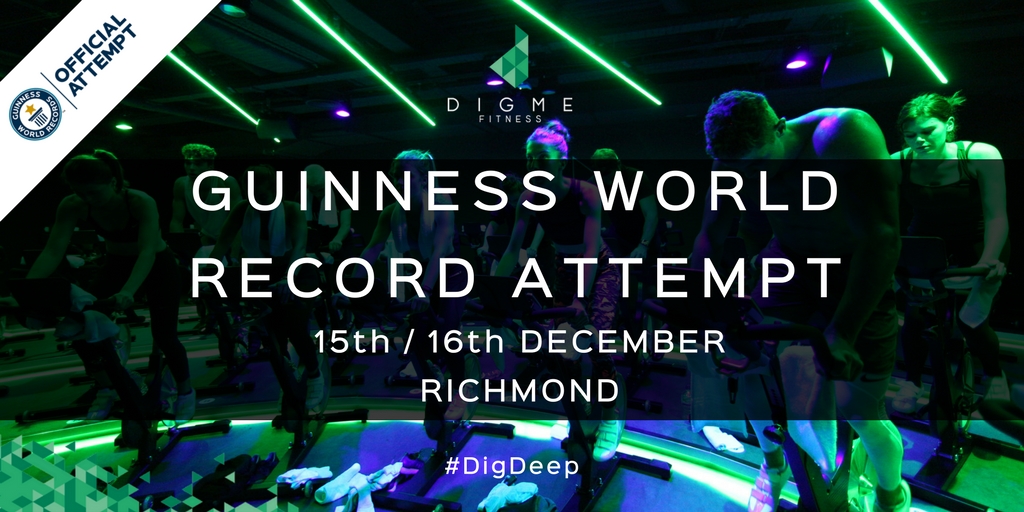 We're incredibly excited to announce that we're aiming to set a new Guinness World Record! We'll be aiming for the most participants in a static cycling relay event in 24 hours. The aim of the event is to raise awareness of and money for our fantastic Charity Partner, Dallaglio RugbyWorks (read about their great work here).
The event will kick off in Richmond at 5.30pm on Friday 15th December with a special edition of our Head of Fitness Dan's legendary end-of-week Ride class, concluding at the same time the following day. The format will be 24 one-hour classes running back-to-back. Instructors from every studio will be coming to Richmond to teach classes, as well as a selection of incredible guest instructors.
We have an auction where you can bid for incredible products and experiences, a raffle to win some awesome prizes, celebrity participants, world-renowned guest instructors, themed classes, some delicious snacks to fuel our efforts and lots more going on to keep everyone entertained.
This is a once in a lifetime opportunity to be part of a world record attempt – come and play your part! Tickets are £25 per bike for a one-hour slot, with all proceeds going to Dallaglio RugbyWorks. Just head to the credits page and buy a 'Guinness World Record Credit'. If you would like to ride in multiple classes or book a large group, please email sarah@digmefitness.com for pricing information.
In order to set the world record, we have to get everyone riding a kilometre on our special edition gold bike, which will be at the front of the studio next to the instructor. Get ready to jump on during your class and take your turn at riding into the record books! We'll always start with the person on bike one, so when you book your bike, you're better off picking a lower number to make sure you get your go in your allotted hour.
Here are some answers to other Frequently Asked Questions about the attempt:
- The format of the record is a relay and each participant must ride at least 1km on the record bike. There must be no more than 20 seconds between riders riding the bike.
- No individual participant can ride the record bike more than once. As such, whilst you can ride in more than one class, you can only ride the record bike once.
- You do NOT have to ride for the whole 24 hours, although our legendary founding instructor Kevin Mercer and Keiser's Master Trainer Darren Teagles are both aiming to do this. Their Virgin Giving page can be found here.
- You don't need to ride a whole class to ride the record bike and contribute to the record. However, those in the class will be given first priority so if you'd like to ride the bike but not ride a whole class, please come to a quieter slot.
- If you are at all unsure about riding in cleats, please bring trainers so that our rider transitions can be as quick as possible.
- The auction will open from Monday 11th December to Saturday 16th December at 5pm.
We are going to need lots of hands on deck to make this event happen. If you would like to get involved with the organisation of the event, please contact sarah@digmefitness.com about volunteering opportunities.
We're so excited about this challenge and hope you are too! Please come and join us in making history and raising money for a great cause.