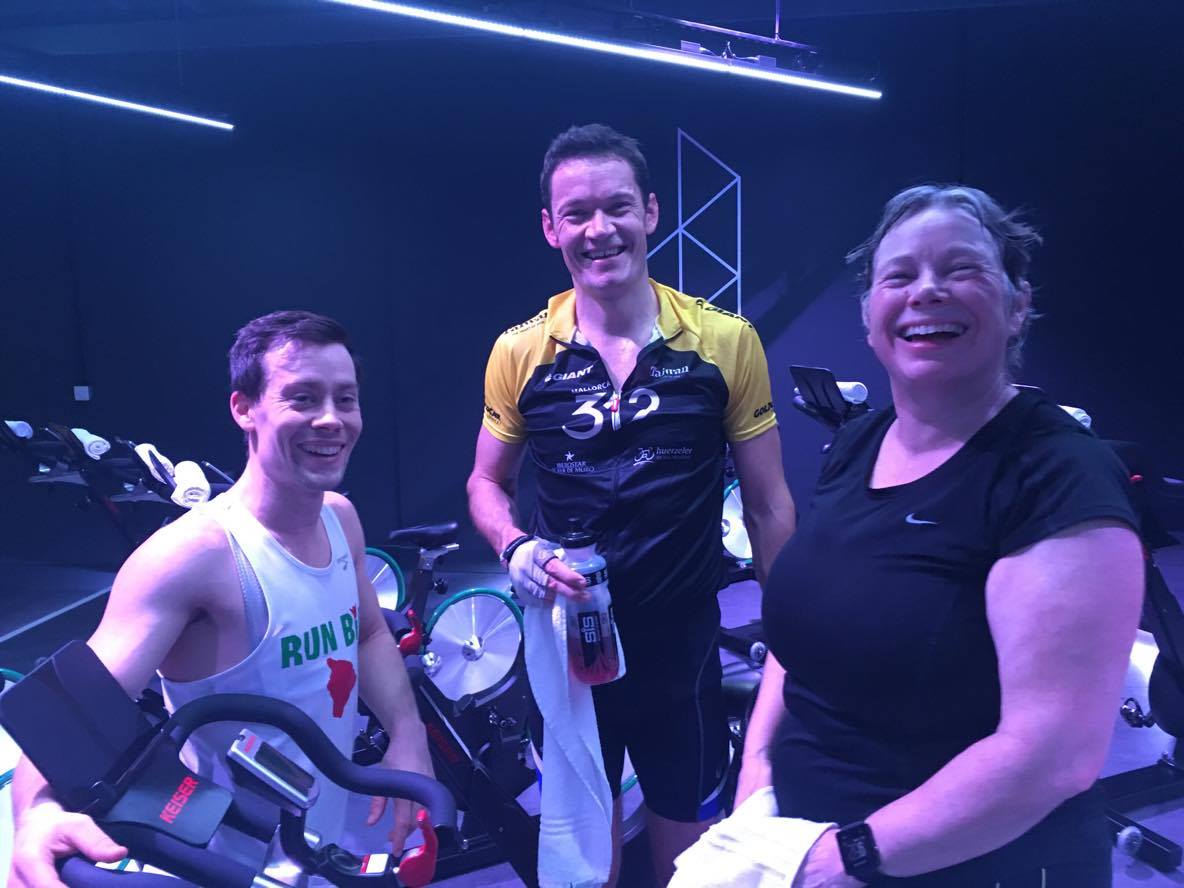 We're inspired each and every day by the people who come into our studios, sweat, work hard and leave with a feeling of achievement. Everyone who comes to Digme Fitness has a different story, and sometimes certain stories simply have to be told. That's what this blog series is all about: sharing achievements from our communities which will inspire you.
The next edition of this series features Oxford's Judith Nicholson, who does regular spin classes at Digme to help cope with a rare, progressive muscle-weakening condition.
In her own words…
I've got a relatively rare neurological condition called Charcot-Marie-Tooth disease (CMT), which was diagnosed after I had my first daughter more than 30 years ago. Despite its name, it has nothing to do with my teeth! I have muscle weakness in my lower legs, and feet and balance issues, because the nerves to my peripheral muscles don't work properly. Exercise has become very important to me, first because I enjoy it - it motivates me and reduces stress - but I also believe it really helps my condition from progressing.
Gareth has been my PT for the last three and a half years or so. He's helped me enormously and I love his spin classes. Spin is great for me because I'm supported by the bike. With Gareth's help I've improved my technique so much despite my limitations, and his ongoing support at Digme is invaluable to me.
When Gareth told me he was moving to Digme for spin, I was disappointed. I felt I was too old to go to this new, young, spin studio. I didn't want to lose him as my spin instructor or my PT. Gareth told me I was not too old and he wouldn't drop me just because he wasn't my PT anymore, so I plucked up courage and tried Digme and have not looked back since. I love it there, all the staff are very encouraging and make me feel very at home. I give it 100% and I get 100% back.
The data I get from Digme classes gives me a target to beat and a challenge every time to get better. I go twice a week, usually to Gareth's Saturday morning class and to Lizzie's 6.30am class on a Tuesday before work, but I'm confident to go to any of the classes now as they're all good. I work full time as an administrator in the NHS and I feel great for the rest of the day after an early class. I also love the spin shoes provided and not having to carry very much with me to a class.
I also do Nordic walking, swimming and pilates – all in different places. I've come to expect the best of each one, and I've been very lucky with all the people who have helped me along the way.
The data system at Digme gives everybody a fair chance. At first I thought and accepted that I would always be at the bottom of the leaderboard and the bike at the back on the road, but I have learnt how to get the gears right for me and have done a couple of FTP tests which have been uploaded on the system.
I am often at the top of the leaderboard now and get quite competitive both with myself and others. I never realised I was competitive before, so despite always having low power I can still be up with the best of them, which makes me feel good. There is always something else to strive for such as increasing my RPM or my power and long may it continue!