19 MAY 2017
Luke Tyburski on mental health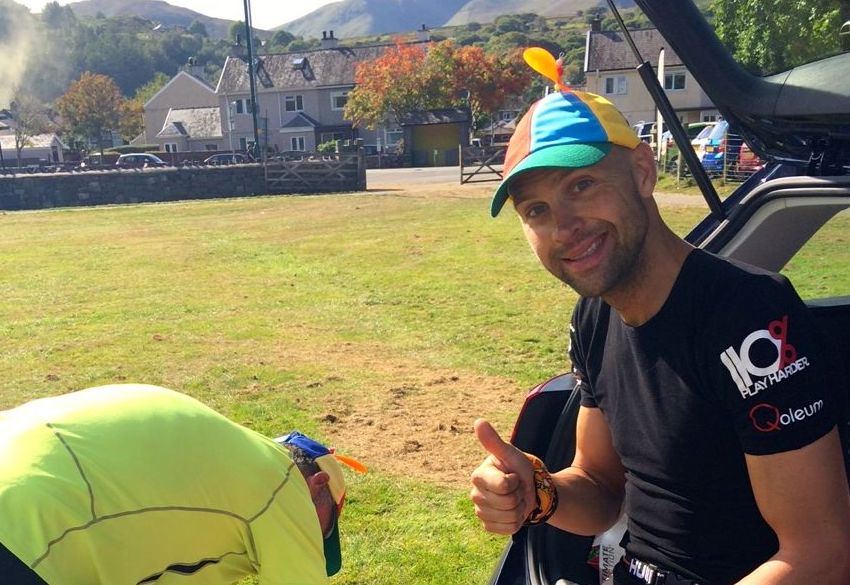 Our series for Mental Health Awareness Month on the positive effects of exercise this week features Luke Tyburski, who is well known in Richmond and beyond for his amazing endurance challenges.
In 2016 he completed the Ultimate Triathlon, where he swam the Strait of Gibraltar, cycled the length of Spain and ran along the south coast of France to Monaco – 2,000 kilometres all in just 12 days.
Prior to that, he completed the Mount Everest Ultra Marathon – a brutal 65km event where the start line is at 5,200m altitude – and a Double Ironman in Snowdonia comprising nearly 8kms of swimming, a 360km cycle and two marathons to finish.
But it all started when one day, completely out of the blue and with no background in long distance running, he signed up for the famous Marathon des Sables in 2012 in an attempt to tackle his depression.
"I was a professional football player in Australia all my life, but I got to a point where I had a really bad run of injuries," explained Luke, who regularly works out at Digme Fitness Richmond. "I had the classic symptoms of depression – I was tired all the time, I was retracting from society and I was having suicidal thoughts. Life sucked and I was barely surviving.
"For years this went on and I didn't talk to anyone about it. I covered up those feelings, but eventually I cracked and went to a therapist who diagnosed me with clinical depression.
"I was forced to retire because of yet another injury, and at rock bottom, I decided on a whim to sign up for the Marathon des Sables - 156 miles over six days across the Sahara Desert.
"I'd never run in my life if it wasn't training for a sport, but I called up, paid the deposit and committed my entire savings to doing this epic event."
Having thrown himself into the deepest end imaginable, Luke set about training for seven months before heading to Africa with no real clue what to expect.
"I had very few expectations, but I felt alive for the first time in years," he said. "I felt like I had a purpose every morning. I was showing myself what I was capable of. I was gaining confidence through running and achieving each day's stage.
"There was a definite chemical change in my body. It helped me realise that life is like the MDS – you only have to worry about the day you're in, not yesterday or tomorrow.
"All I had to do was put one foot in front of the other, and there's a big correlation with life. When people are having dark times, the mind gets away from the present and becomes preoccupied with the past or the future.
"You can't do that in endurance sports, and it's detrimental in life, too. You have to stay in the present to remain positive."
Realising he was good at endurance sport – he finished in the top 20 percent in the MDS – Luke set his sights on other challenges, and several years of planning, training for and executing long-distance adventures ensued.
When he's not plotting another challenge, he uses his experiences to do motivational speaking, and is a huge supporter of initiatives aimed at raising awareness of mental health issues.
"Everyone has mental health, good or bad," he said. "It really helps to be part of a community and being around other people.
"There's a truth about safety in numbers. Things get easier if you talk to people about it – I know that better than most. A community helps take the weight off your shoulders.
"Find a purpose, find something that helps you get going that day. Set a goal, even if it's to get up, go outside and take five deep breaths in the fresh air. I promise even that will help you feel better. Make sure you see every little thing you achieve – even if it's going outside – as an achievement and positively reinforce it."
Our other blog posts in recognition of Mental Health Awareness Month feature professional triathlete and psychologist Natalie Seymour giving her tips on mental health, and Richmond fitness fanatic Bridget Hunt talking about using exercise to cope with bipolar.