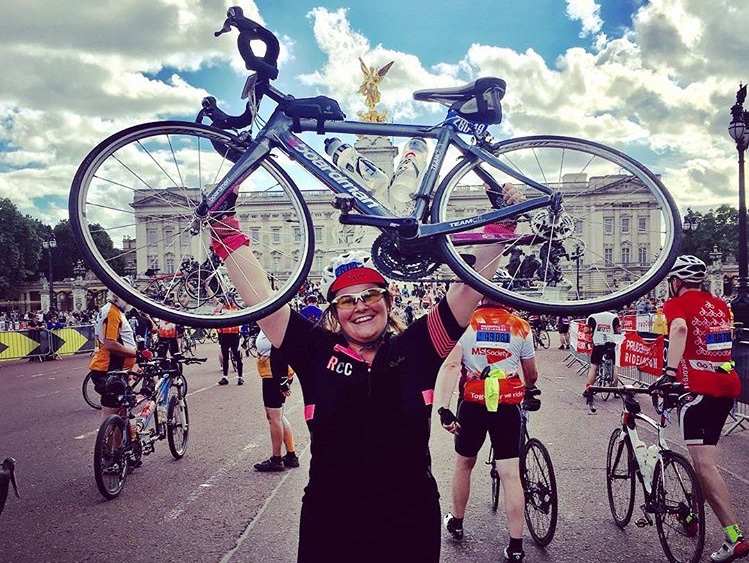 Paula Robertson, the Operations Director for our Charity Partner, Dallaglio RugbyWorks, will be the first female rider to tackle all three stages of the Cycle Slam since 2012 when the epic journey begins in May. She's been training hard at Digme in preparation for the three-week, nearly 2,000km ride from Chamonix to Split, and we recently caught up with her to find out how it's going...
There are 110 days to go and I'm terrified! The realisation is hitting me and I know it's going to fly by between now and then. It's a really busy time for us getting ready for the event from a work point of view, so before I know it it's going to be May and the ride will be upon us.
I had a really bad experience in a triathlon last October, and it really put me off doing anything for a while afterwards. Then I moved house and then it was Christmas, so in January it felt like I'd really let things slide and I was starting from scratch.
The pressure helps though! I've been doing loads of Digme sessions in the last few weeks and I'm making progress.
There are five women doing the Cycle Slam and I'm the only one doing the whole thing. I did a stage on my own in 2014 and cycled eight days while crewing the whole thing in 2016, so I know what to expect. The guys all really look after me and it's great fun.
The thing I'm most looking forward to is that feeling at the end of each day, when you're exhausted but in a positive way. There's an incredible camaraderie and sense of achievement, that we all got through it together as a team and pulled one another along.

The thing I'm not looking forward to is the fear I always get before a ride. It's a psychological thing because I know I've done the training and I'm ready, but there's this nagging feeling before I get going saying I can't.
I do struggle with self-doubt quite badly. I even get it before a 20km ride which is ridiculous after four years of reasonably serious cycling training. I wish I didn't get it as it's energy-sapping.
In Mallorca in 2016, we came down a steep hill on day one and on day three we had to go back up it, and I got so anxious that I take myself off into a corner and give myself a talking to.
All the Digme instructors I've ridden with are great, but I really enjoy Paola's classes. I like working in the power zones rather than to RPM, because I much prefer a lower cadence in a higher gear and standing up. Speed work is tough.
I did my first outdoor ride of the year at the weekend. It was pretty tough in the cold! But it was great to get outside and I definitely felt the benefit of all the indoor training.
The first one is the hardest – once that's out of the way it'll get easier. Roll on May…
Find out more about Paula's story and how you can sponsor her HERE.
The Dallaglio Cycle Slam, founded by former England rugby captain Lawrence Dallaglio OBE in 2010, takes place every other year and involves up to 200 riders cycling demanding European routes over three weeks raising money for his charity, Dallaglio RugbyWorks.
Former England Rugby Captain and 2003 World Cup winner Lawrence Dallaglio set up Dallaglio RugbyWorks in 2009 with a core objective of supporting disengaged young people achieve a positive future through the power of rugby.
Dallaglio RugbyWorks programme engages young people at increased risk of long-term unemployment, criminality and imprisonment, helping them achieve sustained education, employment or training through a three-stage journey designed around the core values of rugby.