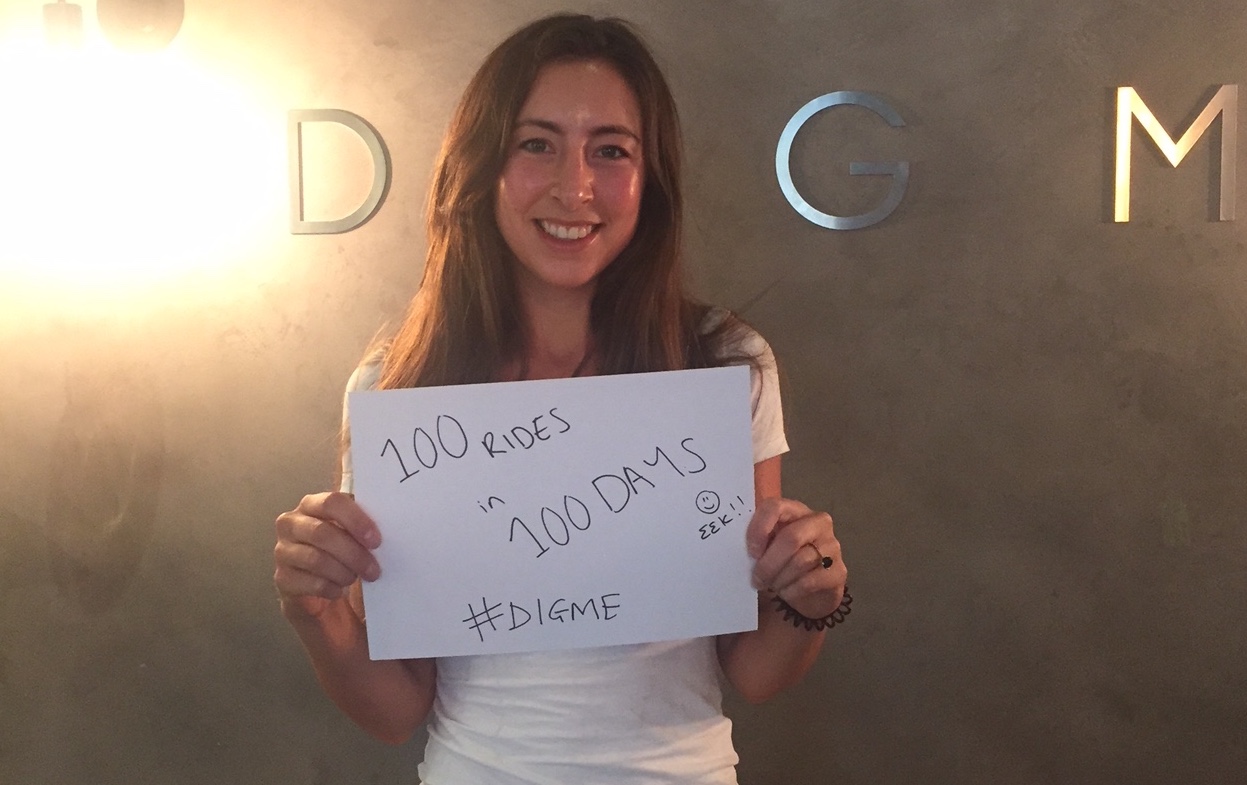 Richmond rider Siobhan Harvey is nearly halfway through 100 classes in 100 days, a challenge she's undertaking to raise money for Movember UK, after her dad was diagnosed with Leukaemia last year.
Siobhan, 29, told us what motivated her to do this challenge and what it means to her. Her fundraising page can be found HERE.
A Seed is Planted…
I'd decided to do Sweat Week earlier this year, and one of the instructors mentioned Luca in a class, who at that point had not long started his 100 rides in 100 days challenge. I just thought, 'Oh. My. God'.
There I was struggling on day three out of seven, and he was doing 100. Luca has been a massive inspiration, and has been sooooo helpful giving me tips and advice on how to remain focused (and look after myself). It was great to finally meet him in person last week - although it feels as though I've known him for months. He's such an amazing guy and so positive!
The Reason Behind This Madness
Following my dad's diagnosis in November, I really wanted to do something to raise awareness about men's health (and the availability of men's health checks) and the Movember UK cause more generally. According to Movember's research, women live six years longer than men for reasons that are largely preventable, but men don't talk or share like women do, and that's the killer.
I always thought I'd run a marathon before I was 30, but due to an ongoing Achilles problem I've never been able to sustain training……so this is my marathon (and I'm the big 3-0 in August). I'm a member of a gym, but I found myself constantly heading back to Digme for two to three classes a week. I just wasn't loving spending 45 mins on a cross-trainer and working out on my own, so I thought why not come back to Digme and do something big.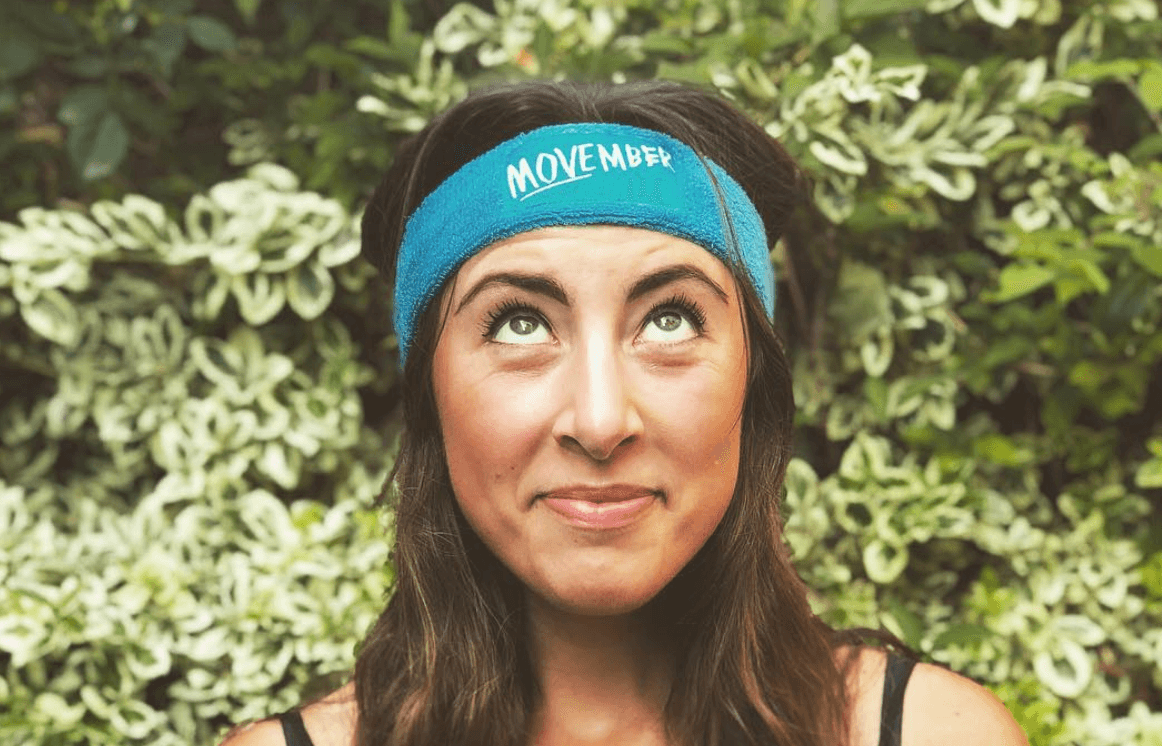 Getting Started
I'm getting married this year, and have my hen do coming up in September. So following Tom's 8am Sat Ride class on 2nd June I was sat eating my breakfast high on endorphins thinking 'I'll count back the days from my hen do and start on whatever date is 100 days before that'. Much to my horror it turned out to be sooner than I thought, and my start date was the following Tues, 5th June, so I decided to do it there and then.
Once it was out there on social media there was no going back!
My Dad
Dad has always been very fit, healthy and sports mad. However last year he started struggling with a few niggly illnesses that he just wasn't kicking. Following a little nagging from my mum, he went for a men's health check up with his GP and as a result was diagnosed with Leukaemia last November. Thankfully, the doctors have caught it early and he can now be monitored and treated to ensure that he lives a pretty normal and healthy life (as long as he looks after himself properly and doesn't continue to go hell for leather as he's so used to).
As a family who have all been lucky to be very healthy until now, we weren't really sure how to handle the news about his illness, and so it became a bit of an elephant in the room.
I suppose I wasn't really sure how Dad wanted us to react to his news so I avoided talking about it too much. He's a confident, macho, strong character and has put on a very brave face. So this is my way of getting people to talk about it and open up.
When I committed to the challenge, I made sure to talk to Dad to check he was comfortable with it, as so many of his friends and colleagues didn't even know about his diagnosis. And for me, it is so important that the people around him can ensure he looks after himself.
So in short, my challenge is not only to raise money for Movember UK but also raise awareness among the men that hear or read about the challenge, to encourage them to go for a health check and generally talk more about their health.
So please donate what you can, and more importantly encourage the men in your life over 50 to go for a health check. If just one man books in with his GP for a health check, I'll feel this was worth it.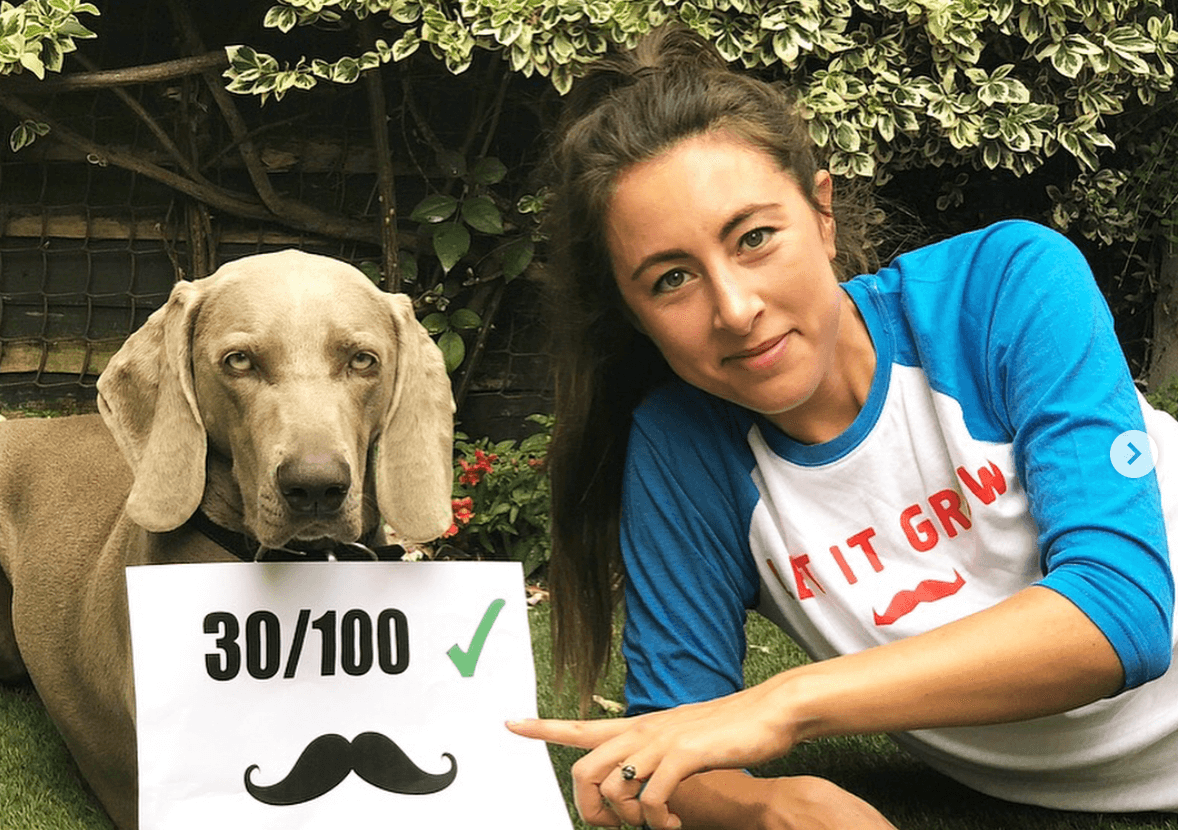 For The Love of Digme
I LOVE it at Digme. I feel so supported, not only by the people that work at Digme, but also by people sweating through those classes with me who check in when they see me and ask how I'm doing.
I've made some great friends at Digme with like-minded people, and I'm so grateful to everyone who has stopped to chat as it really spurs me on. THANK YOU! A special shout-out to Zsofi who decided to ride her own 30/30, it was so great motivating each other along the way.
I have to share that I have two secret weapons that are really helping me out:
The first is my workout fuel that seems to be a winning combo. A banana about 20 mins before class, and then a coconut water during class to replace the electrolytes I lose through sweating buckets.
The motivational lines that the instructors offer when you really are having to dig deep, to name a few:
King Kev: "10 o' clock, I know it hurts, but this is where change happens." In my head I'm furiously chanting "yesssss, change is happening, because this is HURTING!!". Sometimes I'm not even in one of Kevin's classes and I can still hear his voice saying that!
Dan Little: "This is where your mind starts to tell you that you can't, but your body can, I promise you." I can be 30 minutes in thinking I can't do this for another 10 mins, but the instructors are so motivating and soon make you believe you can.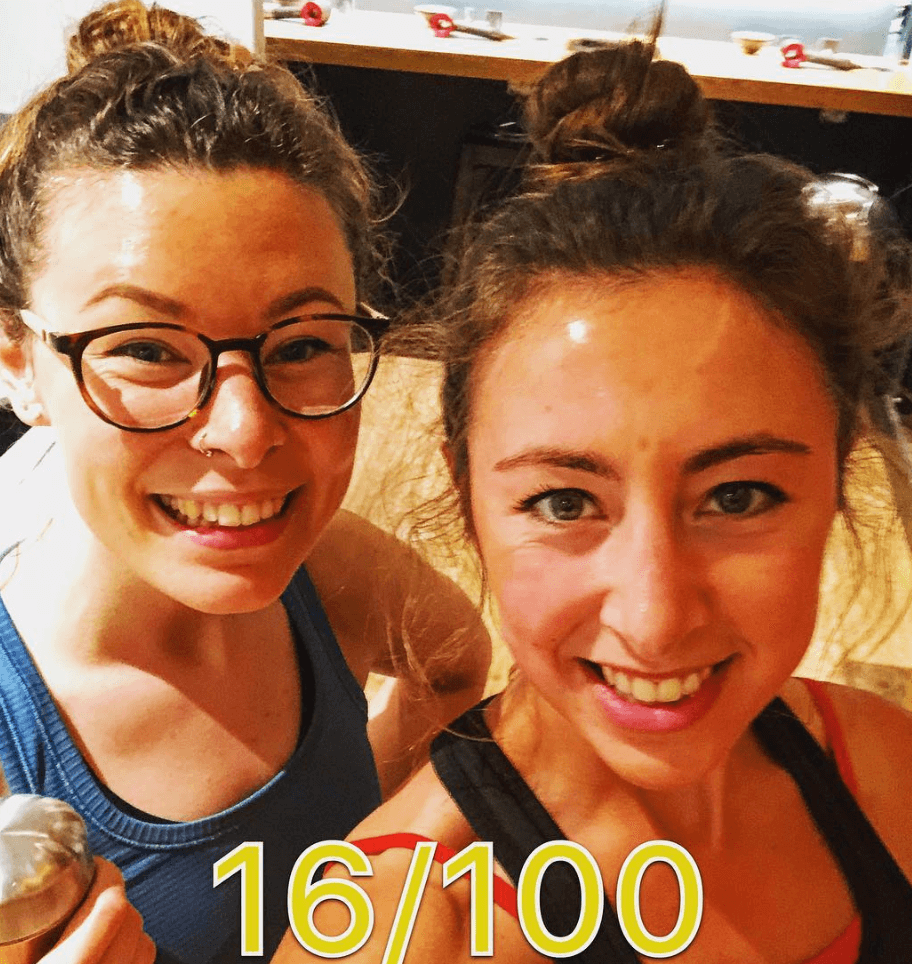 Getting Through it and Getting Stronger
I've done a couple of doubles so I can bank classes and have a day off if I need it - I think it's so important to listen to your body and make sure you rest when you need to. But overall I'm feeling great and a lot fitter than I was at the start.
I've never really committed to any specific fitness, and remained consistent. I tend to dip my toe in the water, go hard for a few weeks and then let it tail off. But there is something about Digme that is addictive. You really do see the results in your body changing, and in the statistics that improve over a short period of time. Having the statistics to really see the proof that you are improving is incredibly motivating.
My 100th ride will be on Sunday 9th September and I'll be roping in my friends and family to come along for the final ride, including my dad. Hope to see lots of you there too! It's still some way away, but I'm keeping the thought of how amazing that day will feel in mind, and digging deep until then.
Please donate what you can: https://www.justgiving.com/fundraising/digme100in100 and let's all get the men in our lives talking about their health.
S x