We've been SO inspired by all of our members this year. Your determination to #KeepDigging is why we do what we do.
One story that caught our attention is the story of John and Catherine Warland. We caught up with them to hear in their own words, exactly what it was like to complete the Digme Centurian challenge (100 rides in 100 days)...
"If it doesn't challenge you. It won't change you"
After 3 months of lockdown, and the extent of our exercise comprising daily dog walks at most, there was a real need to stretch our legs and see if our cardio capacity was still functional. In a world seemingly spiraling out of control, the simplicity of sitting on a bike with a degree of autonomy offered the perfect antidote. Escaping to cycle Santorini for an hour never seemed like a better idea. It's just you and that little red lever.
Having never cycled more than twice in a single week, and often whilst trying to clear a hangover on a Sunday morning, the challenge of a Sweat Week in early August seemed a manageable target and a mini-adventure when more exotic sojourns were somewhat limited. Boy, did that Sweat Week escalate!
We reasoned that if you can do one week, then you can do two and if you can do two you can complete a month. If you can complete a month then two must be achievable, and once you hit that hump moment it's all downhill to 100 in a row. With no expectation other than trying to go as regularly as possible until commitments and general life intervened we simply just started and then kept going. We'd seen the centurion names on the floor, but never thought we'd even attempt to match this cohort in what is technically a 3 month challenge. But the team that rides together, thrives together and it's also that little bit harder to give up when there's someone on the bike next to you.
Although there was a thought to ride on behalf of a mental health charity, in all honestly we weren't sure that we'd be able to actually complete the challenge. To allocate the time, avoid injury, self-isolation or other COVID intervention when constants in life were seemingly in short supply. But there we were. Pottering along. Enjoying our daily cycle and juggling our schedules to fit it all in. Barring illness or injury our rhythm suggested we should pootle over the line in mid-November. And then BOOM!
On Sat Oct 31st, Boris brought forward his lockdown statement to close all leisure businesses including gyms at midnight on 4th November. This left us 15 rides short of the ton target with 4 days until lockdown. We pondered squeezing a bike into our side return (!) or finish when lockdown loosened. But it's 100 in 100 right? So with a few messages to Caiomhe (Digme co-founder) our diaries were cleared in the early morning and evenings to make our sprint finish for the line. Caoimhe generously gave her own rides away to us, and put extra classes on to ensure we had the best shot of making it happen. We had ridden the occasional double to catch up on holiday and injury breaks, but riding twice in the morning and three times in the evening was another level. There were jobs to manage, and kit washes to keep rolling with the last few days ending in an intense, euphoric frenzy. Our final ride was completed in superhero outfits. Dusted off from our wedding over a decade ago, the joy of all burning all those calories meant we could fit into them once more! It was a fittingly surreal end to a mad few days, and it also allowed Leone the chance to raid her favoured fancy dress box once more.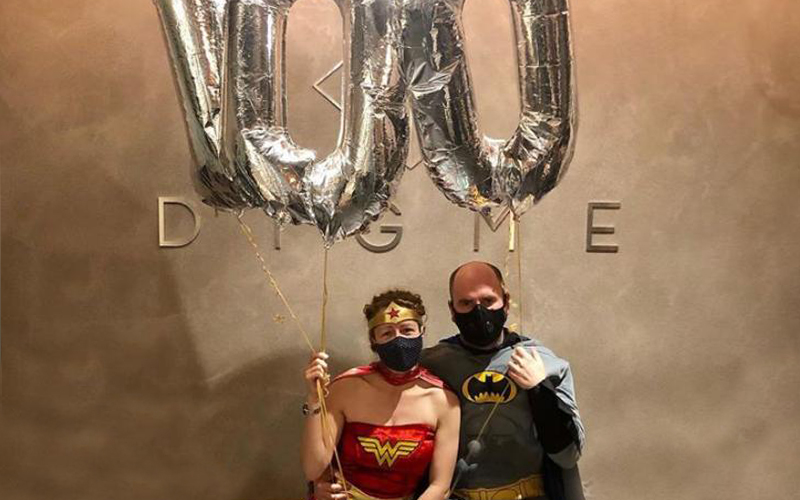 So at around 2130hrs on 4th November and with 2.5hrs to go until lockdown we hit the milestone. With over 2000 miles covered and 80,000 calories burnt, we'd have been in Istanbul having eaten 350 Mars bars if we we'd actually hit the road. On countback it was actually 100 rides in 83 days, due to injury and absences so the battle fatigue was understandable. Of course we rode for ourselves, for our own physical & mental health, but also to not go out without a fight and keep all those T-cells jumping. COVID has disrupted so many facets of life, that we wanted to "Keep Calm and Carry On", ride straight into lockdown with a smile on our faces and close the studios for the second time on a high. Perhaps create a spark of joy in a world that can on occasion appear so dark.
We are not the strongest, or fastest riders by some distance. Every time we joined a Perform class we were never sure if riding a stage of the Vuelta is quite what we signed up for. But the beauty of Digme is that it's your ride, your bike, your dig. It's about challenging yourself, improve incrementally and riding your best race. If we can do it. Anyone can do it. We completed it almost by accident, and can only hope that it might inspire other people to take the challenge or simply enjoy the ride.
A huge thankyou to Geoff & Caoimhe for allowing their passion to permeate the Digme community, for inspiring us and planting the seed of completing 100 in 100, to the incredible instructors who obviously love what they do, and the front of house team for keeping us safe, welcoming us warmly and offering small notes of kindness and motivation along the way.
Would we do another 100 in a row? Sure. As soon as Digme installs tandems then we'll be there.
5 things we learned...
- Cleat shoes are Velcro-fastening, because after 70 rides you can't bend over long enough to do your shoelaces up!
- British people really do have a natural affinity for sports where you get to sit down.
- Gear 24 is actually a myth…like Area 51 it's talked about a lot but never reached!
- Cycling does not cure baldness!
- Nurofen is your friend.
Catherine and John x
Thank you SO much for sharing your story Catherine and John. Whilst they never set up a charity donation page (due to uncertainty around completing the challenge!) they and we would LOVE it if you wanted to support their challenge by making a donation to mental health charity Mind at www.mind.org.uk/donate.