Want to know what it's like to complete 100 rides in 100 days? We caught up with incredible Richmond Digger Bridget Hunt who's taken on the challenge to raise money for charitable sports sock brand Mr Monkey Sox.
Aside from being an inspirational member of the Digme community, Bridget is also an entrepreneur and co-owner of Richmond's wonderful Danieli Chocolates and Gelateria.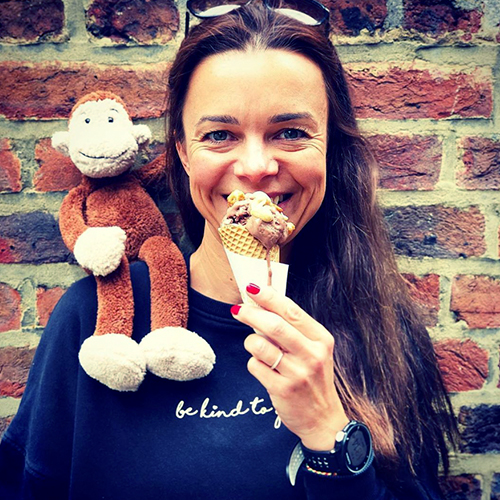 Read on to find out what has been keeping Bridget motivated and smiling though this amazing challenge. Her fundraising page can be found HERE, and we are super-excited to welcome her to the Digme Centurion Club.
What inspired you to do the challenge?
I first became friends with Richmond regular Luca during his 100th ride! I was so in awe of him and we soon became friends! The more he told me about the challenge, the more I wanted to do it. Then I watched Jess complete her 100 in 100 earlier this year and decided I would attempt it.
What's been a stand out moment for you?
My biggest moment has been meeting James and his wife, the creators of Mr Monkey Sox. They really are the most wonderful couple. James' story lit a fire in me that ensured I never gave up. He is a legend in my eyes.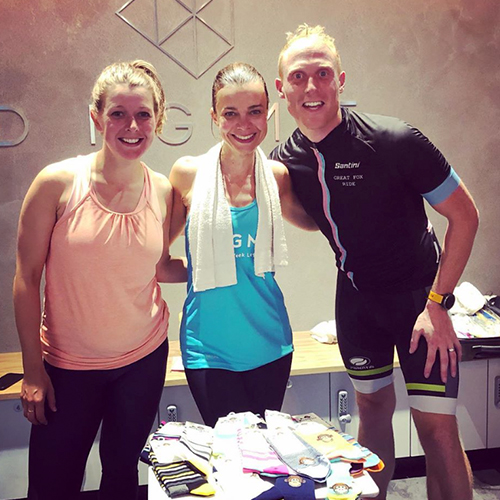 This challenge has been a celebration of connection with others and I will carry that love and support with me for the rest of my life.
What has kept you motivated?
Firstly, the wonderful duo of Alice and Kate at the front desk in the Richmond studio. They always make me smile, we have become friends and I couldn't have done this challenge without their high fives and hugs. Secondly, the Digme Community - each instructor has been a cheerleader to me, so encouraging and kind. And third of all, the people I have met in class, some I can now call great friends. They have ridden next to me, supported me, hugged me and bought Monkey Sox!
What's been the hardest part?
Scheduling in classes has been the hardest. I don't live near a studio so I have been juggling classes in my peak season at work!
Then add spending time with my wife, my dogs and keeping in touch with friends - it has been a juggle!
How did you plan the sessions?
My strategy has been to do doubles on Monday, Tuesday and Wednesday and then a day off (phew!) then a class Friday and a class on Saturday and have Sunday off.
I scheduled in advance and made those sessions non-negotiable!
Mr Monkey Sox
Bridget chose Digme's amazing partner Mr Monkey Sox as the charity beneficiary for her challenge. Mr Monkey Sox donate 50% of net profits directly to Multiple Sclerosis charities. Mr Monkey Sox was set up by James & Lianne after James was diagnosed with Multiple Sclerosis in 2016. They are sport socks with a difference - they're designed as odd socks to mirror how the body acts and feels different from left to right for those with Multiple Sclerosis (MS).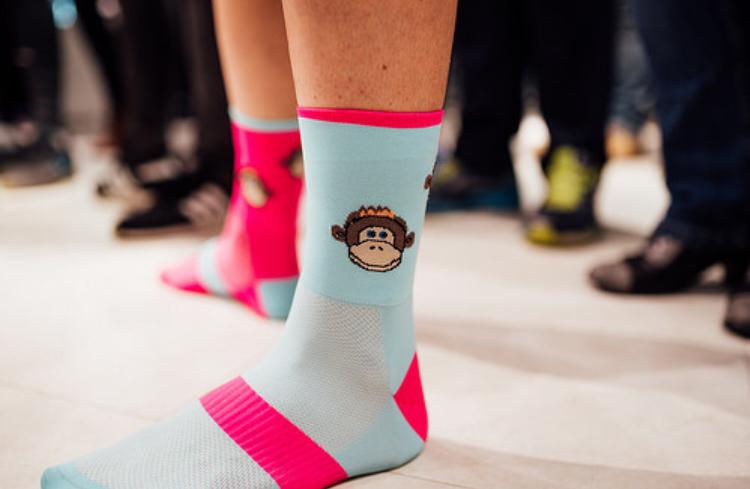 We stock Mr Monkey Sox in all Digme studios and have even designed our own Digme editions – launching later in 2019!
Find out more about them HERE.
Bridget will be riding her 100th class at Beats n Cleats in Richmond at 6pm tonight. Come along and ride with her and/or join her for a well-earned high five and glass of bubbles afterwards. Book HERE.