Last Saturday, we hosted a fundraising event, Tri for the NHS, through our newly launched Digme at Home platform. Over a hundred members participated in our lockdown-friendly three stage workout consisting of a Cycle or Run, a HIIT session and a Yoga flow with our incredible fitness team.
The Cycle was led by our magnificent Head of Cycle Leone Hunt and, for those without bikes at home, our terrific Head of Matrix Ben Davie led a 45 minute run workout. This was followed by a bodyweight HIIT Matrix Core session led by Ben, and we finished off with a Yoga flow led by our fantastic Head of Yoga Sarah Grogan. We are hugely thankful to them, and to the rest of the team, for putting on such an amazing event while working in such difficult circumstances.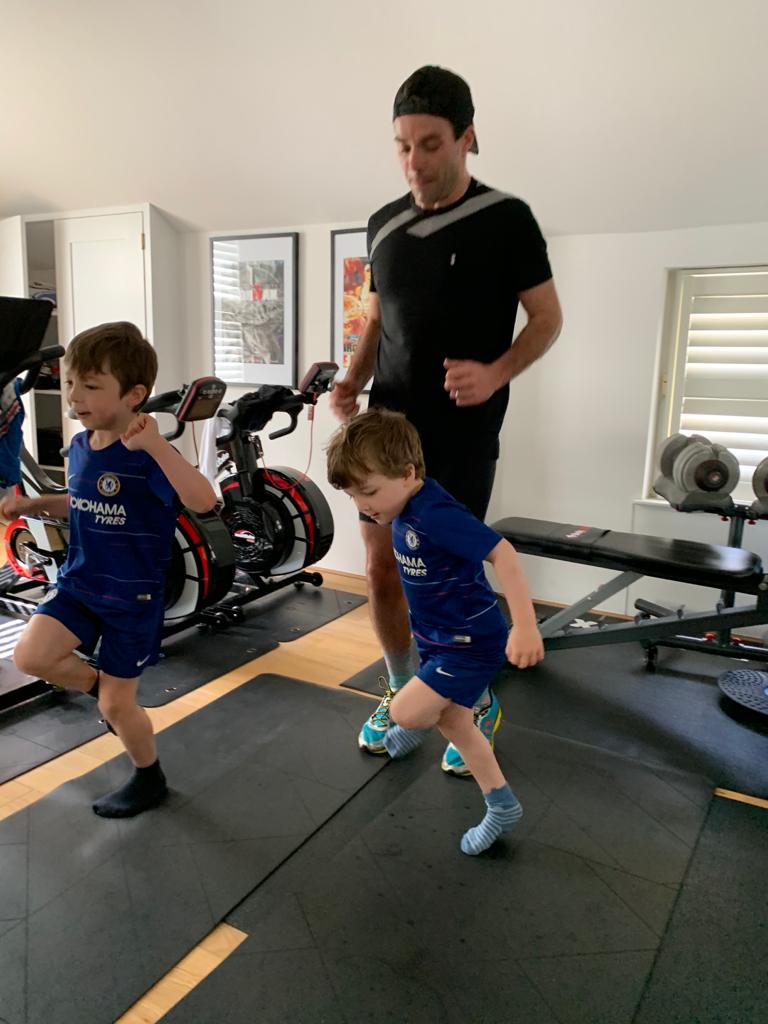 The boys joined in too!
You can never write enough about the selfless work of our NHS frontline workers. They truly are the heroes of this generationally difficult time and it is no surprise at all that the good people of Digme wanted to turn out to support them in this way. I particularly loved that we had several NHS employees participating in the session, out supporting their own.
The event itself I truly found very moving. Leone always puts thought into her workout playlists (some tracks from the workout can be found on Spotify) and several times during the initial ride I found myself choking up as we collectively reflected on how many people are putting themselves in harm's way on a daily basis to help a nation struggling. Ben and Sarah both also spoke passionately about helping our frontline heroes.
For me, in particular, I found the finale of our Yoga flow very emotional. Caoimhe and I had just received the news that a Paramedic father of one of our team, who had been battling for his life just 24 hours earlier, had just been released from the ICU. As Sarah finished by asking for a calm moment of reflection and giving thanks, Caoimhe and I both felt overwhelmed by gratitude for everyday heroes and minor miracles in our national time of need.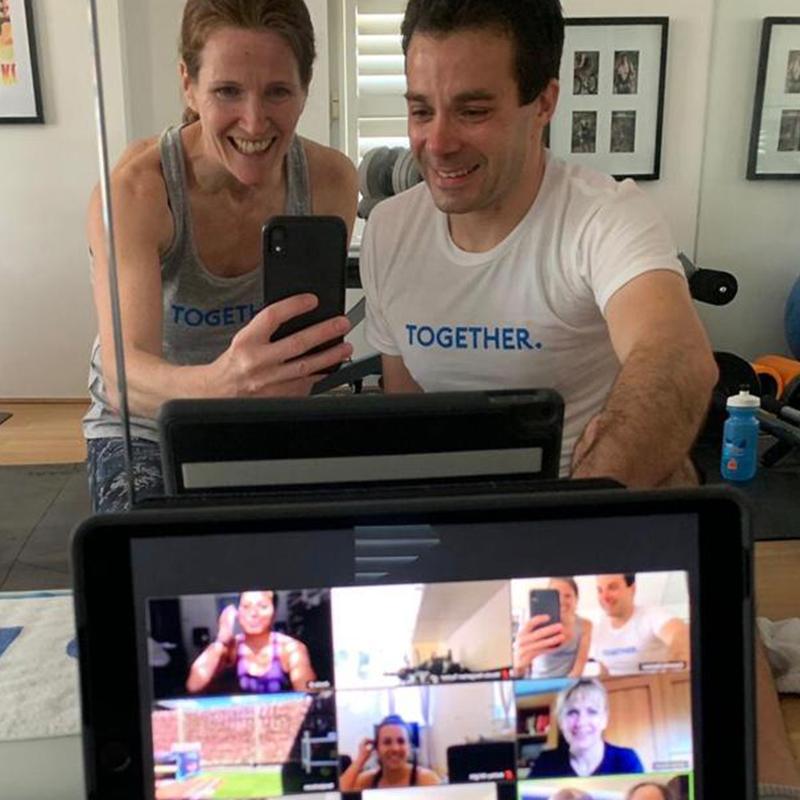 Post workout sweaty selfie with everyone on the workout!
At the start of the lockdown, Caoimhe and I drove a vanload of protein bags, snack bars, healthy drinks, peanut butter and nut milks down to our local hospital in Kingston. This was all food that otherwise would have gone off in a couple of months and we felt might find a better home in a nurse or doctor's tummy during a long shift. When we arrived at the hospital, of course Caoimhe and I thanked them for their service. The nurse who had greeted us smiled, said thank-you, but shrugged and stoically said 'it's just the job we do'.
That is of course true: it is the job they do. But it is the fact that they chose this job in the first place that is an everyday miracle. Nurses, doctors, anaesthetists – they don't choose the job for the money, the perks or, frankly, the thanks. They could do a million other safer and easier things but they would rather help society. Society takes good nature and good people for granted and sometimes a crisis is needed for the nation to truly recognise the value of such contributors. If we are glad for anything in this incredibly sad time, it is that frontline workers like the NHS, firemen (looking at you Darren Placid) and grocery store staff are perhaps finally getting the recognition they deserve.
100% of the proceeds of the event went to NHS Charities Together and we are delighted to say we raised thousands of pounds. We are continuing to help, and you can continue to help too, by buying from the Digme online shop – from every order we contribute £2 to NHS Charities Together. We are also selling limited edition 'Together' t-shirts and vests, in NHS Blue pantone, from which 20% of every order goes to the NHS.
At least as importantly, though, the Digme community took a moment to pause, reflect and be consciously grateful that in this country we are blessed to have a health service that can care for a nation in crisis. Many around the world are not so lucky.
Not all heroes wear capes. Some wear gowns.