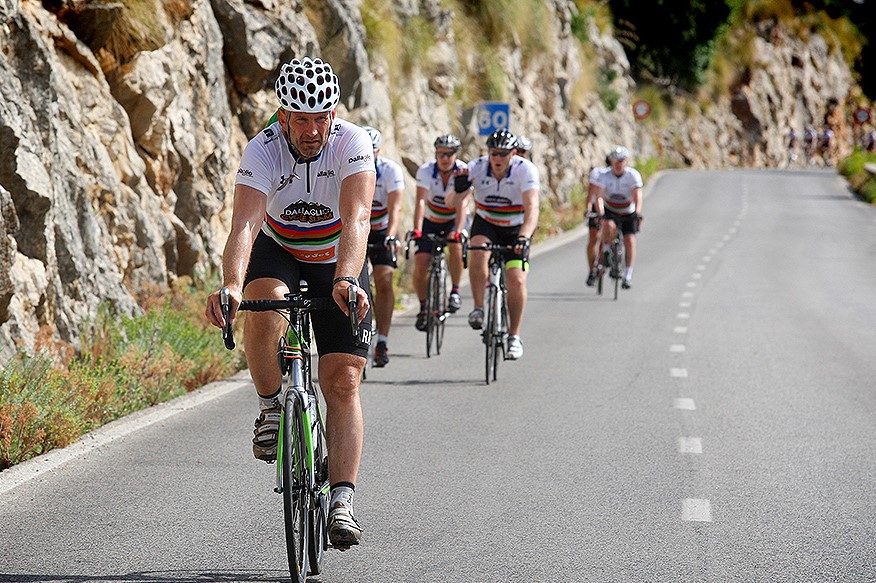 Are you up for a challenge? Sign up now for the cycling trip of a lifetime to support Dallaglio RugbyWorks, our Charity Partner.
Dallaglio RugbyWorks is an intensive, long-term skills development programme based on rugby, through which teenagers outside mainstream education can get into sustained education, employment or training.
Since 2010, the Dallaglio Cycle Slam has pushed to the limit what the charity does best - combining sport and fundraising - by conquering the most picturesque and daring cycling routes on the continent, whilst simultaneously raising an extraordinary amount of money.
They've been joined by novice and experienced cyclists alike, who all have one thing in common: a collective sense to support our young people - the future generation of our country and particularly those who are most in need of guidance.
The event is designed in three stages, always comprising a variety of the best landscapes across Europe. The 2018 Cycle Slam will be no exception, with our most beautiful and challenging route yet, spanning five countries: from Evian, France, passing through mountainous Switzerland, stunning lakes in Italy and even a foray through spa towns in Slovenia before the final leg to Split, Croatia.
Stage 3 is completely sold out but not to worry, there are a limited number of spaces left on both Stage 1 and Stage 2; register here now to avoid disappointment. Your competitive spirit and drive for fundraising will directly contribute towards changing the lives of young people across the UK.
Contact cycle@dallagliorugbyworks.com for further information.
There will be a number of training sessions and social events at Digme studios in the lead-up to the event, so get involved and join the fun!