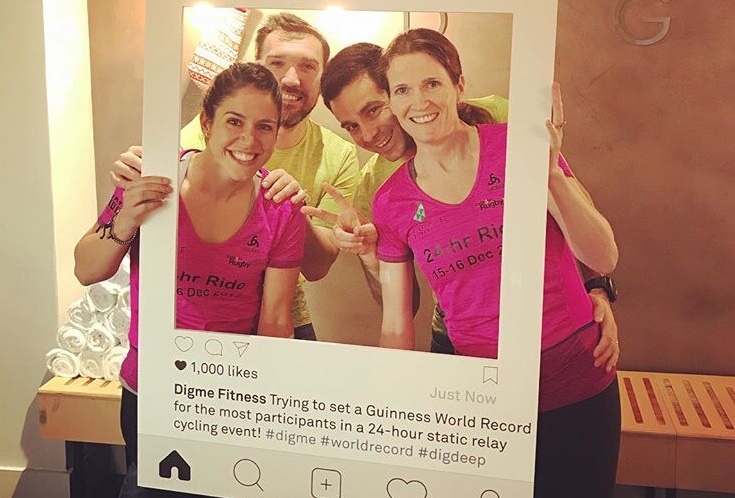 The World Record – did we or didn't we?
The World Record attempt was an absolutely incredible 24-hour party on a bike which not only raised money for and awareness of our Charity Partner, Dallaglio RugbyWorks, but united our wonderful community and created many funny moments, heart-warming stories and long-lasting memories.
We had 425 people ride at least 1km on the Golden Record Bike in the 24 hours – an amazing number and we couldn't be prouder of the effort from our community and team. You really did smash it!
This particular record had never been attempted before, so we have broken new ground and achieved a world first. However, prior to the event we were set a target by Guinness World Records (GWR) of 500 people based on previous records set in the Static Cycling category and specifically the Static Cycling Relay records over eight and 12 hours.
We obviously missed the 500 target set by GWR, but since the record has never been attempted before, we have been making a case for our attempt to stand as an official GWR despite falling short of the 500 figure.
In reviewing our attempt, some facts have come to light which have made GWR decide to put the entire Static Cycling category in 'review', thereby effectively putting on hold the award of any new record in this category. This review process is likely to take GWR several months.
What an event!
We're obviously keeping everything crossed that our record is officially rubber-stamped, and we are exploring alternatives to GWR in the interim as official recognition of our record.
However, whether we finally get a certificate or not won't detract from the overwhelming positivity during and since the event and the unforgettable moments. These are some of the team's highlights…
Lawrence Dallaglio, former England rugby captain, Lion, World Cup winner and founder of Dallaglio RugbyWorks, kicking off our event doing the first kilometre at 5.30pm on the Friday. There was such a fantastic buzz and sense of anticipation in the studio with the HOF, Dan, taking us through the first hour of the attempt in style!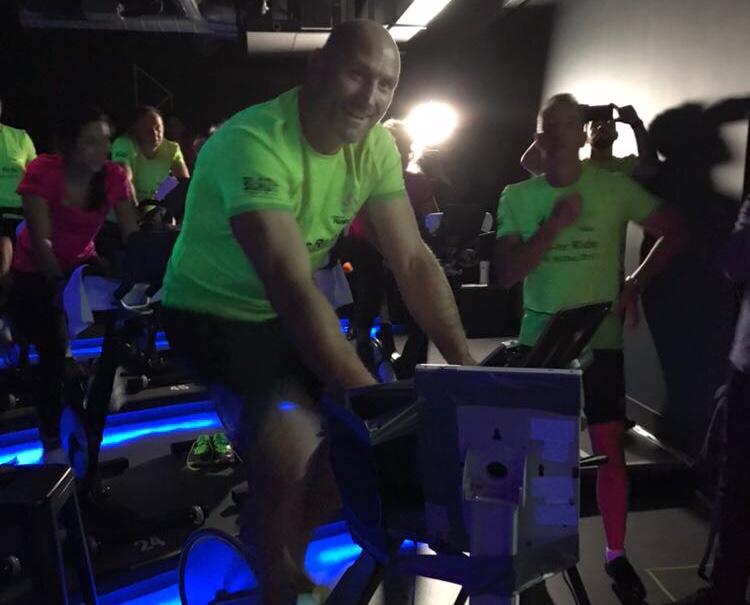 Instructors, staff and customers from all of our studios coming to Richmond to take part – including a large contingent who'd travelled down from Oxford.
Darren, John, Kevin, Rex, Andy and Jane putting in some serious shifts overnight (in Darren and John's case all 24 hours!). Chapeau!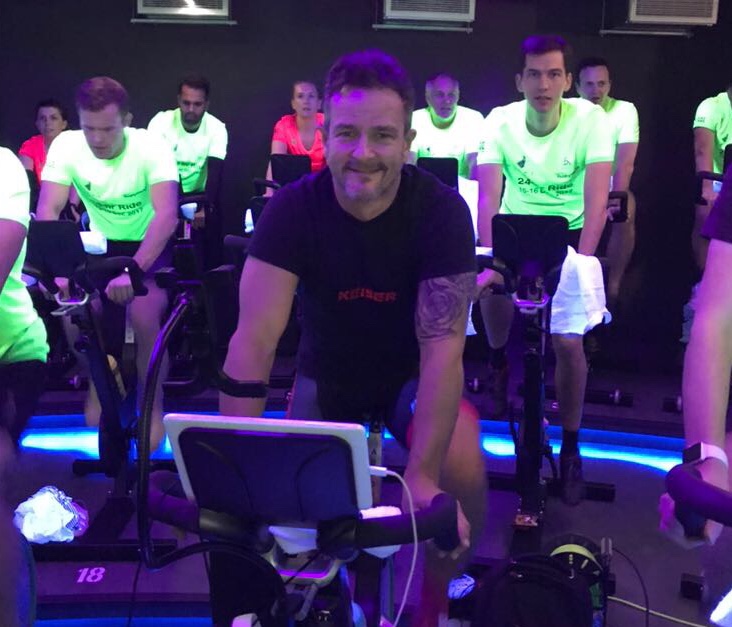 Instructor David Nivor teaching dressed in full 1970s regalia.
Another former England rugby captain, Will Carling, squatting with Laura May, one of our instructors, on his shoulders. Laura's friends donated substantial amounts of money to see this!
Chloe and Sophia taking us through the midnight hour with a sassy Double Trouble session, followed by a midnight prosecco party in reception.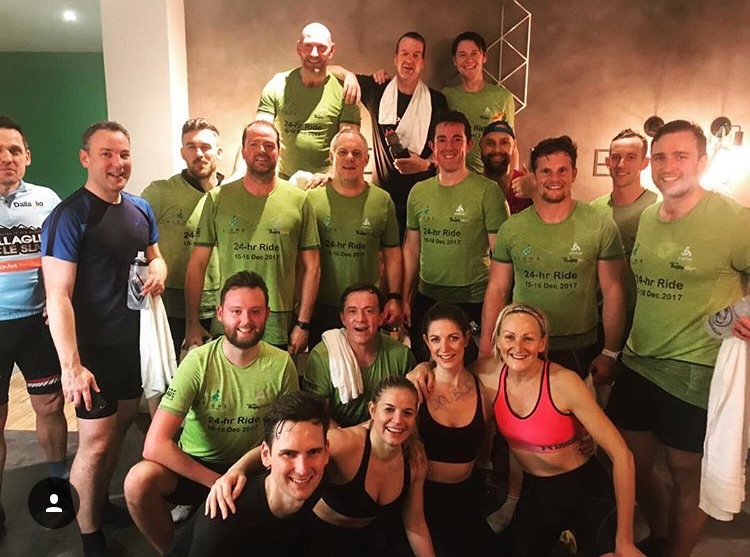 A couple of Saturday morning runners diverting from the street into the studio to pump out 1 km before carrying on up to Richmond Park for a 50km ultra-marathon training run.
Caoimhe and CFO Steve running up to Richmond Parkrun make an announcement to runners, recruiting them to come to the studio and ride the Golden Bike. We were thrilled when they turned up en masse after the run.
The Deliveroo guy interrupting his shift to help the cause – and Geoff capturing the moment on his Insta stories with a photo of him on the bike and the caption: "he thought he was just here to deliver a pizza!"
Simon Bond, one of our Richmond regulars, dragging in the staff from the local Italian deli in the middle of their busy Saturday afternoon Christmas trade.
Soraya and Char hopping off the instructor podium, looking fabulous in full neon gear, to pull some serious dance moves around the studio in their Old Skool Rave themed class.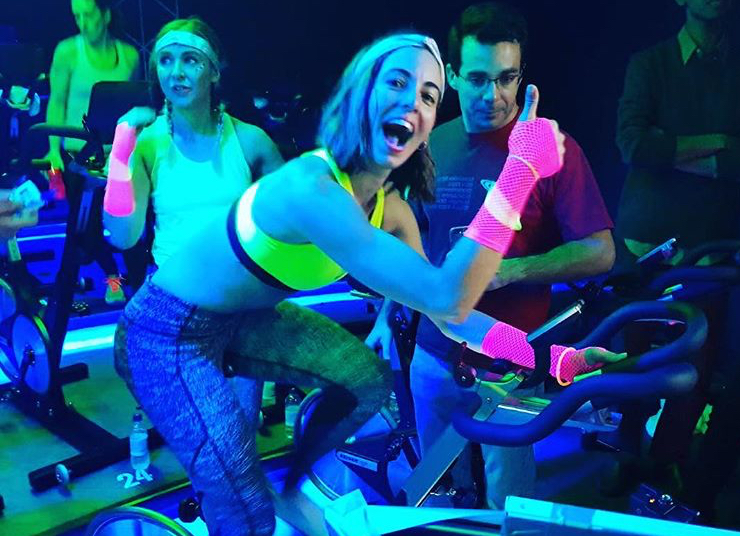 Jamie and Chloe delivering the final, sold-out class as a double act after a mammoth 24-hour party on a bike, both dressed as Christmas trees.
Seeing staff from competitor studios popping in to ride a class, pulling with us for the greater good.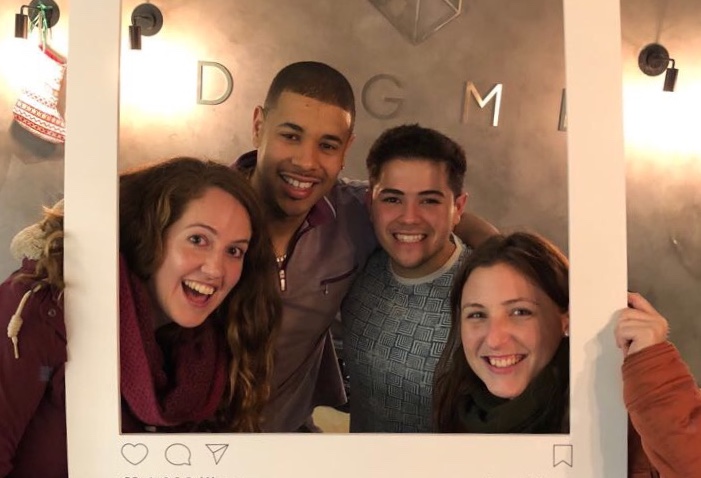 The deafening noise at the finish as we counted down and blew the hooter to signal the end of a truly awesome, knackering, mind-blowing 24 hours.
So many thank-yous
The Digme instructor and staff teams pulled a huge shift of work to make the event happen, but we couldn't have logistically pulled it off without the absolutely critical help of so many others.
To mention a few – the team at Dallaglio RugbyWorks who were with us for the full 24-hours, the guys at Sponge Marketing, our team of independent witnesses and the volunteers who so kindly gave their time to help us deliver the event (including Richmond regular Ruth, who turned up to help for an hour or two and stayed for the whole thing!).
We would also like to thank the many donors of prizes for the Raffle and Auction and those who supplied food and drink for the event. Thanks also to Odlo for donating the fab t-shirts.
Darren and Kevin's fundraising page is still accepting donations - please click here if you would like to contribute. Every penny goes to Dallaglio RugbyWorks.
From all of us at Digme, thank you. Mahalo.
Caoimhe and Geoff Bamber, Founders