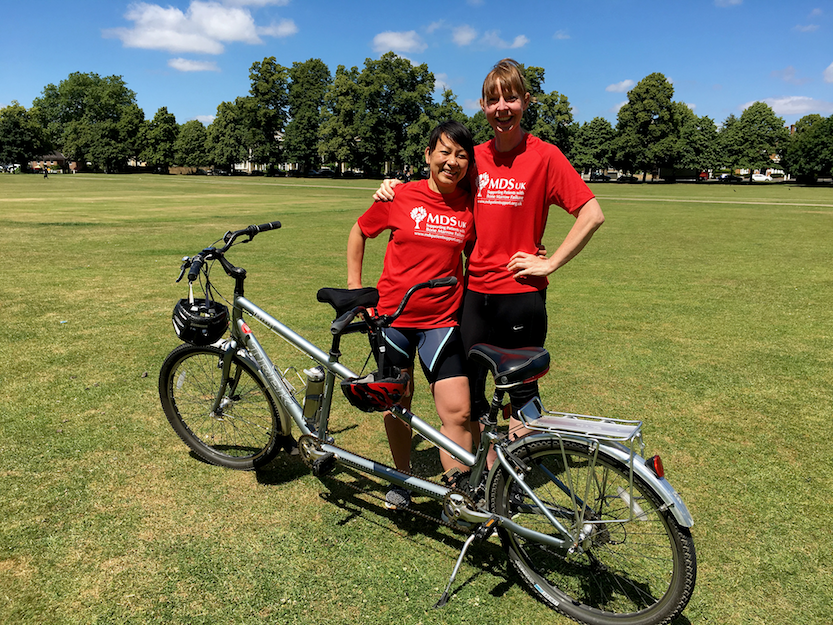 Best friends Caitlin Limmer and Moni Lau might be, by their own admission, 97 miles outside their comfort zone, but they're super excited to take on the 100 miles of RideLondon in July - on a tandem!
Neither of them are strangers to unusual challenges in the name of fundraising, and they've been training at Digme Richmond to help prepare their legs.
Caitlin told us....
I decided to do the Prudential Ride London 100 on a tandem because I wanted to raise awareness for Myelodisplastic Syndrome, a lesser known blood cancer sometimes termed as pre-leukemia.
As the incredibly proud patron of MDS Patient Support Group I LOVE to come up with different ideas of ways to raise awareness for MDS. In recent years I have done many awareness raisers for MDS. I have run the hilly wine-drinking Bacchus marathon in a 9ft Fuller's beer bottle with my fantastic friend and tandem partner, Moni.
I have swum nine miles down the River Thames and I've organised a dancing flash mob of runners in Twickenham – the video was viewed thousands of times – on World Awareness Day for MDS last year. I have another awareness raiser planned for October too, but it is a secret at present!
MDS Patient Support Group is a tiny charity based at King's Hospital in London and they need all the support they can get. I just love being their biggest fundraiser and getting the word out there about what MDS is. I also have close personal links MDS myself.
(CLICK HERE TO GO TO CAITLIN AND MONI'S FUNDRAISING PAGE)
The training for RideLondon is going really well, thanks massively to Digme. Moni and I are training hard; we spin at Digme several times a week and then go out and do long cycles on the tandem around the local area and in Richmond Park for some hill training.
We love it, we laugh non-stop! People wave at us constantly, we get honked at too – it really is such a great adventure. There aren't many people who would agree to get on the back of the bike with me (I have to be at the front apparently because I am the much bigger of the two of us!).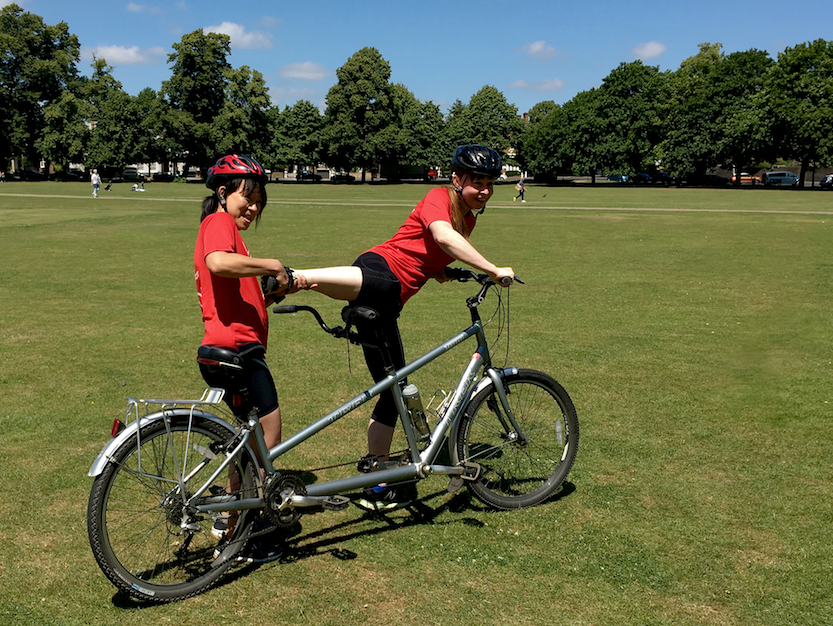 My mate Moni supports me all the time with everything I do. She is the greatest friend you could hope for and she is also hysterically funny. She and her husband run the best noodle bar in the Hounslow Borough, Hei Hing in Isleworth (she is number one on Trip Advisor).
I cannot wait for the event, I cannot wait to see the wonderful sites along the way and I cannot wait to laugh my way around 100 miles with my great buddy behind me shouting "CHANGE GEAR!!!". If I had known you could get a back seat driver on a tandem as well as a car, I might have thought twice. Seriously though, she is the best back seat driver a girl could want.
I have always disliked cycling, mainly through fear. I was knocked off many years ago – thankfully not seriously but enough to lose confidence. Moni and I also lost a friend from our community nearly two years ago. Carmen is very much in our minds, and her family are highly amused we are doing this!
Digme has ignited a new confidence in me and the trainers there have been superb to both of us. Not really knowing one end of a bike from another, we have been taught how to kill these sessions. The challenge is now to do two classes back to back and learning to pace ourselves a bit as the music and lights make me us a little bit over-excited!
Caoimhe and Geoff's enthusiasm and support for what we are doing is second to none, and there is not a time I walk into Digme when people don't ask us how it is going and encourage us. However old you get, it is always lovely to get little words of encouragement. It pushes you on.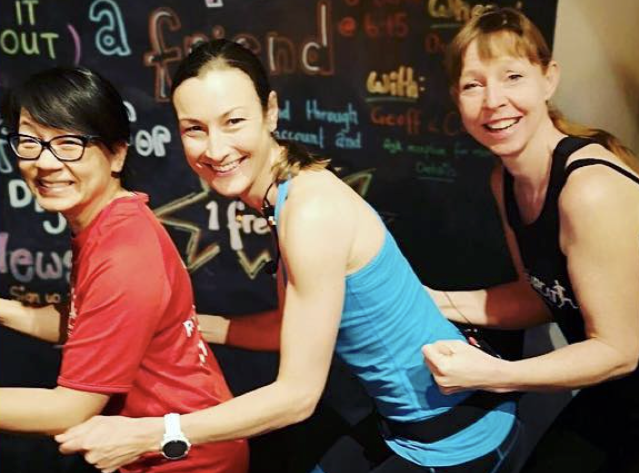 Exercise is the most amazing therapy, and learning new skills continuously brings new confidence to you as a person. The way I lead my life is to try to stick to that wonderful phrase "you are only really living when you get out of your comfort zone". This ride is about 97 miles out of our comfort zone! Mentally, we could ride 1,000 miles, but now it is just about preparing our bodies as best we can.
I've spent 14 years raising awareness for MDS through many different kinds of events, and I am lucky to have been awarded by the Prime Minister in 2015 a Points of Light award for my work with sport and charity. I was also awarded a Richmond Council Community award – again for sport and charity in our borough.
I am the Race Director of two running events: the Turks Head 10k fun run and the famous Cabbage Patch 10 which has been going since 1982. Through these races I raise massive awareness for MDS (and other charities). We have lots of people who run on the day for MDS, and also we collect cheek swabs from the runners to help try to find donors for Delelet Blood Cancer as the only cure for MDS is a bone marrow transplant.
Through the Bearcat Running Club, which I set up in 2012, I am so INCREDIBLY SUPPORTED by all my runners and the wider community now. So many people help me raise money now. It's unbelievable – some people who don't even know me help!
I love having these seeds of ideas that pop up. Slowly I water these seeds in my head in the hope that it grows into a beautiful thing. Often I'm not too sure what that thing will end up looking like but with any luck it will involve a great donation to MDS and a huge awareness campaign for the charity.