Recently, we welcomed Digme at Home regulars, Bart and Katja. Bart and Katja ride with us from Amsterdam and here is the story of there journey with us from a far in there own words:
Two years ago, our Digme at Home adventure started. Because all the gyms were closed, I went to see if there were some fun spin classes offered online and came across Digme at home. We'd known Digme Fitness from an earlier trip to London through Keiser. How cool, now online! The good music, the challenging workout but most of all the motivating and friendly instructors, got me hooked from that moment on. A few weeks later, it was Bart's birthday. I gave him a new sports outfit and a credit to book an online class! I said to him ' Book a class with Dan, I'm pretty sure, you're gonna love this'. And the rest is history!
We bought a second Keiser bike and cycled from our balcony through all kinds of weather, rain, or shine (ok on a stationary bike under a small roof :-)). We got to know new people, 'muted' on their mini screens on the bike. We saw them climb, sprint, and sweat, we saw their houses, sheds, basements, wherever they were on their bikes, just like us. We celebrated birthdays, milestones, challenges, Christmas, New Year's Eve, Friday Funday, sweat weeks, charity rides. We saw the seasons change, hot summers, heavy snowfalls, and several storms (the only time I put my bike inside was during storm Eunice). All this from Amsterdam until last week....!
On the recent visit to the UK:
We booked 5 workouts in 4 days, from Digme Fitness Moorgate to Covent Garden, back to Moorgate (twice) and the grand finale in Richmond! We burned about 5000 calories, we rode over 160 km, and took over 100.000 steps to get from studio to studio, but what fun we had!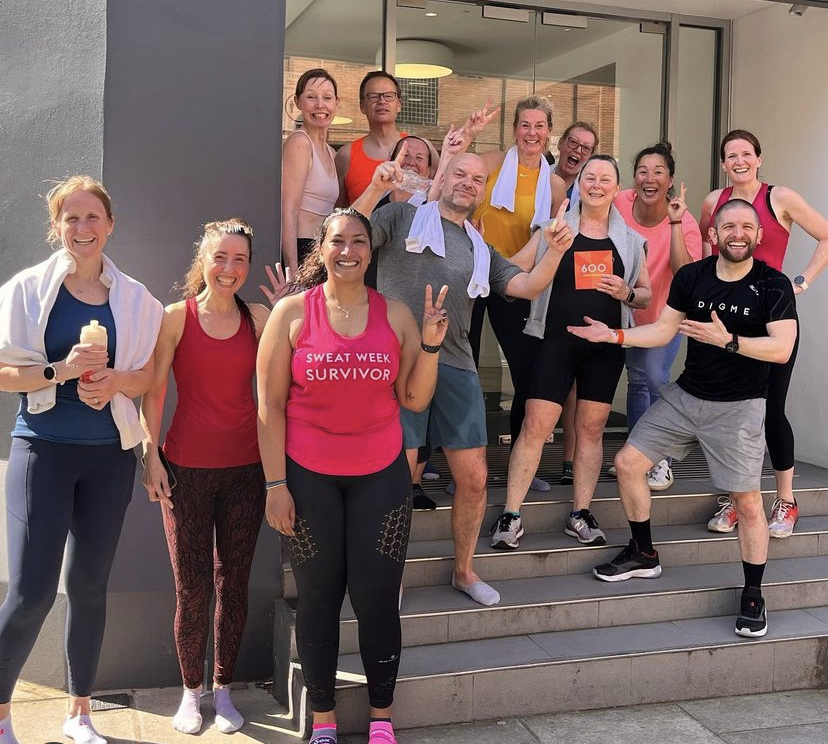 On the Instructors:
You guys are rock stars! Overwhelming! Dutch royalty, that's how we felt - Chloe, party on a bike, your music, your energy, amazing! Our lovely Frances, your sharp cues, your motivations with your music, spot on to the second! An insane class with Richard! Intense, wicked just like your suggestion to go to Sexy Fish London. With sore legs and a slight hangover, we ventured to Rosie's class but your energy level brought us right back into the land of the living! What a wonderful class, we love the Black Eyed Peas?!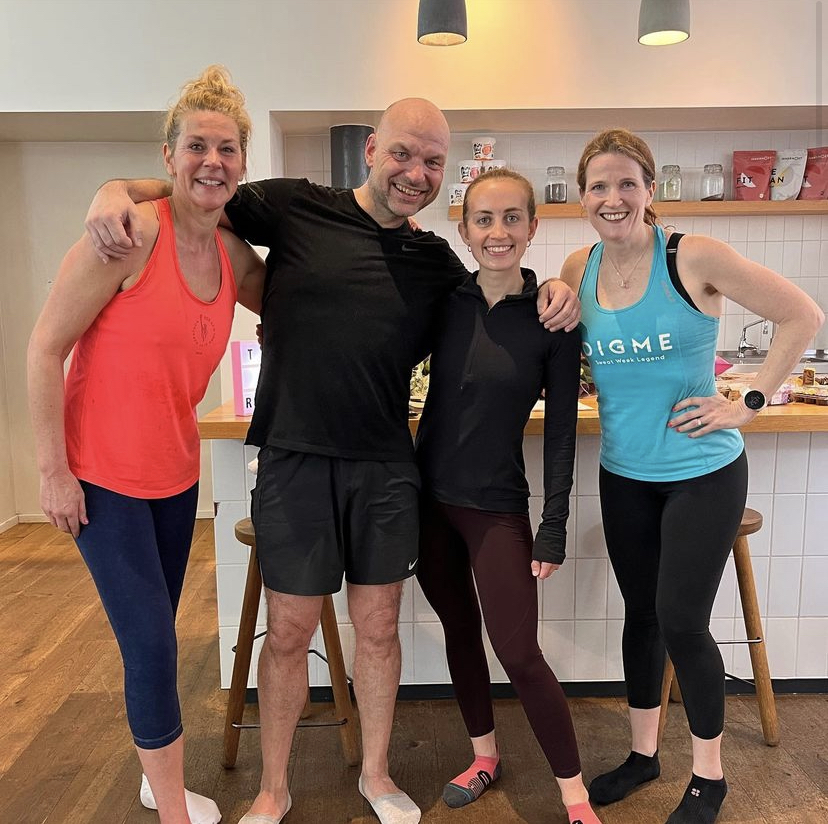 On the final class whilst in the UK:
Saturday the grand finale, our class with Dan at 10.15 AM in Richmond. We already understood from all the other instructors that Saturday morning Richmond had to be special. But this...we were completely blown away...all those people on mini screen suddenly got a voice and appearance. We felt so honored @brendamfrancis & @johnefrancis, drove an hour to join this class and baked the most delicious cookies (butter, sugar and a little flour ;-) @mariafarias910 & @jewelsb together from Oxford, how wonderful that you combined your monthly event with our visit! @alicechen100, so lovely to see you after so many classes on screen, thanks for your sweet gift and your guide tour through Richmond. @smudge_cinnamon_swirl, so nice to meet you and learn more about you. @ruth.steinholtz, it's an honour that you shared your 600 class with us in the studio and how nice to catch up afterwards. @fawziaking how nice to sit next to and wow your milestone (450 classes) amazing. @caitlin_bearcat, so great that you were there!
@digmecaoimhe and @geoffbamber, so wonderful to meet you and we agree with the lovely words of Ruth. You have created something so beautiful. Because of you we got through this incredible hard time. Not only did we stay fit physically but look what else it has brought us.
This is so precious, so special, and so much more than just a workout!
Last words are for the man who still turns every ride into Happy Hour (as if spinning is nothing, sooo not true).
@danlittleuk how special you are, for everyone an uplifting word. Always cheerful and motivating. You have lifted me but especially my until two years ago not so sportive husband, to another level. This class was epic. The music ( oh Sunny days, Anywhere For You) the vibe, the people, thank you so much!!!
This trip, WOW one to remember for a long time!
Thank you our lovely Digme family!
See you the 18th of June again and from tomorrow on Digme TV!
Bart & Katja