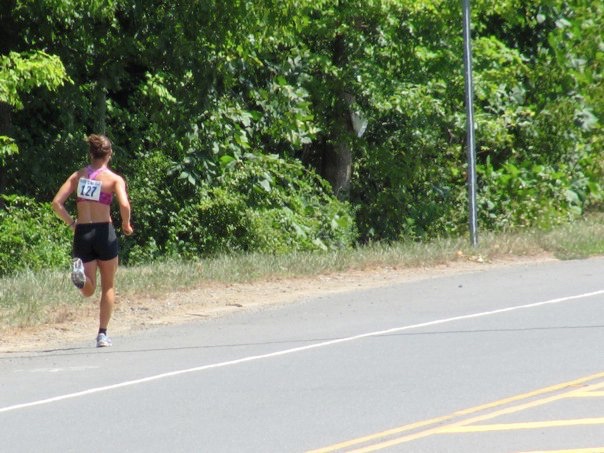 Oxford member Julie Fricke was a collegiate runner in the USA and destined for a career in professional sport until chronic knee injuries forced her to follow a different path.
That route took her to Oxford University to study for an MSc degree, and not long after that she rediscovered her love of fitness at Digme.
In her own words…
When I first arrived in Oxford, I looked for a gym which not only offered high quality workouts, but also an encouraging and interactive environment that would help motivate me.
I wanted to include a few days at the gym in addition to my training schedule for the University basketball team, but was unable to find anything.
I settled for working out on my own at the University gym, and although I was there quite often, I never felt I was in great shape. I did a few triathlons as well but struggled to feel strong. I was missing the intensity and competitive atmosphere that my running days used to provide and my workouts were suffering as a result.
Then I found Digme! I joined in September and it has already made such a positive impact on my life. I am physically fitter, but I also have such an improved and reinvigorated attitude towards exercise.
I owe this to the trainers at Digme Oxford – they are simply the best. I started out doing two or three classes a week, and now I usually do five.
I like both MATRIX and FUSION, but if I had to pick one that has had the greatest impact on my fitness, it would be the PERFORMANCE class. I am not a natural biker at all, and I find spinning classes in general very difficult. I instinctively tried to avoid the rides when I first joined, but I ended up going anyway because they are my wife's favorite. Weeks went by doing the normal rides and they still felt super difficult. I started thinking isn't this supposed to get easier?
Truth is, it didn't get any easier – but I've grown to love the challenge. After the PERFORMANCE class was introduced, I became really interested in the science behind the numbers on the screen. Gareth had to explain it to me at least 10 times before I understood, but who's counting?!
It made me realise I was, in fact, improving, even if it didn't feel like it. For the first ride with a three-minute FTP test, my FTP was 205. About three weeks later when we did an eight-minute FTP test, it was 224. I also noticed my watts per kg ratio was consistently improving as well.
The PERFORMANCE classes, in addition to the advantages gained from FUSION and MATRIX, have also improved my running, even though I've not been doing much of it lately because I am always at Digme.
Recently I raced a 4.6-mile hilly course in Geneva (about which I was sceptical because of my said lack of running!), and out of 830 participants, I was the first female to finish.
I was completely surprised at how good my legs felt and how well I was able to breathe. I ran faster that day than I have in a long time. It showed me just how much the classes at Digme have increased my overall fitness and how they can improve performance in areas that are not necessarily focused on in the sessions.
I am excited to see how much I can progress as time goes on, and my plan is to sign up for more road races and triathlons in the future.
If anyone is looking for an amazing gym in the Oxford area – Digme is your spot.