Have you ever attempted to run an Ultra Marathon? It's no mean feat!
One of our fabulous Oxford instructors, Laonie, raced her first Ultra last weekend, and we caught up with her to hear all about it!
"My first ultra experience and I couldn't have asked for better. The weather was great, the ridgeway was beautiful, and everyone doing the event was so friendly.
The day started with my alarm going at 4am, then I headed to the kitchen for my overnight oats and coffee to get the fuel in asap! I was organised and got my run bag and my finish bag ready the night before, so all that I had to think about before leaving the house was to get myself race ready which included covering myself head to foot in either sunscreen or Vaseline, then slipping into my lycra (literally!)!
The view from basecamp up on the Ridgeway hills were stunning. The sun was shining and there were just a few clouds in the sky - I got very lucky with the weather! I arrived at 5.30am, and lots of people were already setting off, but I wanted to settle in and absorb the atmosphere at basecamp where there were a lot of competitors who were doing the two day event and about to set off for another 50km.
At 6am I set off on the longest run of my life so far, and it didn't disappoint! I'd already checked where the pitstops were where I would take on some food and drink, so I broke the race down into four sections - small achievable goals helps with your mindset! The staff were also so supportive, checking on everyone and keeping your spirits up. Thank you Threshold crew.
The 10km was when it really hit me - it was super tough! The pain kicked in and I was really having to keep my mind focused on the end goal of putting one foot in front of the other to make it to the end. I jogged a bit and walked a bit whilst chatting to people feeling the same. Funnily enough, no one mentions the pain. Everyone is happy and supportive, pushing on through their own mental journey for their own personal reasons.
After what felt like the longest 9km, we reached the stones and the final km! It was a lovely long straight with flags in the distance, and I felt like I had a little bit left to give so my jog turned into a run, which then turned into a sprint finish to see my whole family waiting and cheering me! It was a very proud and emotional moment - seeing my parents, sister and brother in law, cousins and my little niece who was watching her aunt race for the first time. It was such a special moment and one that I'll remember for a long time!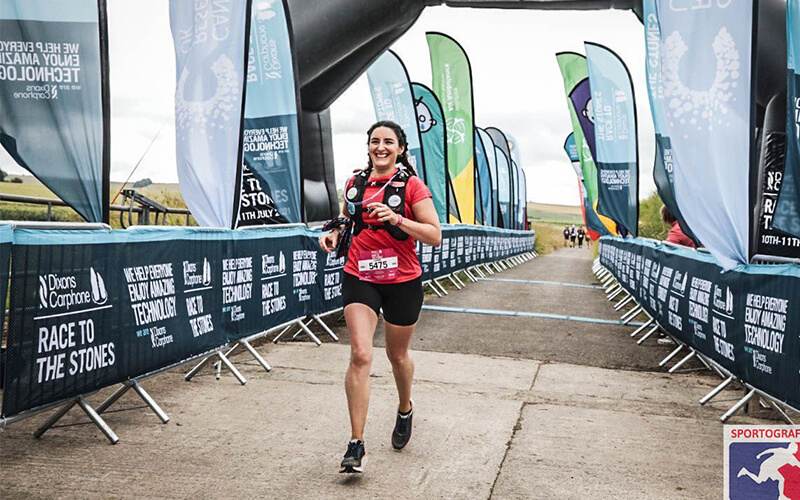 Ultras are open to anyone and everyone, with the right training it is achievable for anyone, its achievable to you! Before signing up, I had a preconceived idea of what an 'ultra runner' would look like - the picture of fitness that we are all bombarded with by the media - but I raced alongside people from all walks of life, different ages, and different sizes.
Ultra's aren't about just running, it's a run when you can, walk if you have to... some people walk the whole thing! It's about the journey, digging deep and getting to the end. If you don't finish, that's ok, you tried and you'll finish next time!
Would I do it again?
Yes 100%! I was actually thinking about next year's race during this years event! I love seeing what I can do, breaking my own barriers, and if I can inspire one person to push themselves a bit further and try something new, then I've achieved something.
My last words of wisdom - Run to something, not away from something……
Laonie xx"
Congratulations Laonie!! What an incredible achievement. Book a class with Laonie today at our Oxford studio.