So we caught up with Jessica Homer, one of our Richmond riders, who is taking on the 100 rides in 100 days challenge to raise money for the charity Hannah's Willberry Wonder Pony.
Jess spoke to us about how the challenge is going and what has been keeping her going. Her fundraising page can be found HERE, and we look forward to welcoming her to the Digme Centurion Club.
A bit about me
My whole life I had never really enjoyed exercise; rather thought of it as a necessary evil. I loved team sports growing up and played a lot of hockey in my last few years at school, but the thought of going to the gym or taking part in any group exercise class gave me terrible anxiety.
When I got engaged I made a pledge to myself to feel as great as possible in my wedding dress, so I started running (badly!) and going to PT sessions. As always, I found it hard to stay motivated. I had been walking past Digme for months and one evening out of the blue suggested to my friend Sian (a spin fan herself) that I might like to give it a go. When she finally convinced me to actually follow through with my suggestion (the 21st April, 2018), I remember sitting on the bike absolutely bricking it. At the end of the class I felt exhausted, but so proud of myself for putting myself out of my comfort zone - and half an hour after that I was high on endorphins.
Shortly after I started becoming a 'regular' at the studio, I was in a class one day and the instructor, Dan, announced at the end that a person I had seen in class a lot was currently taking on a 100 classes in 100 day challenge. Having just completed Sweat Week and knowing how tough it was to maintain a level of mental and physical discipline for just 7 days, I looked at her in awe and admiration (and with a little bit of 'is she crazy!!'). Not long after that we ended up sat on bikes next to one another (for anyone in the know, yes bikes 15 & 16!) and got talking. The rest as they say, is history.
That person was Siobhan - a Digme Centurion and someone I am incredibly proud to now call my friend.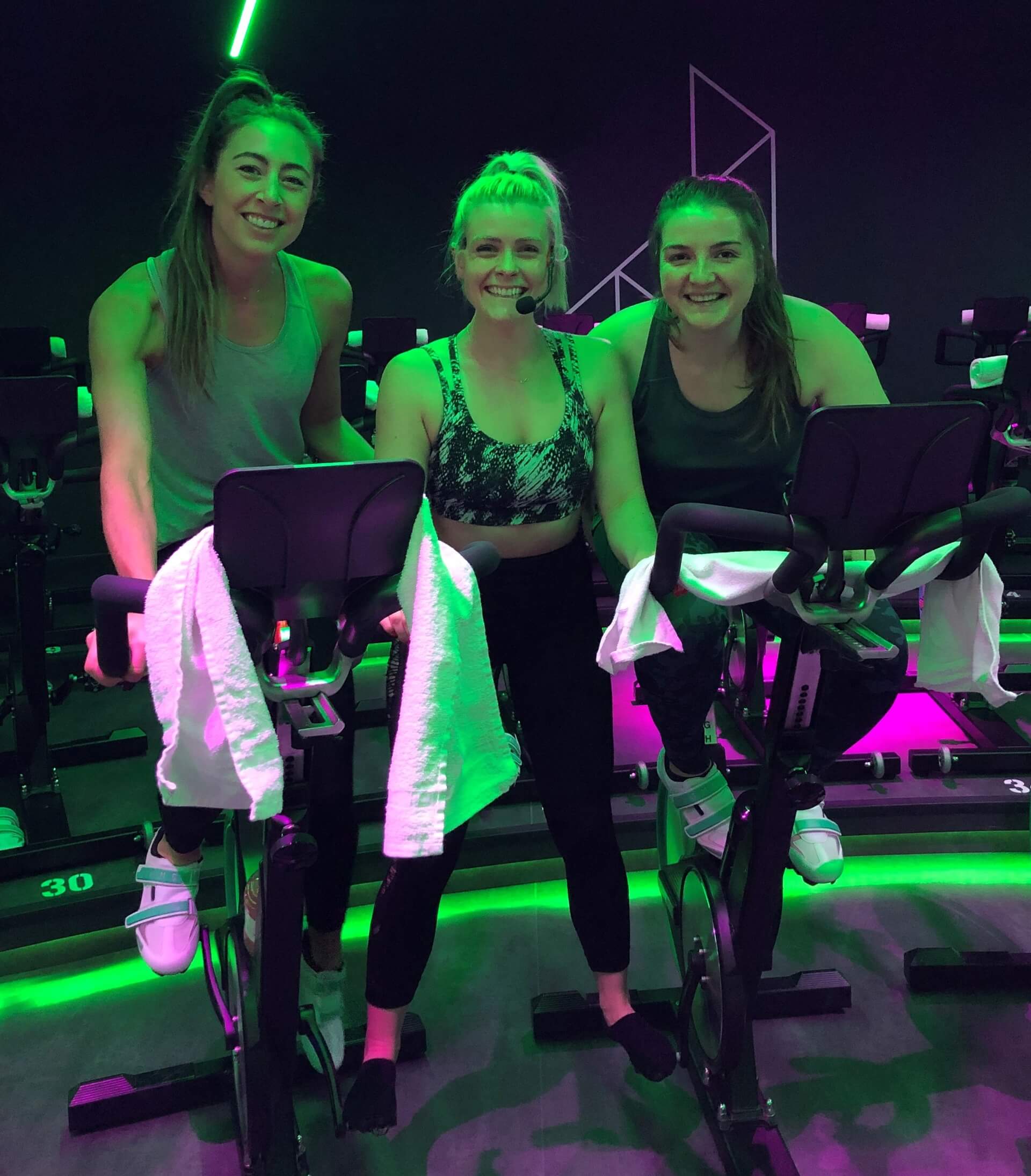 The charity
I was so inspired by Siobhan and the incredible amount of money that she raised for Movember during her 100/100 that I knew if I was going to attempt this madness myself, I would do it to raise money for charity too. I've worked in the charity sector as my 'day job' for several years now, but I've actually never taken on a fundraising challenge in my personal life. However, I also knew that if I was ever going to do something to raise money, it would have always been for a cancer-related charity. I've seen many of my family members and friends throughout my life come face-to-face with the big C - and some are currently facing it as I type this. This challenge is for them.
Hannah's Willberry Wonder Pony is a charity that supports vital cancer research and grants wishes to seriously ill people and their families. It's a young charity - just a few years old - but it is already doing incredible things to help improve the lives of those living with cancer. I followed Hannah and her 'Chief Chemo Pony' (fondly named Willberry Wonder Pony) throughout her journey with cancer and just felt so inspired and driven by her positivity, courage and how she faced an absolutely devastating situation and created something brilliant from it. Hannah's Willberry Wonder Pony is her legacy, and I am proud as punch to have my very own Willberry (birth certificate: DigmeBerry!) on my bike with me for every ride of this 100. The charity's strapline is #kickingcancersbutt - and that's what I intend to help do!
The journey so far
I've never felt fit or particularly healthy in my life - and if you would have told me 3 years ago that I would attempt this challenge today, I would have just laughed.
After just over a year at Digme, not only do I feel fitter and healthier than I've ever felt, I also feel better about myself and have more confidence to give things a go. And that's why (eventually!... thanks Siobhan for the final push I needed!) I decided to commit to this madness and try to raise as much as possible for my chosen charity.
The first 50 days have been challenging (in a good way...I think!) like I knew they would. I'll have days of feeling like I have legs made of jelly and other days where I feel fantastic - there seems to be no pattern to it, but I'm just trying to listen to my body and hope it sees me through to the 100. My lovely friend Luca (also a Digme Centurion, and someone I have also made a lifelong friend through Digme) said I would experience days of extreme highs and days of extreme lows - and boy is he right! I've been trying to document the journey as best as possible using an app called '1 Second Everyday', where I'm taking 1 second of footage for every class. Some of the entries so far are so hilarious - I can't wait to share it at the end of this journey.
I'm a natural early-riser, so I like to try and get my rides done first thing where possible - though I do have evening classes that I love. I have a pretty good routine now; you'll always find me in Dan's 6:30am Tuesday class, and I always book at least one (if not two, if I can) classes with Chloe and Annie every week; both of whom I just cannot champion enough. I also love Ben's Friday morning class, and on a weekend at the moment I try to get along to the 8am classes with Frances who is also brilliant. That's the great thing about Digme - every instructor has their own teaching style and every class is different and challenging in its own way.
A huge thank you to everyone who has asked about the challenge along the way or encouraged me to keep going, it's so appreciated and really does keep me motivated (especially my husband Aled, who is yet to complain even once about the 5:30am alarms or late-night TV dinners as I fit classes in around work). Little things like pre-spin catch-ups with Caitlin, a mid-class fist bump from Luca or an end-of-class high-five from Pete, have been brilliant to keep me positive. And Laura (Leonie) and her brilliant Richmond front-of-house team... you guys are just the best! I'm very lucky to be surrounded by so many fantastic people and so grateful to Digme for introducing me to them.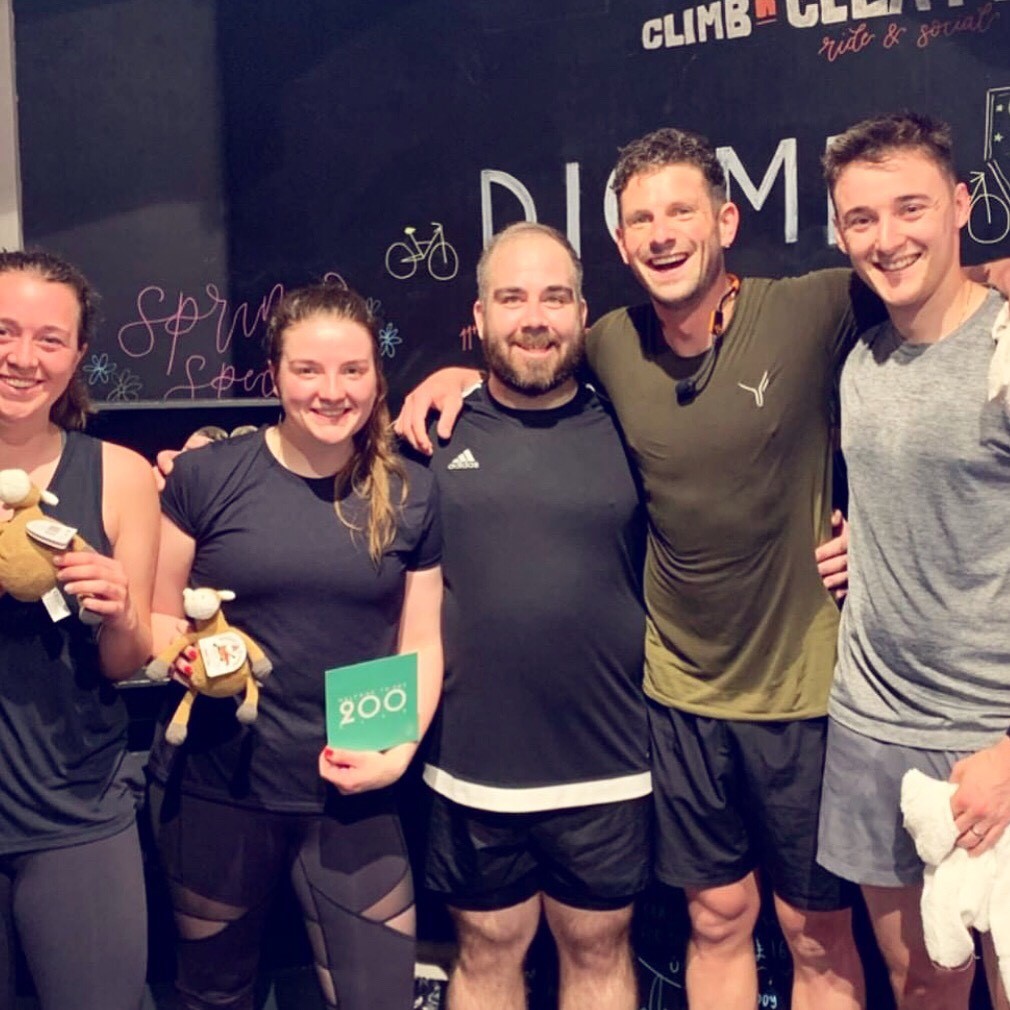 The next 50...
So there you go. If you see the nutter with a stuffed toy pony on her bike in class over the next few weeks, that's me! I'm excited to be on the home stretch now and am really looking forward to the 7th July and seeing in the 100 with my friends and Digme family!
I love company in classes and am cashing in all of my hard-earned Huna at the moment for extra buddy credits to bring along friends. So if you're reading this and want to give Digme a go, or if you're a Digme-goer already and fancy some company - please message me on Instagram!
At the moment, one very special lady (my best friend's Mum) - is #kickingcancersbutt head on, and I'm thinking of them (my extended family) every day of this challenge.
Please donate if you can: https://www.justgiving.com/fundraising/Jessicas100challenge - and join myself and Digmeberry in #kickingcancersbutt !
Jess x