Have you got yourself a Digme Yogi Bare yoga mat yet? Since we partnered with Yogi Bare last year, we've not looked back and we haven't been able to keep our paws off of it! Crafted from eco friendly natural rubber, they really do give you the grip of your life.
We caught up with the face behind the mat - Kat, the Founder and Director of Yogi Bare – to hear all about her inspirational journey into launching Yogi Bare.
What inspired you to launch Yogi Bare back in 2017?
Standing in a class unsure how literal 'dynamic yoga' will be taken, searching '#yogaeverydamnday' on Instagram, setting a 5am alarm to meditate and feeling guilty when not quite making it. We've all been there. Feeling displaced in Yoga Land. Like we don't fit in.
For me, yoga was my back pocket healer. I discovered it quietly, softly in rehab when I was struggling with acute anxiety and PTSD, which I sought relief from in addiction. Yoga seemed like this exotic, mystical magic. I couldn't explain it, but I knew I felt it. It shrunk demons. Tethered my mind to my body until they fell back in love with each other. I eventually trained as a Yoga Teacher to help people struggling with whatever set them off course. There was a resistance to the idea of yoga being something for other people. That you had to look a certain way, have gymnastic skills, that the world somehow couldn't touch you with its stress, heartbreak or naughtiness to be "good at yoga". "I'm not flexible enough" is too often said. "I don't feel comfortable, feel shut out and I don't feel like I belong" is too often unsaid.
In my heart I felt yoga should remain accessible, fun and full of magic and delight, not comparison, competition, staid or elitism. So I got to work.
Yogi Bare is the physical manifestation of the concept of yoga being for everyone and everybody. I wanted to develop a range of eco-sensitive products with accessible price points after seeing a slight shift in a strand of yoga defined by wealth, social standing, gender and ethnicity. I wanted to bring some fun and personality to a world that can sometimes seem alien or difficult to access. The name isn't just a fun play on words but the 'Bare' is symbolic of the eco credentials and a sense of stripping back.
Yogi Bare is my love letter to the rebels, those who didn't feel like they fit in before. Welcome home.
What was the most challenging step when you started the Yogi Bare adventure?
The most challenging step was finding the courage and self belief. I am so fortunate to be surrounded by people who saw who I was before I could or did.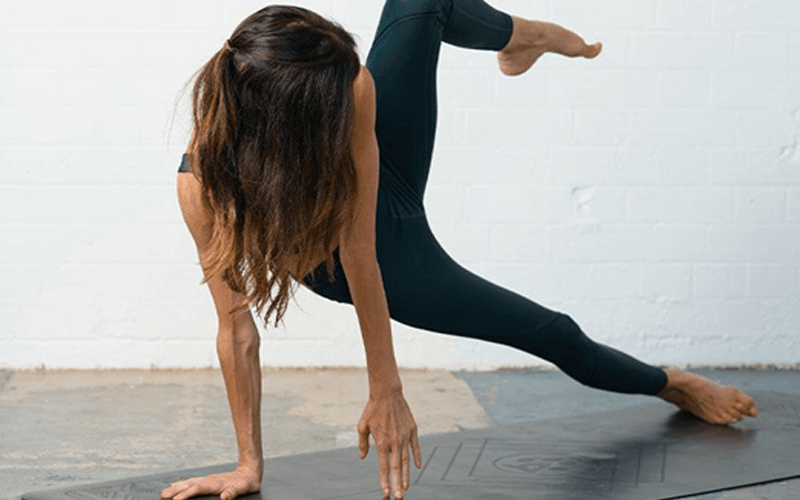 What is your advice to other female entrepreneurs looking to start their own brand?
You are not a female entrepreneur. You are a strong individual with a dream. A dream that is going to come true if you do it from your heart, with integrity and with passion. You have a whole community of women, a sisterhood, who all have your back. All you have to do is reach out - woman to woman - and we are here. Sure we've all had insecurities, expectations and doubts imprinted on us, but you are so much more and won't let them be a roadblock. They aren't real.
The coolest thing about being a female entrepreneur is that the stats show we are more likely to start a business in something we are passionate about, that will help our community. We are more likely to start something in a world and industry we know inside out. We are our own consumer, so find and feel your confidence in that. Do it your way and remember you can be soft and strong at the same time.
Only you can experience this life, this world, its inexplicable magic and majesty so be bold, be unafraid and unashamed to perceive it your way and keep your eyes open to the wonders of the day to day.
Get your paws on a Yogi bare mat from the Digme shop.
Follow @yogi.bare on Instagram.