We can eat peanut butter pretty much on anything and have been addicted to snacking on KIND bars since Isolation began - so we've taken our obsession one step further. Introducing our KIND bar inspired Peanut Butter and Dark Chocolate Crumble. It is quite literally the best thing we have tasted in months.
But our friends at KIND are here to help! Instead of reaching for sugar loaded chocolate bars or biscuits – reach for a KIND bar. When it comes to snacking, KIND believe you shouldn't have to choose between tasty and nutritious. So they've brought both together, with recipes full of flavourful, high-quality ingredients.
And best of all, you can now get 30% off all KIND bar orders online with code DIGMEKIND30 until the end of May.
Recipe for Peanut Butter and Dark Chocolate Crumble
Makes crumble for 2.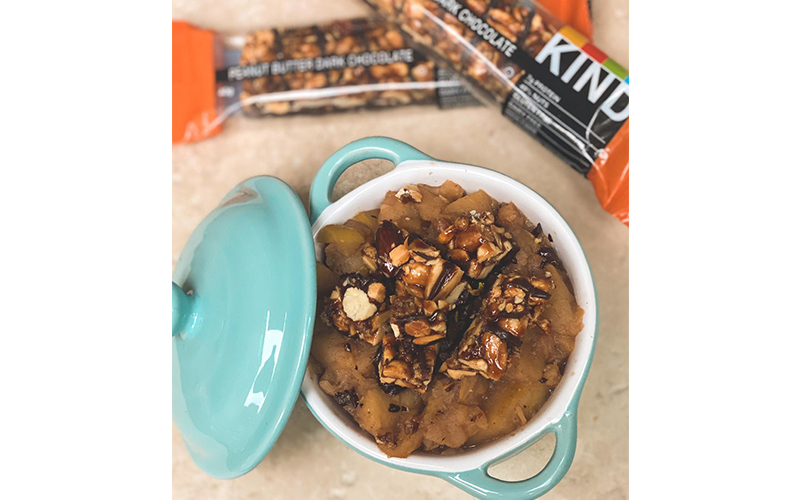 Ingredients:
5 apples (any type but with cooking apples you'll need to add a touch of sugar)

Juice of 1 lemon

Water for cooking

2tsp Cinnamon

2 KIND bars
Method:
Peel and chop the apple and place in a heavy based saucepan with the lemon juice and cinnamon and two tablespoons of water.
Start heating on a low heat, stirring every few minutes. The apples will start to wilt and every 5 mins you might need to add more water.
When almost looking like a purée (roughly 20mins) add one chopped KIND bar to the saucepan and keep stirring while it melts.
Take the saucepan of the heat and put in a crumble dish or ramekin and top with the other bar chopped up.
Delicious served with ice cream or cream and an extra dollop of Peanut Butter if, like us, you can't resist!