16 FEBRUARY 2018
Seven tips for Sweat Week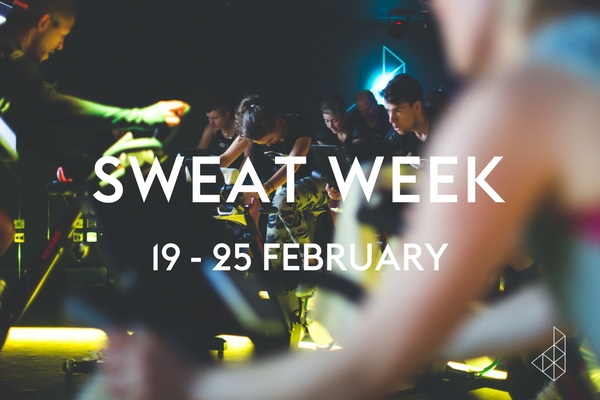 You've got the credits, you've booked the classes - now have a read of our tips on how to become a #SweatWeekLegend in style...
1. Buy the credit pack – it works out as £7.85 per class in Oxford / £10.70 in London. High quality group exercise doesn't get much better value. Snap it up here.
2. Double up on sessions. It's pretty satisfying to knock off two (or more!) classes in one sitting. Plus you give your endurance a huge boost. You could do the 5.30pm and 6.30pm classes one night, for example. Or kick off the week in Blackfriars with Matrix Express at 6.15am followed by RIDE at 7.30am. Now that's a winning start to a Monday!
3. Get to Beats n Cleats – the most fun you'll ever have on a spin bike. Trust us. You might be nearing the end of the challenge by this point, but you'll barely notice 45 minutes pass as we ride to the best of Timbaland vs Timberlake on Friday at 5.30pm in London / 6pm in Oxford.
4. Stock your fridge full of delicious refuel. Your appetite will know no bounds with all this exercise. Resist the temptation to chow down on junk, undoing all your good work, or dropping £50 on a hunger-fuelled spree in Whole Foods (we've all been there). Stock up on nuts and fruit, or check out this blog on food pre- and post-exercise.
5. Stretch it out. Don't forget some self-care during what is a challenging week physically. Do a few stretches when you're watching TV or before you go to bed, or if you have a spare 15 minutes, get friendly with a foam roller or massage ball. Focus on loosening up your hips, quads and calves. These are our favourite stretches.
6. Buy some dry shampoo. Let's face it, ladies, any day involving two hair washes is not a good day. Take an acceptable shortcut with a decent dry shampoo. Sophia, one of our Richmond instructors, swears by Co Lab's version – it's available in Boots and is especially formulated for after exercise.
7. Wash ALL your gym clothes. You don't want to be reaching workout number six or seven and be faced with a choice of already-sweated-in kit or those shorts you really should've thrown out in 2010. Get prepared, people.