We caught up with Digme member Alice Chen who celebrated her 1000th class at Digme Richmond with us.
From riding with us during what felt like countless lockdowns, to finally celebrating with us in real life, Alice shares her highs and lows and what her future holds with Digme.
Highs & Lows
There have definitely been more highs than lows when reaching my 1000th class.
Having done it twice now, I feel like I'm an expert when it comes to being locked up in a hotel during quarantine and not being able to leave your room for 15 days! It's NOT easy. Most people request to have a nice view or a nice bathroom but not me, my only request is that it MUST have a spin bike, preferably a Keiser Bike. Having my spin bike during quarantine helped to make the day go by much faster and allowed me to have a routine. It was lovely to see regular faces who I had gotten to know during lockdown. The chats I had with some of the instructors after class, the lovely Laura May and Emily M, they were all my saving grace. Being on your own in quarantine can be lonely, I have definitely shed a few tears as well as enjoyed a few laughs after the classes.
Exercise not only helps me to feel good physically but most importantly it helps me mentally. There are so many great classes I would never have tried out before if it wasn't for Digme At Home. I am no Yoga bunny but I have loved doing Tash's Sunday Yin Live class and the 10 minutes Stretch & Mobility with the beautiful RoRo. We all are guilty for not taking time to slow down.
I had to be back at the Richmond studio to do my 1000th class with the legend that is Dan Little. Of course it also had to be on my old bike No. 16 - I missed being back in the studio with the whole atmosphere. Especially when the adrenaline kicks in when those lights go down, you just can't beat it!
It was great to see Caoimhe and Ruth who joined me to reach my milestone and to see some new faces who I had only met previously through my screen. A special mention to Danny and John Hoath who themselves had reached some major epic milestones.
Of course, after class we celebrated by eating some yummy cake. The talented Jess from Richmond Bakes, who also rides at the Richmond studio, made some amazing customised cupcakes for me decorated with a 1000 motif!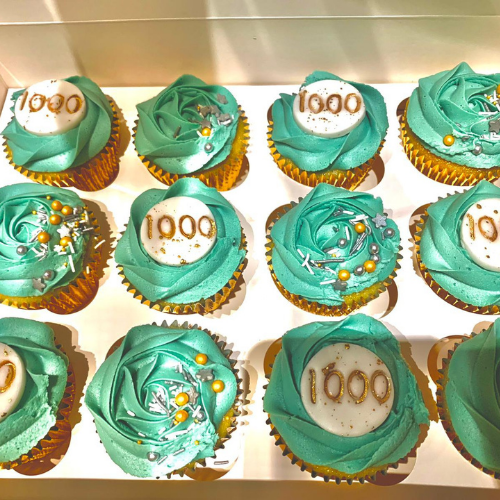 Over 5 years ago Digme opened up with just one studio in Richmond and now they have grown to having 8 studios. I recently had the chance to visit the Covent Garden studio and did Ciaran's famous Super Saturday class that everyone talks about. It felt like being in a nightclub in Ibiza (not that I've ever been to a club in Ibiza), but the energy was unreal!
I cannot wait to visit all the studios and meet all the fabulous instructors IRL!
A HUGE thank you Digme at Home, it doesn't matter where I am in the world you will always be there with the touch of a button.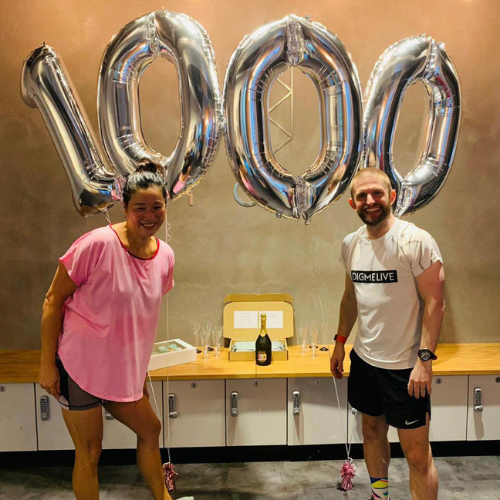 Congratulations Alice on your incredible achievement from all of us at Digme. Here's to many more years of sharing amazing workout memories with you!