Escape the cold, jump into a Digme class and join us in our festive challenge. That's right, the 12 Digs of Christmas kicks off on 1st December, and we're encouraging you all to join us for 12 classes in 24 days. Here's our top tips on how to complete 12 classes in 24 days.
1. Stock up on credits – don't miss out on a massive 20% off credit packs in our Black Friday Sale. World-class inclusive group exercise doesn't get much better value.
2. Get to our festive classes - we'll be flooding the Cycle, HIIT and Yoga timetables with Christmas themed classes throughout December, so dust off your reindeer antlers and prepare to sing along (or breathe along if you're in a Yoga class). Trust us, you'll barely notice 45 minutes pass.
3. Bring your bestie along for the ride - when you refer a friend, not only do you both get a FREE class, you'll also be in with a chance to WIN a brand new Apple Watch. Find out more here.
4. Stock your fridge full of delicious refuel. Your appetite will know no bounds with all this exercise. Resist the temptation to chow down on junk, undoing all your good work, or dropping £50 on a hunger-fuelled spree in Whole Foods (we've all been there). Stock up on festive nuts and fruit, Kind bars and Veloforte - they are our absolute faves.
5. Stretch it out. Don't forget some self-care during the week and grab one of our Hypervolt guns in studio or jump into a Recover session with the NormaTec boots at our Moorgate studio. Prefer to stretch at home, why not do a few stretches when you're watching TV or before you go to bed, and get friendly with a foam roller or massage ball. Focus on loosening up your hips, quads and calves.
6. Buy some dry shampoo. Let's face it, any day involving two hair washes is not a good day, so take an acceptable shortcut with a decent dry shampoo.
7. Wash ALL your gym clothes so they are ready for the week ahead. You don't want to be reaching workout number six or seven and be faced with a choice of already-sweated-in kit or those shorts you really should've thrown out in 2010.
8. Double up on sessions. It's pretty satisfying to knock off two (or more!) classes in one go. Plus you give your endurance a huge boost. Either do the 5.30pm and 6.30pm classes one night, or kick off the week with HIIT followed by Yoga class. You'll feel unbeatable!
9. Last of all, think of that prize - we are giving everyone who completes 12 classes between 1st December and 24th December a brand new pair of Digme Monkey Sox socks, and our 12 Digs Milestone badge! If you weren't in already, you will be now!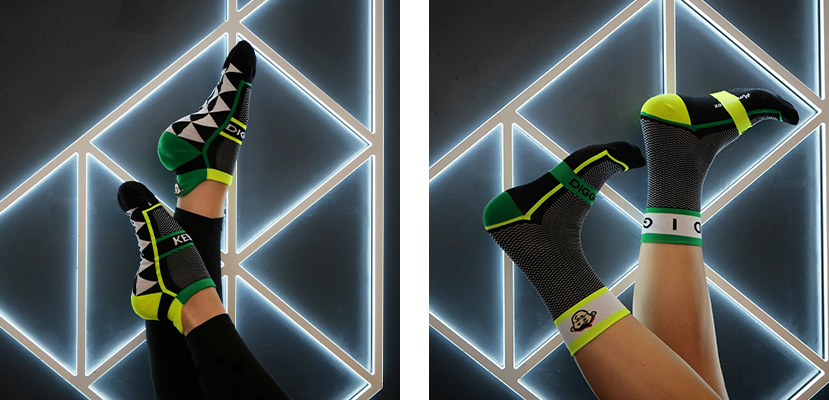 See you in the studio and at home for some festive fun!